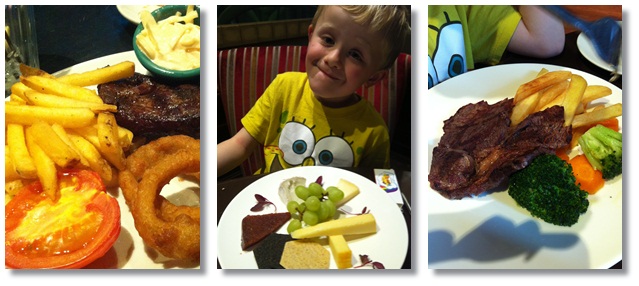 I am a girl who likes her food. My restaurant travels are well-documented on this blog, and I have often turned restaurant critic in an endeavour to give praise and recognition where it's due. So I'm aghast today at news that most food outlets – yes, including the so-called "family friendly restaurants" – are falling drastically short of providing healthy and interesting children's meals. So I'm asking for your help.
Family friendly restaurants are giving kids a raw deal
Out to Lunch is a review of children's food offers across restaurants from high-street chains to celebrity dining venues. Undertaken by kids food brand Organix, and sustainable food charity the Soil Association, the project used a points system to score UK restaurants of their children's food offer. Chains were asked to fill out a questionnaire about their offering, and a team of 40 families visited and reviewed over 70 establishments from the league table. Based on school and early years nutrition standards, the Soil Association's accreditation criteria, and the views of 1,000 parents, the study released today has found that:
Almost half of restaurants do not offer vegetables or salad with a majority of their children's main meals.
12 out of the 21 restaurants and pubs have children's menus dominated by nuggets, burgers and sausages.
10 don't include a portion of fruit in any of their children's puddings.
Only 11 out of 21 chains were willing to say whether their food was freshly cooked, and where it comes from. Only 4 were making and cooking the majority of their children's food in the kitchen.
Only one chain (Jamie's Italian) could reliably tell parents where its meat came from.
Only 1 offers children's cutlery as standard.
Only 2 chains offer a children's drinks menu free from added sugar and sweeteners.
No-where overtly welcomes breast-feeding mothers.
Jamie's Italian, Wagamama and Wetherspoon's ranked highest in a league table – two of my favourites in there – I've never been to Wetherspoon's, probably due to M&D's perception of it as an "old man's pub." Clearly change is afoot, so I'll be dragging my parents down the pub over the weekend!
Now I'm not an adventurous eater. I do like my chicken nuggets, but then most kids do, in my experience. But that's not to say that I want to eat them every time I'm out for lunch with my family. My meal of choice at the Alex in Felixstowe, for example, is grilled pork loin, with fries and garlicky green beans. My best ever meal is medium cooked steak with broccoli and carrots. The Bug is more experimental with his food choices – at the age of 9 months he ditched his baby food jar in favour of picking Ginger Chicken Udon off Mummy's plate. She left Wagamama hungry. His order these days is more likely to include the Chilli Squid, or the Edamame Beans.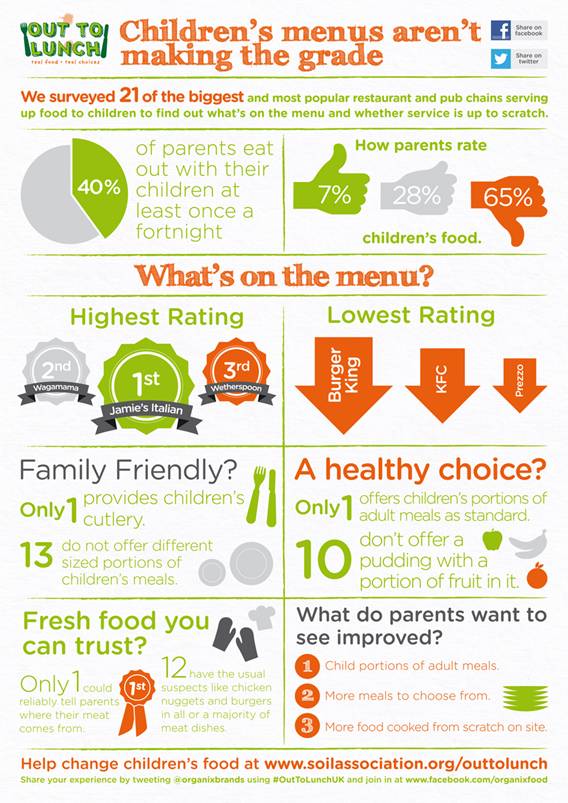 What winds me up most is when the grown-ups get gorgeous-looking menu options, and we get nuggets, sausages and macaroni cheese. Now I'm not for banning those – my Mum knows all too well that there were days when that was all we'd eat, and for an enjoyable meal out, she was willing to sacrifice nutrition occasionally. But now we're older, I want more of what they're having! I just can't stomach the portion sizes, and Mummy won't stomach the price! Which is why we were so thrilled to find that Huck's at Center Parcs would give us half sizes of anything off the standard menu!
The Out to Lunch campaign is calling on all high street restaurants and pubs to:
Offer all young diners the choice of a children's portion of adult meals.
Serve freshly prepared food, not ready meals.
Offer free water to families on arrival.
Offer children's cutlery as standard
Make breastfeeding mums feel welcome
Joanna Lewis, Head of Policy at the Soil Association comments:
"Restaurants need to raise the bar and listen to parents who are saying they want fresh food not ready meals for their children, and the same kind of variety you'd expect as an adult. In the wake of horsegate, it also rings alarm bells that only one restaurant knows where its meat comes from."
This is where you can help. Let's raise arms against crap food for kids, and get enjoying the cool stuff parents have been munching on while we've been chewing a fish finger! Here's how you do it:
To tell restaurants what you think. The Out to Lunch downloadable Campaign Pack includes a review slip to make is easy for families to leave it behind on the table.
To be vocal and share feedback with family and friends.
To vote with their feet. If a restaurant is not up to scratch, don't go back.
To support by wearing the 'I support Out to Lunch' badge on their Facebook and Twitter profiles. Just save the image from the Organix Facebook page and upload to your profile.
Bloggers and tweeters can use the #OutToLunchUk to discuss the findings of the report.
What do you say? Shall we give them a fight? Or are chicken nuggets your life-saver?
If you'd like to take a review slip next time you go out to lunch with your child, you can download the slip from the Organix Facebook page, or simply copy and print the one below: