In our family we love to eat. Waiters never get the chance to offer the children's menu, and always look nonplussed by our kids' food choices. At the weekends we cook big roast dinners, complete with proper puddings, or attempt marinades for the barbeque. One of my biggest frustrations after we started a family was having to cook simple, plain foods for my children, and then start again with delicious dishes for myself and my husband. As soon as they were able to appreciate something more challenging I started to try and integrate them into our more grown-up meals, so we could eat as a family, with varying levels of success.
One of the things we used to love as a couple, was throwing a dinner party. I would spend all Friday night poring over recipe books, then sweat away happily in the kitchen all Saturday, anticipating a cold glass of wine and something delicious with friends that evening. I still did it, though in a more simple fashion, after my children came along, donning dresses and lipstick after they had gone to bed. But now they are older, don't go to bed before 9pm, and anyway, they want to join in.
Easy Italian
If this is you, I recommend you try Italian. Most children love pasta, some of the Italian desserts are wicked – hello gelato! – and there's a really easy way to serve up an impressive starter too. The trick is getting great quality. I've been working with Vorrei, an online Italian food shop to cook up a three-course dinner that's impressive enough to serve to adults, but simple and tasty enough to share with the kids. So you can host an impressive dinner party that's guaranteed to please everyone. And better still, it's quick and easy.
Family Friendly Dinner Party Menu
Antipasti Crostini
This is so simple my kids made it whilst I got on with cooking the pasta. Vorrei sell these amazing little pots of different flavoured pestos, from simple sundried tomato and pistachio, to mushroom, artichoke, and a delicious spicy sausage. They come in ranges, including a set of vegetarian only toppings, and make a really easy appetiser to serve with Prosecco to adults, or to pick at in between games with your friends if you're 11!
Perfect Pasta – Spaghetti with Colatura di Alici
You can't go wrong with pasta for kids, and the way to make a simple spaghetti dish special for adults is to use amazing quality, cook it perfectly, and season it simply. I always forget that proper pasta makes such a huge difference in flavour and texture, but Vorrei's Gragnano linguine is really good. Use their 10 Steps to Pasta Perfection, and you will really notice the difference. Just the addition of some garlic, chilli (if your kids can handle it) and parsley is enough to make this dish tasty, but the twist comes with the Colatura di Alici. Ask my 12 year old if she will eat anchovy, and she'll say she's allergic (she's not), but a few tablespoons of this anchovy sauce served to liven up simple pasta without the kids noticing anything suspect! The other absolute must is a good olive oil. I've started buying the best I can afford, and it makes a huge difference to salads, pasta, and dips. Find the recipe for this anchovy-laced spaghetti on the Vorrei blog, along with lots of other recipe ideas.
Liquorice Crème Brûlée
Yes, you read that right. I don't know many children who won't devour a Crème Brûlée; the combination of sweet, creamy custard topped with crunchy, chewy caramel is pretty irresistible. But the addition of a lovely strong liquorice flavour really makes this a special dessert. And it's really much easier than it sounds, thanks to liquorice powder.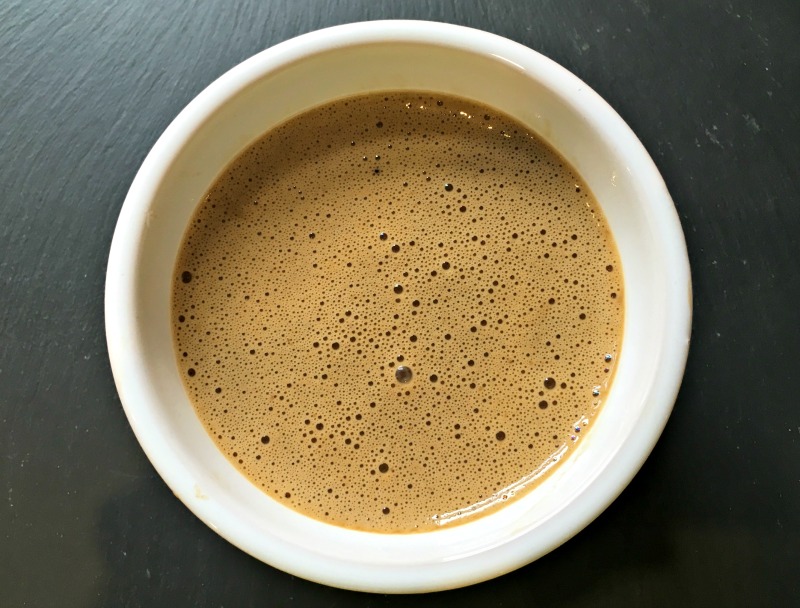 I tweeted this image before I baked my custard dish. If you've never made a Crème Brûlée it's actually much easier than you'd imagine. This was a basic home made custard, with the liquorice powder whisked in, poured into ramekins and baked in a bain marie – again, not complicated, I just stood them in a roasting pan and poured water into the pan to let them steam as they baked. My tweet yielded several requests for the recipe, and many suggestions on other uses for liquorice powder. My ice-cream maker will be getting an outing for liquorice ice cream very soon!
Even the caramelised top isn't too tricky if you follow the instructions. I made my crust of sugar too thick at first, but less is definitely more. Once I had a thin layer, it just took a very hot grill, and a few attentive turns of the ramekins under the element to make the sugar bubble into a caramel that set hard in the fridge. The recipe on the Vorrei blog calls for liquorice root too, but I didn't have it, so I just added a little bit extra powder. And oh my goodness, it was amazing! Even better, it can be made the day before, so you can throw an impressive dinner party in quite literally in the time it takes to cook the pasta. Get the kids on the crostini and setting the table and let the boys uncork the Prosecco. Just make sure the first glass is for you!
Thanks to Vorrei Italian Foods for some of the ingredients and the inspiration. Check out their blog for lots more lovely recipes using their products.