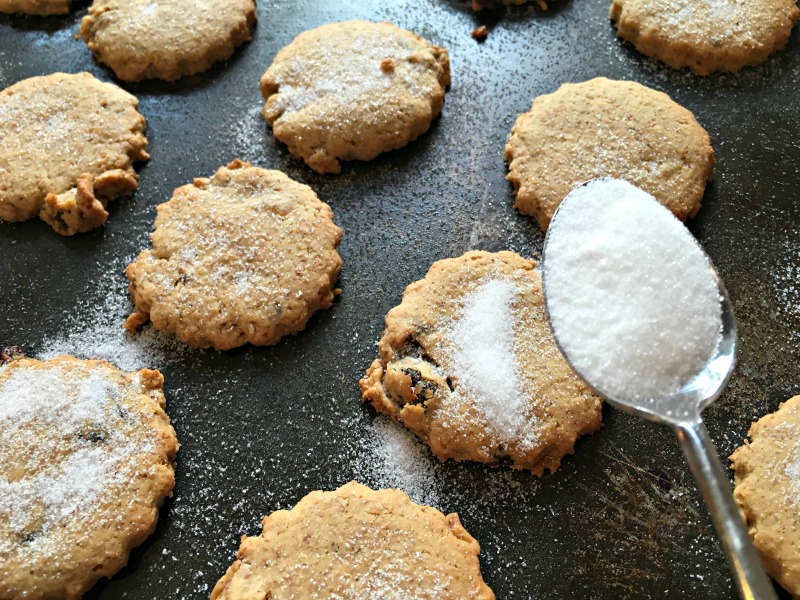 How to make Traditional Easter Biscuits
Most people I know bake in the run up to Easter, but not many know about the simple joy of an Easter Biscuit with a cup of tea. If you've never heard of them read on, then watch the video or click on the link for a healthy twist on the traditional Easter treat.
What are Easter Biscuits?
You might not know it, but Easter biscuits are as much a tradition in the UK as chocolate eggs and bunnies. More so, in fact. Actually, I still don't know when exactly a large rabbit bearing gifts first upstaged Jesus on his big day. Imagine, you've waited thirty years to reveal the greatest miracle of all time, only to find everyone's busy in the bushes looking for chocolate! Anyway, the baking and gifting of Easter Biscuits is traditionally done on Easter Sunday, much as Hot Cross Buns are typically only intended for Good Friday (but I won't tell anyone if you don't!)
Traditional Easter biscuits are simple and sweet, spicy and sugared, easy to make, and absolutely the etiquette to give if you've been invited for Sunday lunch. If you're being a real stickler for tradition, you'll want to add oil of Cassia to your recipe, but really, you can made this simple Easter cookies recipe with just what's in the cupboard, substituting ingredients depending on what you have.
Easy Easter Biscuits recipe kids can make
My kids love to bake. Any chance they get they're flipping through my recipe books and begging for time in the kitchen. Usually this ticks all my stress boxes, as I know I'll be called upon to clear up flour spills (what is it that prevents them from placing the packet close enough to the bowl??), advise on butter melting time in the microwave, and negotiate bickering over spoon-licks. But these simple currant biscuits were so easy to make that there was no real need for me to get involved at all.
How to make healthier Easter biscuits
Traditional Easter Biscuits
Small and sweet, perfect for a quick treat
6 tbsp rapeseed oil
1 egg
50 g soft brown sugar (10 heaped tsp)
1.5 –2 tsp stevia or other sweetener (equivalent to 5 heaped tsp sugar)
finely grated zest 1 lemon
juice half lemon
200 g wholemeal flour
1 rounded tsp mixed spice
40 g currants
10 g chopped mixed citrus peel
1 tbsp plain flour for rolling
1 tsp caster sugar
Preheat the oven to 170°C/gas 3.
In a large bowl, beat the oil, egg, sugar, stevia, lemon zest and lemon juice.
Add the flour, spice, currants and peel and mix well until the mixture forms a ball.
Turn out the dough onto a well-floured surface and roll to 3–4mm thick.
Using a 5cm fluted pastry cutter, cut out the biscuits and carefully place them onto a lightly oiled baking tray, re-rolling the trimmings as you go. You should get about 25 biscuits.
Bake for about 7–9 minutes until just starting to brown at the edges, sprinkle with the caster sugar and cool on a wire rack.
I'm also conscious that said spoon licking requires extra insulin for my daughter, who has type 1 diabetes, and calculating the carbs for her injection usually falls to me. So it was with double delight that I discovered this healthy Easter Biscuits recipe on the Diabetes UK website. Ready carb counted at 9g per biscuit, and with lots of healthier additions like wholemeal flour, they're also a doddle to make. I really did just leave the kids to it (although I still had to do the clearing up)!
Follow the instructions in the video above, or click the link for the online recipe.
Lemon is the key ingredient in Easter Biscuits, giving an otherwise fairly plain treat the kick it needs to be just a little bit different. The use of rapeseed oil in place of the usual butter in a biscuit recipe makes these much a healthier Easter Biscuit all round. Rapeseed has the lowest saturated fat content of any oil, is a great source of vitamin E which protects the skin, eyes and immune system, and has ten times as much Omega 3 as olive oil. It does have a distinctive flavour which I find overpowering at times, so I was concerned to see if the biscuits would pass the taste test with the kids. It totally did – Maddie had to take insulin for 3 biscuits! You can of course use margarine or Stork to make any biscuits with a lower saturated fat content than butter – if that's all you have in the fridge.
I loved the addition of Stevia to these bakes, reducing the need for the usual amount of sugar, whilst preserving taste. As a natural sweetener it's so much better for the kids than the chemical alternatives found in processed, shop-bought products.
The biscuits took around 10 minutes to make, and another 10 to bake – quick and simple. So there's your Good Friday baking activity sorted. You're welcome.
You can find more easy healthy family recipes on the Diabetes UK website. And if you're looking for more classic biscuit recipes you might like this easy shortbread biscuit recipe.
Pin for later