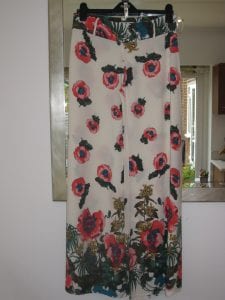 Mummy, I love you, goodness knows that I do. But be realistic. You are 44, not 24; some choices just aren't you. The frilled bikinis, the all-in-one playsuits, the skorts (omg) – they are just not right. I know you were young, you say you were cool, but really, don't go there, pleeeease?
Don't get me wrong, you do have style. But the things you desire look better on me. Frills, lace, feathers, they're chic. But make sure they're my size – I can carry them off. I love your clothes, I want them for me . I can't wait till I fit in your wedding dress – you promised, remember?
Do wear the classics, but don't forget you. Who you were is still who you are, no matter your age. Just lengthen the hem; steer clear of straps. Colour, that's you Mummy. And if you turn heads it's all for the good. Straighten up tall and flash them a smile. Daddy's raised eybrows? Ignore them – what does he know? Cause a reaction, that's just what you do. And I, for one, like it.
So stick with it Mummy. You're getting it right. The stuff you once wore – well it's my turn now. By all means covet my skort, just leave it in my drawer. One day I may say: 'it's alright…. for you', but for now you look great. Just the right side of hip. Sometimes it's dangerously close, but don't worry. If you start to get it wrong I'll let you know 😉
Now visit Sleep is for the Weak's Writing Workshop and see what everyone else is writing about.