*Checks no-one is looking*
Shhhh. I've just finished organising the kids' videos from Santa.
*Turns up TV and locks door*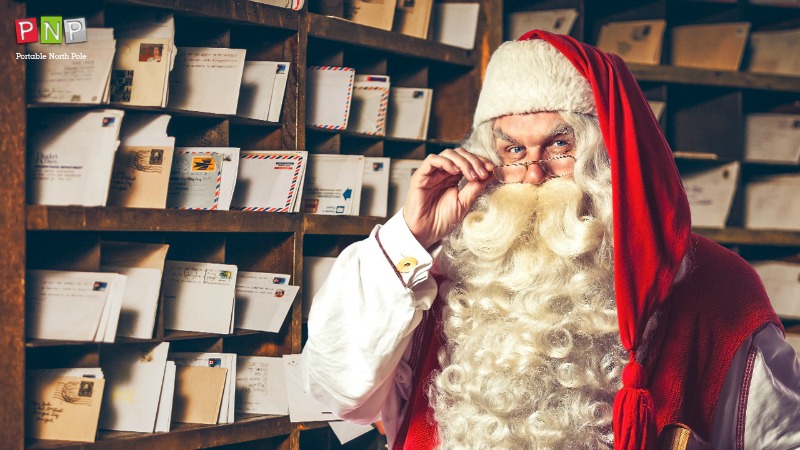 Get an email from Santa
They've both been really good this year; at least that's what I told Santa when I held a secret conference call with him earlier today. Ahem. He's promised to bring what they've asked for on Christmas Eve, and has even emailed them a video of the mailing room where their letters have been received. Not only that, but in the video, he takes them on a tour of an elf's house, and shows them his reindeer. It's all pretty magical.
I'll admit I was skeptical about Portable North Pole actually had the real Santa. I mean, all those Santa's you see at the garden centre, or the school fête, even The Bug knows they're not the real deal. And in nearly 49 years, I've never set eyes on one that that really gets me excited. Well, there was this one time, at uni…
But anyway, all I had to do today was upload some photos, input the names of the kids and their friends, and tell the website what they'd been asked to work harder on this year. And the next thing I knew, they both had an email from Santa himself. The real deal! I could tell it was him from the beard and the very suitable size of his belly. Let me tell you, local shopping centre grotto organisers – Santa is not skinny! Then there was his voice, his elves, and the glitter and sparkle right there in the videos he sent them. And he knew! He knew that one of them had done really well with the thing that was asked of them; the other needed a bit more encouragement for the actual day.
Yup. Definitely the real Santa.
So how do you get in touch with him yourself?
Visit the Portable North Pole website, where you will find a couple of different options. There's a free personalised video, or pay a small amount for a longer, more detailed recount of your child's year – complete with "ooh how does he know all that about me?!" 
There's also an option to receive a phone call from Santa. Trust me, you're going to want to do this; the absolute shock and disbelief on the kids faces last year was such a treat to see. Imagine what getting a call from the sleigh on Christmas Eve would do to bedtime. Champagne a whole lot earlier for the grown-ups for one thing. And if you've been mad enough to allow one of the those crazy elf on a shelf people into your home, Santa will give you a call to sympathise about what he's been up to.

Oh, and if you need any more convincing about this guy being the real deal, PNP donate 5% of the proceeds of all online sales to children's hospitals around the world. Properly decent guy.
You can follow what Santa is up to on Facebook, and Twitter. He followed me back. Actually maybe that's how he knows so much about us. *Steps up tweets about dream holidays.*