To be eaten under controlled circumstances only.
The best chocolate biscuit recipe in the world, ever.
According to me 😉
♥
(With Marshmallows, Cherries, Nuts, Broken Meringues, Glitter, Exploding Candy, and anything else you can think of!)
♥
** Update! This recipe has started something of a craze! Take a look at the Facebook post and comments on it. Feel free to add your own suggestions – we're always looking for ridiculous delicious additions to try out!
We adapted this recipe from one we found in Sainsbury's magazine. I say, adapted; what I really mean is doctored, embellished, played around with. And you know what? It turns out you can add pretty much anything you want to a chocolate biscuit cake, and it still tastes amazing! Which makes it a great recipe if you're a kid who loves to bake!
Here is what you need:
100g unsalted butter
2tbsp clear honey
300g milk chocolate
100g dark chocolate
5 biscuits, broken (usually digestives, but we just emptied the remnants of our biscuit box into a bag and bashed it around in a plastic bag)
100g mini pink and white marshmallows
100g macadamia halves
Put the butter, honey and chocolate into a bowl set over a pan of hot water and stir until the chocolate melts. There are a number of possible mistakes you can make here: the water must be simmering, not boiling; the bowl must not touch the water; if it does the chocolate may burn. Stir the mixture with a dry spoon and do not for one minute even consider putting it down in the sink in between stirrings. Apart from all the tasty bits of sprout and salmonella you might introduce into the mix, getting even a drop of water into the chocolate will turn it stiff and grainy. If this happens, you can rescue it with the addition of some vegetable shortening or canola oil, but trust me, it's easier not to go there.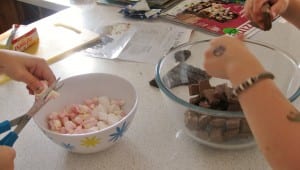 Meanwhile get a 4 year old to bash the biscuits with a rolling pin. Pick them up off the floor and check for foreign bodies before putting them in a bag and repeating the process. Measure out exactly 55g of mini-marshmallows, then realise there are no more. Scour the treats cupboard until you find last Hallowe'en's marshmallow twists and cut off little bits until you have 100g.
When the chocolate is ready, mix in the biscuits, marshmallows and macadamias. Brazil nuts work well too, but don't try those peanuts that come with all the spicy bits – Bombay mix or something? Doesn't really work.
Line a tin with cling film and tip the mixture in. Sprinkle with glitter, popping candy, silver balls, confetti, or your topping of choice. Try to find the edible varieties – we've found there are far less tummy upsets with those. Chill in the tin for 2-3 hours. Follow the chocolate smudges on the walls until you find aforementioned 4-year-old and wash his hands. And his face.
When cold, get an adult to cut the cake into squares, and eat store in a tin. These will last in the fridge for about 3 hours, longer if Daddy is not home, but not much.
Variations:
Use 600g of white chocolate in place of the milk and dark, and omit the butter. Eat a packet of glace cherries until there are only 12 left. Halve the remaining cherries and mix into the melted chocolate along with 8 chopped shortbread fingers and 90g shelled chopped pistachios, or almonds. Once in the tin, find all your old meringue nests and crush them over the top – it looks like snow!
Spend at least half an hour with your face in the bowl, 'cleaning' it, after which you will have to wash your hair. Refuse your tea and wail until more chocolate biscuit cake is forthcoming. 😉