We're in the middle of Children's Book Week, and in solidarity with Save the Children's Born to Read campaign we are posting a children's book review every day. We started on Monday with a review of Skulduggery Pleasant, and today we're pleased to bring you not one, but two books for different reading ages, from Barefoot Books.
What are Barefoot Books?
Barefoot books are beautifully illustrated books for children from ages 1 to 14. From picture books for the very young, through Independent Readers for those getting used to reading, and books that retell classic tales in original ways. The founders of Barefoot Books have this to say on their website:
Our books capture the imagination, spark curiosity, inspire creativity and instil a respect for cultural, social and ecological diversity.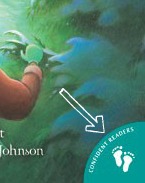 I love that statement, especially in the light of yesterday's post about Save the Children's campaign to get children reading confidently at a much younger age. With their clever tags to help you decide which level of book to buy for your child, and their age-ranked sections on the website,  there's always a book that attracts me. I've mentioned before that GG's reading level is much higher than her world experience, and finding age appropriate books that challenge her can be tricky.
Not a problem with Barefoot Books – I can honestly say there is nothing on their website that I wouldn't be happy for her to read. Here she tells us what she thinks of Winter Shadow:
If you watch the video through you can see how well she copes with the expression intended in the narrative, as well as some of the more complex words. Although she doesn't read it perfectly, she reads well, and what's more important, she understands the context of the descriptions. She is able to summarise the story – an important aspect of learning to read, beyond simple decoding – and uses the lovely pictures to help her get a sense of the characters in the book. She would enjoy having the book read to her, but she is very capable of reading it by herself, making it perfect for building her confidence as a young reader. I would say that this was a relatively easy read for her, so would recommend it for ages 7+.
For the Bug we chose The Abominable Snowman, tagged as an Early Reader. He has just started to really understand what he's reading when he reads alone, and reaching for a pile of books is the first thing he does when we wakes up. He still loves his picture books, but he is increasingly managing to read short chapters with pictures interspersed, by himself. By the time we recorded this bedtime story, he had already read the book alone a couple of times so he gave me a few spoilers as we went through it 😉
You can buy Barefoot Books direct online from a local Ambassador. If you are in the Hertfordshire area why not pop along to the Arts for Herts Market at St Albans Town Hall, where our local seller Melissa will be on hand to show you all her beautiful books. Melissa is in St Albans on Sunday 13th October and Sunday 10th November.
Disclosure: we were given 2 Barefoot Books for the purposes of this review.