Why Gove's version of education reform is madness:
Dear Mr Gove,
I am enclosing a photograph of my bags on the playground this morning: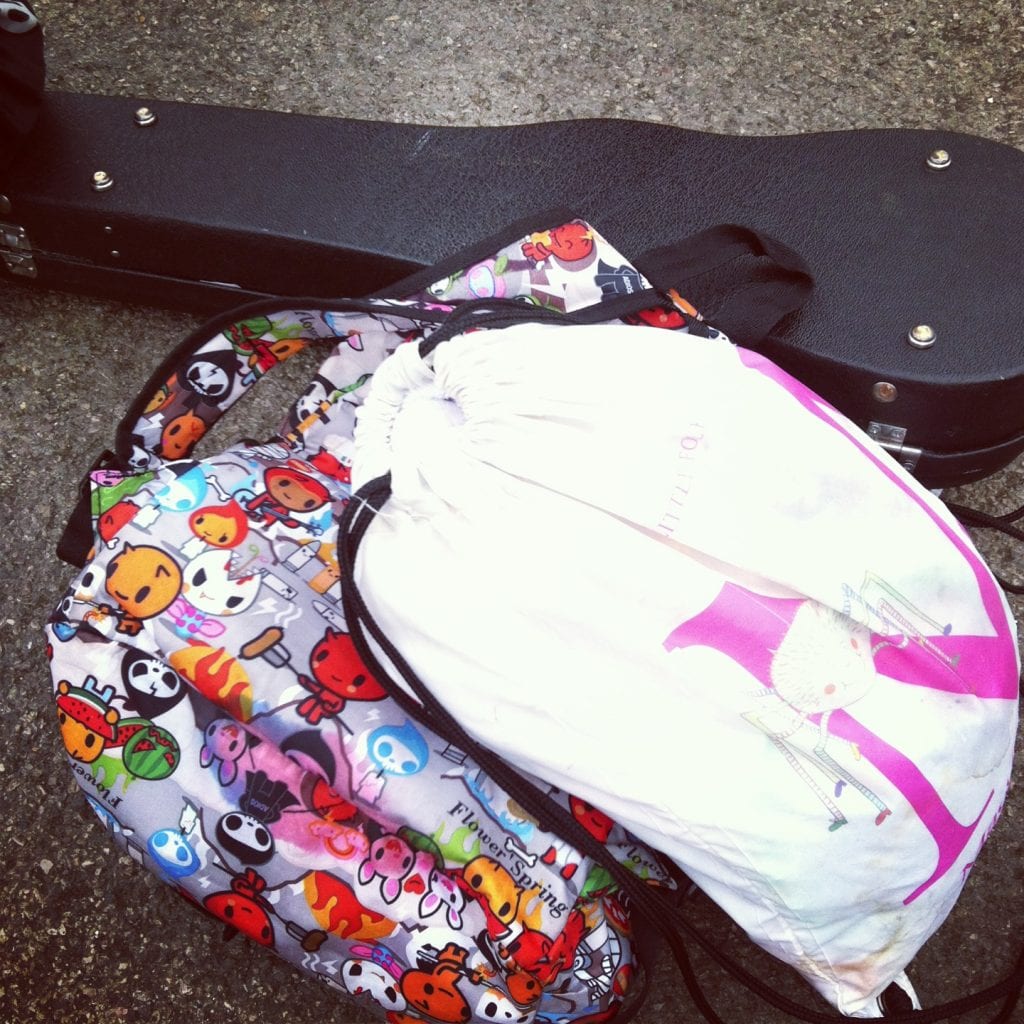 Today I have my violin lesson, followed by my swimming lesson. I will have to make sure I brush my hair really well after swimming, ready for my school photo. I definitely cannot afford to mislay anything en route to the pool, or Mummy will never let me hear the end of it! You cannot see what is in my school bag, so I will clarify it for you: library books – I take home 2 every week; my topic book – I'm writing a scrapbook about my holiday, including a business plan for the first ever Dolphin Swim Centre in the UK. After school I have piano.
Just to put this in perspective – I'm 8. It's fine though, I've always been an active girl, and I thrive on the challenge and variety of my numerous tasks and interests. In general, I'm a happy child, with what some might call a good sense of humour.
I like to get stuff right, and I try pretty hard at school, if my teachers engage my interest in a subject. You know, interweave a point of difference, relevancy and fun into my learning? When I'm having fun I can sometimes even concentrate on the bigger picture for longer than your average politician. I'm certainly learning to focus on the broader issues, and not waste all my time firefighting the numbers that bother me in the classroom. Perhaps, Mr. Gove, we could get together over a healthy lunch sometime and I could talk you through how that works?
I'm going to let you into another side to my personality though. My mum is a bit of an academic at heart. Straight A student, attention to detail, rarely satisfied with "good enough." She'd probably make a great Education Secretary, now I think of it. Anyway I digress… My mum helps me with my homework and my music practice. On a good day, when I've slept well, and had time to chill out with my friends, or eat dinner with Daddy, this works quite well.
On a bad day though, I tend to get very frustrated with myself. Do you ever get that Mr. Gove? Those days when you've worked really hard, received a certificate in the House of Commons for some spectacularly good work on your enterprise project, or your spellings, and progressed a level in your tap class? You see, the piano practice can sometimes be the final straw after a long hard day. I get angry with myself for not being brilliant all of the time. I take my stress out on my family. Sometimes I even take my stress out on myself and do this.
I am not part of an "agricultural economy" and yet still I thrive. In fact, I have no interest in gardening at all – way too much mud, and an inordinately high risk of crunching on a snail. Do you see, Mr. Gove, the big words that I am capable of using? I learned those from my Mum & Dad, and my school.
So forgive me, Mr. Gove, for my tiny little rant but NO! I do not want to go to school for 10 hours a day! Give me a break! I'm a smart girl, but I'm still a child. I need to play occasionally. I need time to chat to my friends about random crap, and watch a bit of telly. I need to hang out with my family and learn about who I am, as opposed to what I can do with my intellect. I get a cold at the end of every term; I find the holidays quite useful to rest and recover my immune system. Would that be alright with you?
Or maybe you don't really care. I'm doing fine at school, no language difficulties, my grades are good, and I can squeak a couple of tunes out on musical instruments. I pretty much do what my teachers ask most of the time, and I get along well with the majority of my classmates. So perhaps you don't care about helping me to be the best person I can be. As long as I have an advanced Masters degree in computer science to go with my concert-standard musical repertoire, like my Chinese colleagues, that will be alright?
Or maybe I've got it wrong and you're putting aside a nice stash of money to pay for all the therapy me and my peers will require if we make it through your version of the education system?
Yours in anticipation of a sensible reply,
GG

I'm linking this post to Mummy Barrow's Ranty Friday. While I'm at it, I thought you might like to know what teachers think, as well.
If you've enjoyed reading today, we'd love you to give us a vote in the Brilliance in Blogging Awards. We're shortlisted in 3 categories this year!
So if we make you laugh with our videos or quips on Twitter, you can vote in all three (but we're happy with just one 😉 )