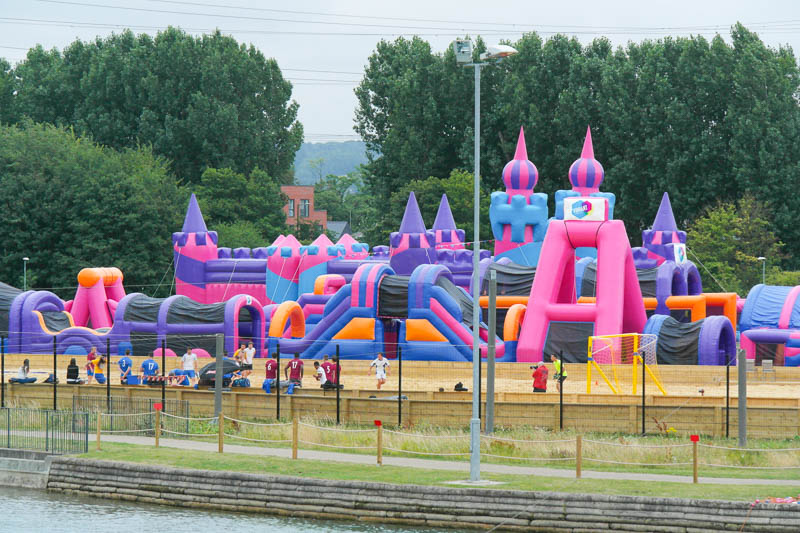 If you're planning your diaries for the school summer holidays, you might want to include a visit to the Lee Valley White Water centre. Just 5 minutes from the M25 in Hertfordshire, this top notch white water sports centre was built for the Olympics, so it's probably the best place in the UK for canoeing or rafting adventures. (You can see my white water experiences over on Space In Your Case).
But the water isn't the main reason you'll want to go this summer. Unless you have older kids with a fancy for it. Lee Valley White Water have installed a brand new giant inflatables section to the park, which is nothing short of epic. The Beach and Play Park consists of a large sand 'beach' for football, volleyball, and general sandcastly digging fun. Beyond that are the following:
A long obstacle course of climbs, slides, nets and drops. You set off in pairs, and compete to see who's the winner!
The Descent – a 13 metre high giant slide that left my kids speechless, and desperate for more.
Last One Standing – a Total Wipeout style challenge, where you duck and jump to avoid the rotating beams.
Dash and Grab – like Hungry Hippos on bungee ropes.
With room for 80 jumpers, a colossal bouncy castle.
From Saturday 22 July, there will also be a Tots Play Zone, and Kick N Stick – an inflatable dart board game, great for all the family.
Over the summer there are plans for more inflatables, including a Dora the Explorer playzone, and a Disco Dome to bounce along to your favourite tunes.
My two loved the slide and the obstacle course, had a lot of fun on Last One Standing (but were too exhausted by it to give it a second go), and enjoyed a quick bounce on the castle. I think they would have loved the Disco Dome, so we may well see you there on a return visit over the summer.
Good to know:
A morning or afternoon session at Lee Valley Beach and Play Park costs £12, and £5 if you just want to sit and watch.
There's a kiosk selling drinks and snacks on site, and a restaurant at the main white water venue.
Height restrictions apply to some installations, so check the website before you visit.
You need socks for all the inflatables, and long sleeves to go on the giant slide.
You won't be allowed on the inflatables with wet socks, so if it's a wet day, I'd advise taking a couple of spare pairs, or wearing sliders or Crocs to slip on and off easily between bounces.
It's not just for kids!
THANK YOU FOR READING
If you've enjoyed this post and found it useful here are some ways you can say thanks and support Actually Mummy:
Click here to buy me a virtual coffee.
Join our Teenage Kicks Facebook group which includes lots of advice and support for parents of teenagers. You can post your own problems and advice here too.
Click here to leave a review of the Teenage Kicks podcast.
Click here to sign up to our newsletter packed with tips, ideas and support for parents of teens.
Share this post with your friends.
Disclosure: We're working with Lee Valley White Water Centre to review and promote the new inflatables and beach installation over the summer of 2017. All opinion, editorial and imagery is our own.