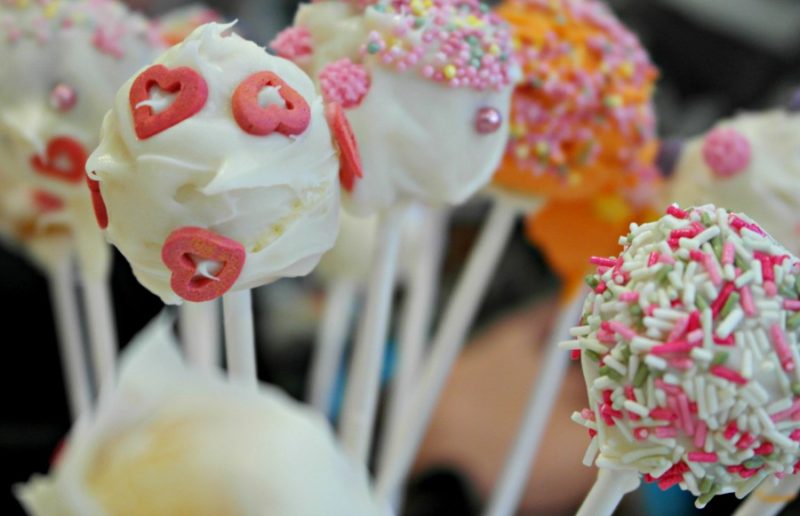 Yours look the most sensible, Mum…
We've been begging to make cake pops for months now, so when mum finally caved in and purchased a Lakeland cake pop mould we held our breaths, and didn't quite dare to hope that the little round balls of sugary delight were destined for us! But not only were they headed our way, we were also going to be let free in the kitchen to make them them! (Ever the optimist, our mum).
Here's how to make cake pops with children.
Order a pack of basic white modelling clay on a whim. Wonder what you're going to do with it for a few weeks. Decide to make cake pops, and realise that said clay will make a perfect cake pop stand. Form into a cake pop shape, poke holes in it with a lollipop stick, and leave to dry.
Fidget impatiently for a short while before realising that it's not going to dry fast enough. Pop it in the airing cupboard, and shelve cake-pop-making plans for another day.
When it's dry, paint with acrylic paint and sprinkle glitter over the wet surface until it looks exactly like a cake pop…
Next, make the cake batter. We used the recipe below, which came with the Lakeland cake pop mould, but a basic madeira cake recipe would work well.
Grease the cake pop mould. I find it's best to get a younger brother to do this, as it keeps him busy and allows you to get on with the important job of seiving flour. At this point, you might wonder what your adult will do, but don't worry, adults enjoy sweeping the excess flour off the kitchen floor, so they won't get bored 🙂
It is best to get your butter out of the fridge to soften a few hours earlier. If you omit this step, you can microwave it until it burns, then tip it out and start again.
Insist on taking the 'creaming' job. It is the most exciting, and affords the best illicit finger-licking opportunity.
Get bored with creaming and ask a grown-up to finish it off.
Allow younger brother to break eggs – no-one in their right mind wants all that slime on their fingers.
Once your cake batter is in the moulds, allow a parent to deal with the oven end of the process whilst you get down the the more important job of licking spoons. And bowls. It's best to tie your hair back for this task, although finding a random scrap of cake-mix to suck on at bedtime is not to be sniffed at.
How to make cake pops with children
Author:
Actually Mummy...
Ingredients
120g butter
150g caster sugar
1tsp vanilla extract
2 medium eggs
180g self-raising flour, seived
3 tbsp milk
Chocolate or Candy Melts
Sprinkles to decorate
Lollipop sticks
Instructions
Get an adult to set the oven to 180 deg C (160 for fan ovens).
Grease and flour each cake pop mould section.
Cream the butter and sugar until pale and fluffy.
Add the vanilla, and eggs, and mix well.
Add half the flour and milk, and mix in.
Add the remaining flour and milk and mix again.
Fill each cavity with cake batter, then click the cover into place.
Bake for 15-20 minutes.
Leave to cool in the mould.
Once you have cool cake pops, trim any edges to make sure they are neat, then get on with the serious business of decorating:
Melt a little of your chosen covering gently in the microwave on a low heat for 10 second bursts. Use your lolly sticks to make holes in each cake, then dip the sticks into your melted covering before inserting them into the cake. Pop them in the freezer for 5 minutes to set. This will prevent your cake pops sliding off the sticks when you come to cover them.
Melt the rest of your covering (we used Candy Melts, but chocolate is fine) and dip your cake pops  in, covering the whole sphere.
Decide you need a wee, lick your fingers free of chocolate (before visiting the loo) do what you have to, and make sure to wash hands carefully afterwards.
Dip the still wet cakes into sprinkles to decorate. Use sprinkles and silver balls to make faces on your cake pops. Those teeny little heads are just begging for a face!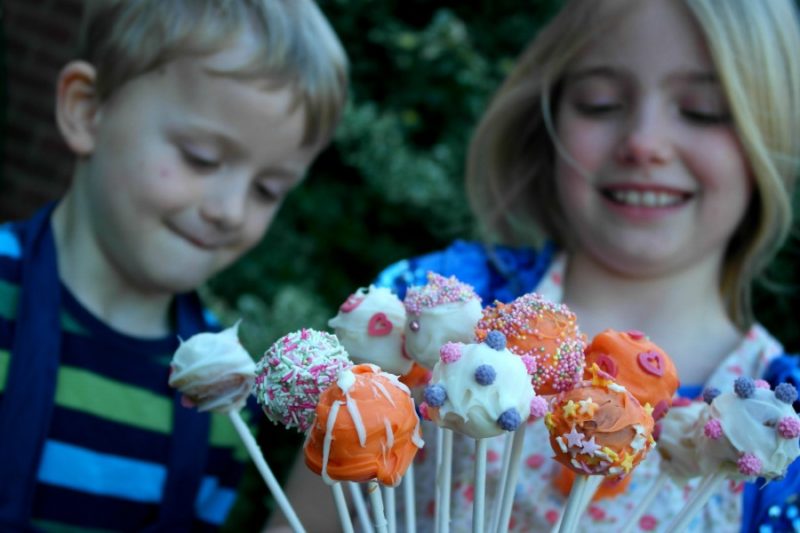 Wait while your mother takes lots of photos before being allowed to eat a cake. Actually, scrap that – just dig in, you've waited long enough!
For more cake recipes your kids won't be able to resist check these out:
Creme Egg Chocolate Quiche