By the Bug.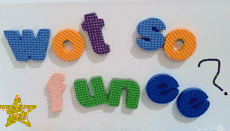 I've been tasked with practicing my writing recently. It's not my favourite thing, but we've been waiting for it to 'click' for a while now, and so far it hasn't. I have a summer birthday, which puts me at at disadvantage to the rest of my class in keeping up, so every now and then something becomes the focus and I get to work on it really hard. Oh joy.
If you're in a similar position, may I suggest that you try to keep it short, sweet and frequent. Here are a couple of things you could try:
Writing Practice
1. Writing thank you notes – and addressing the envelope:
2. Adding to the shopping list:
So that's what?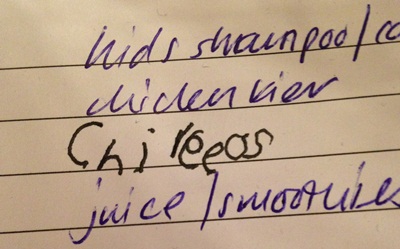 And again, what?
3. Taking a quiz – how else would you spell poetry? Makes perferct sense to me 🙂
 I'm getting there!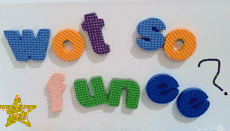 Now, if you have your own post to link this week, grab the badge code from the sidebar, and click the link below to enter your post – I can't wait to see what you have! It's not obligatory, but if you include a link back here in your own post, I'll return the favour with a tweet-out. If you're new here you can check out the Wot So Funee? main page for more info.