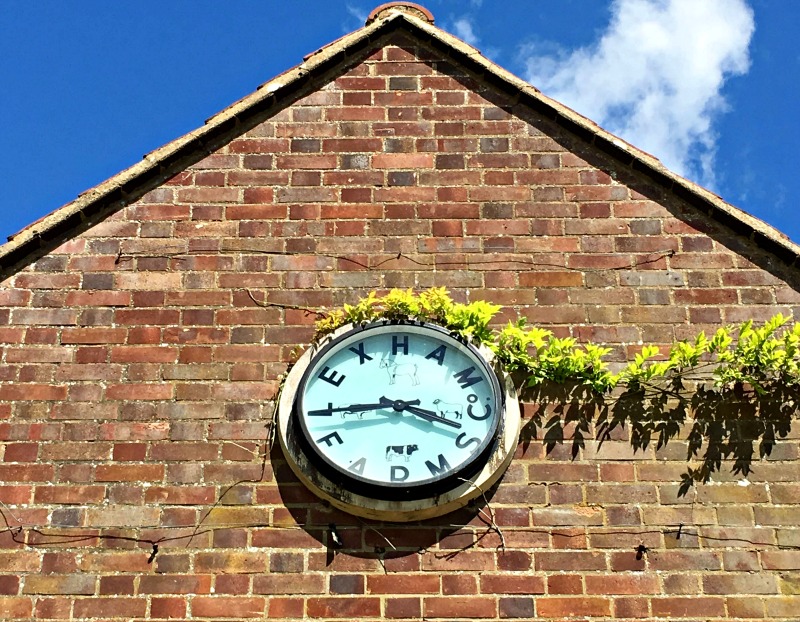 Advertising disclosure: this post contains affiliate links. I may receive a small commission if you click them, for which I thank you. All opinions and imagery of West Lexham are my own. 
Treehouse Life
Is there anything more lovely than camping in the woods? Waking early to sunlight peeping through the leaves, and the sound of birds singing the sunshine into the day. Or snuggling down by a log fire in the dusk of evening, hot marshmallows roasting in a flame as fairy lights twinkle. It turns out there is. Sleeping (and living) in a treehouse.
I have always wanted to sleep in a treehouse, and so when Actually Daddy and the kids gifted me a Coolstays voucher for Christmas it was inevitable that we would end up at West Lexham. With two treehouses, and two tree 'temples' (at ground level, so perfect for families with toddlers), we were spoilt for choice, but we went with Sunrise, the biggest treehouse, and in our opinion, the best!
Twinkly path lights lead us to our home in the middle of the trees. As we climbed the steps we weren't sure what to expect, but it certainly wasn't this.
When you think of a treehouse, you imagine a small, hut-like construction perched precariously in amongst the branches of an old oak tree. Good 'playing out' but a bit nerve-wracking for daily life. What we got was a full-scale wooden house on stilts; the treehouse part comes from the dwelling having several trees growing right through the floorboards, the roof, and indeed, the table! Sunrise treehouse has three actual bedrooms, with beds. And doors. Cupboards and chests of drawers. Windows of their own, rugs, and flowers. Pretty much like being at home, in fact. Only far nicer.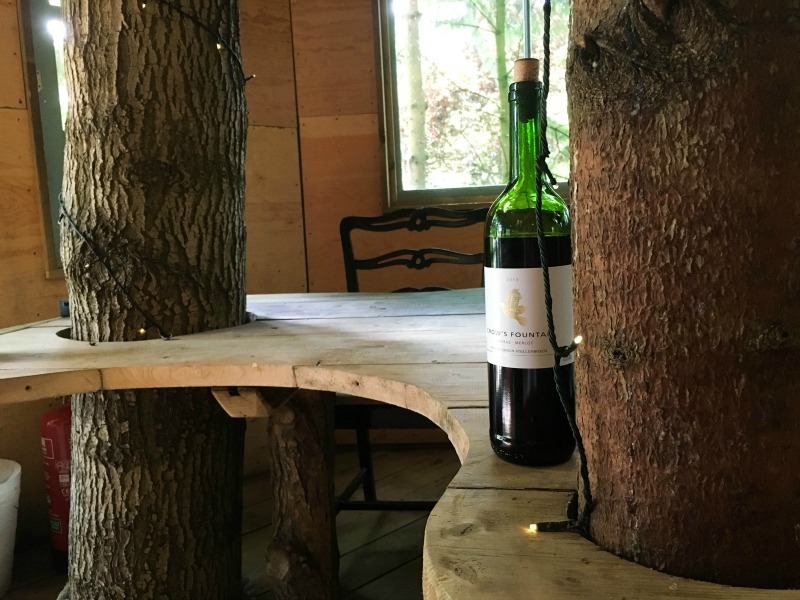 Our living space was huge. We had lots of room to spread out, and GG immediately made herself at home in the big wing-backed chair, curled up in a blanket with her book. She had just come off the coach from her school camp week and was shattered, so I knew better than to talk to her. I simply lit a fire and let her hang out until she recovered.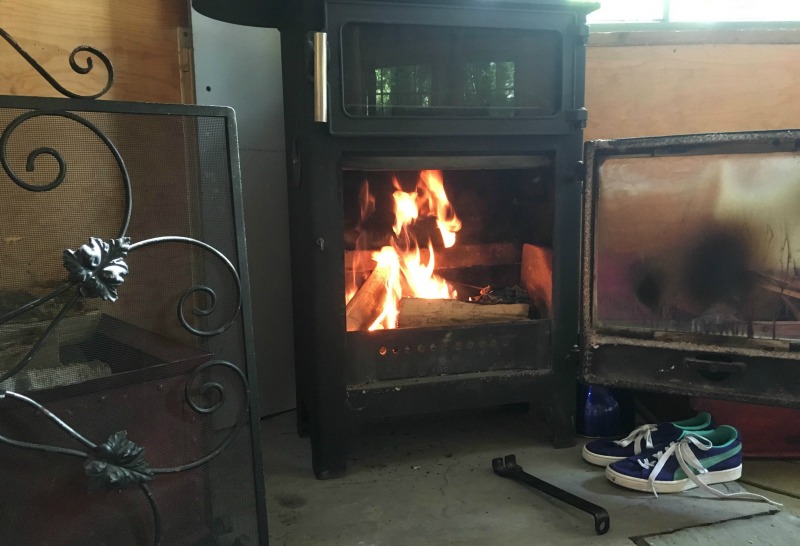 We were lucky with the weather, so all our eating was done outdoors. The treehouse had a large balcony and its own barbeque and picnic bench, so we heated croissants at the garden kitchen every morning and ate silently as the sun warmed the trees and the sheep grumbled companionably in the next field.
The grounds at West Lexham are stunning, and vast, so although you're sharing a kitchen, and all the outdoor areas, it never feels like you're on top of other campers. Other treehouse dwellers and bell tent campers came and went from the giant kitchen table, where we served up a proper meal on our first night; but there was always a pagoda to sit under with the kids' favourite 'whatever's in the fridge' lunch.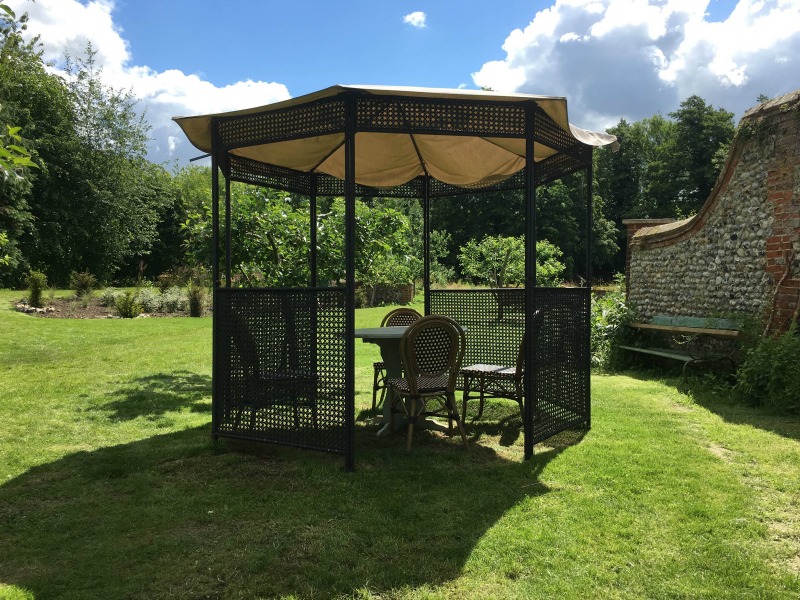 The farm is beautifully designed, with quirky little additions, from the unusual tiles in the very smart bathrooms (the showers have underfloor heating – how's that for posh camping?!), to this cutlery embedded into the paving of the gardens.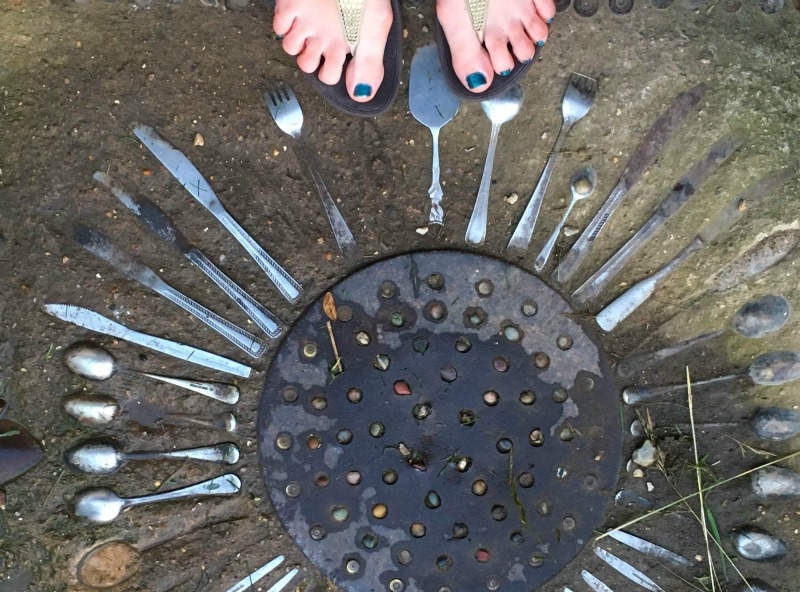 No-one bats an eyelid if you walk round in your pyjamas at West Lexham, but we were keen for a hot shower – you know how when you're camping you avoid the showers for as long as you can, then queue for a miserly drizzle of luke warm (if you're lucky) spray? Not so here. In fact, GG managed a long soak in a proper bathtub, emerging completely recovered from her week of late nights and raft building, ready for a busy day on the lake.
We didn't leave the farm all day, as there is so much space for walks, trees to climb and a huge lake to explore. We suited up in life jackets and took one of the two boats out for a rowing lesson. Though I'm not sure how much the kids learned, beyond the correct pronunciation of 'rowlocks,' which to this day they seem to find hilarious.
There are delightful spots all around the farm, from a tumbling little weir, to this lovely summer house, where I can imagine a small wedding reception taking place. The farm actually does host weddings, organising a small number of personalised events every year. The site sleeps 90, in the various camping accommodations and cottages, so it would be a lovely place to hold a festival style wedding.
We climbed trees and explored the gardens – flower and vegetable, the children delighted to spot ripening raspberries and gooseberries alongside the roses.
Then as we rambled we came across a swimming pool and that was that. The lack of swimming costumes and goggles didn't hold them back, and in they went – despite the chill air!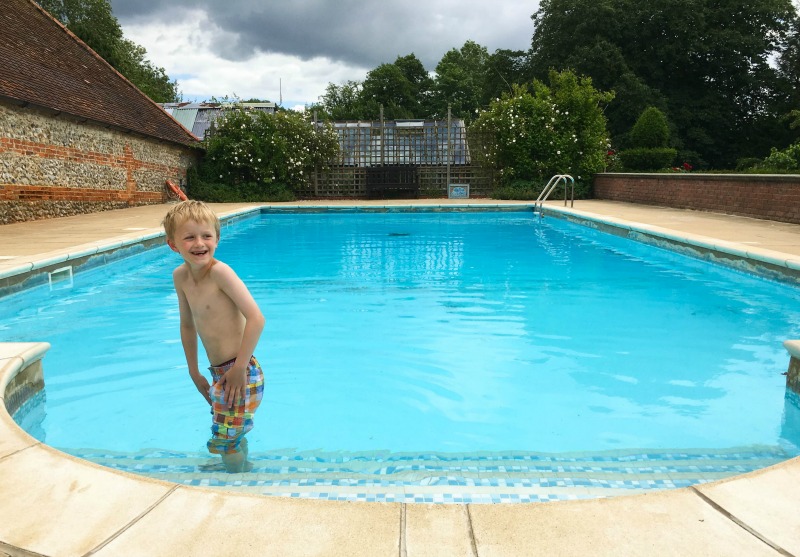 The day was finished off perfectly with dinner in the local pub, the Ostrich, where a perfectly good steak was followed up with a perfectly enormous chocolate brownie. Then it was back to sit round the giant communal fire pit for more marshmallows, and getting to know our neighbours.
Everywhere you go at West Lexham there are quirky additions, like this little stone pathway, perfect for children to explore. Then there are the jugs of wildflowers dotted around the site and in the treehouses. The owners really have thought hard about how to make their glamping site pretty and interesting.
The perfect place to hang out at the weekend…
Good to know
West Lexham has 2 treehouses and 2 tree temples, fully kitted out with beds, blankets, hot water bottles, stove, and lanterns. There are also 6 fully furnished bell tents, and various cottage and en-suite options to stay in. Prices for treehouses start at £239 for a 3 night short break for two people. All facilities are free of charge to use.
West Lexham is situated in Norfolk, a 2-3 hour drive from London, and half an hour from the north Norfolk coast. We lunched at Wells beach, where there are a variety of very good restaurants, a huge stretch of unspoilt beach, and some rather good ice-cream. Cromer is a short distance further on, famous for its crab.
There are plenty of decent pubs near the site, and some rather smart restaurants, though it's a good idea to bring a quick and easy meal to cook in the large kitchen for your first night. There is lots of fridge and cupboard space to share, and all pots, pans, cutlery and crockery are provided, as are washing up materials.
There are 5 bathrooms with showers or bath in the communal shower block, plus two more toilets. Pathways through the woods have motion-sensitive lights, and are covered in bark chips, so mud is minimal.
Wood and kindling is provided for the stoves in the treehouses.
There is adequate parking on site, and none of the tents or treehouses is far from the car park.
THANK YOU FOR READING
If you've enjoyed this post and found it useful here are some ways you can say thanks and support Actually Mummy:
Click here to buy me a virtual coffee.
Join our Teenage Kicks Facebook group which includes lots of advice and support for parents of teenagers. You can post your own problems and advice here too.
Click here to leave a review of the Teenage Kicks podcast.
Click here to sign up to our newsletter packed with tips, ideas and support for parents of teens.
Share this post with your friends.
*We booked our stay at West Lexham using a Coolstays voucher I was given for Christmas. West Lexham very kindly gave us a complimentary second night, so that we could review our treehouse more fully.