One of the most stunning things you can do on a visit to Lanzarote is explore the island's vast volcanic landscape. In fact, I'd go so far as to say that if you plan to spend your whole holiday on the beach, you're missing out on one of the most dramatic views you'll ever see. Last weekend I explored the island's family attractions, and this day out in the Timanfaya National Park was by far the most impressive thing we did.
Camel Treks in Lanzarote
For starters what's not to love about a camel ride? Add in the excitement of knowing that you're riding on a volcano, and I'd challenge anyone's kids not to declare it the best day ever.
This was Valentina, the baby of our group, at four years old. She was the camel behind me, and had a very cute habit of snuffling in my ear every time we stopped! You ride the camels in two's, to balance out the weight, though if you're solo, you can just as easily ride with sandbags as your partner 😀 The ride took around thirty minutes, including time to settle in, and it was such a fun way to see Lanzarote's 300+ volcanoes.
Lanzarote's Volcanic National Park
Once we'd giggled our way round the surreal black hills, we took a guided bus into the heart of the park, Las Montañas del Fuego, where the real action was happening. It's the only way to see this UNESCO Biosphere Reserve, and you're not permitted to set foot outside of the bus, for the sake of preserving the landscape. I wasn't surprised to learn that Lanzarote is used for filming many of the movies that involve moonscapes and stories of far-flung planets – that's how other worldly it is.
Restaurants in Lanzarote
What's even more incredible is that once you've finished marvelling at the fact that Lanzarote is basically one giant volcano (check out this video to see how volcanic cliffs rise out of the ocean), you can eat a barbequed lunch cooked over the organic heat of the volcano itself. I kid you not, this is not some vast installation to appeal to the tourists; El Diablo sits atop an actual volcano, with an enormous grill cooking the delicious fish, meats and vegetables that will eventually end up on your plate.
This is one restaurant where it pays to arrive in advance of your reservation. While you wait for your table, there's a good chance you'll catch a demonstration of the 400 degree heat beneath your feet, as first water, then hay is placed into a borehole, with spectactular effects. If you're brave, you'll also be given a handful of volcanic ash to hold – though you won't hang onto it for very long!
You might be forgiven for imagining that a restaurant at the top of a volcano has the view as its main attraction, and the panorama is utterly fantastic. But the simple food more than lives up to the premium location, and we were thrilled to be able to try out the local Lanzarote wine. The biggest volcanic eruptions here took place over 6 years, starting in 1730, and although none of the island's inhabitants was killed, the lava destroyed pretty much all the crops bar one. The vines. Which makes the Malvasía Volcanica wine rather special. We drank it with most of our meals, and it definitely had a lovely distinctive flavour I couldn't liken to any other wines I've had.
Here are some more ideas for unique places to eat in Lanzarote. We visited them all and I can vouch for what Sarah says about them.
César Manrique and the Lava Caves
Our afternoon was spent exploring some of the vast networks of tunnels and caves carved through the cooling lava rock by red hot lava streams. I had never thought about how lava might cool – why would you? – so it was fascinating the walk through the rabbit warren of tunnels, and caverns caused  by gas bubble explosions at Cueva de los Verdes.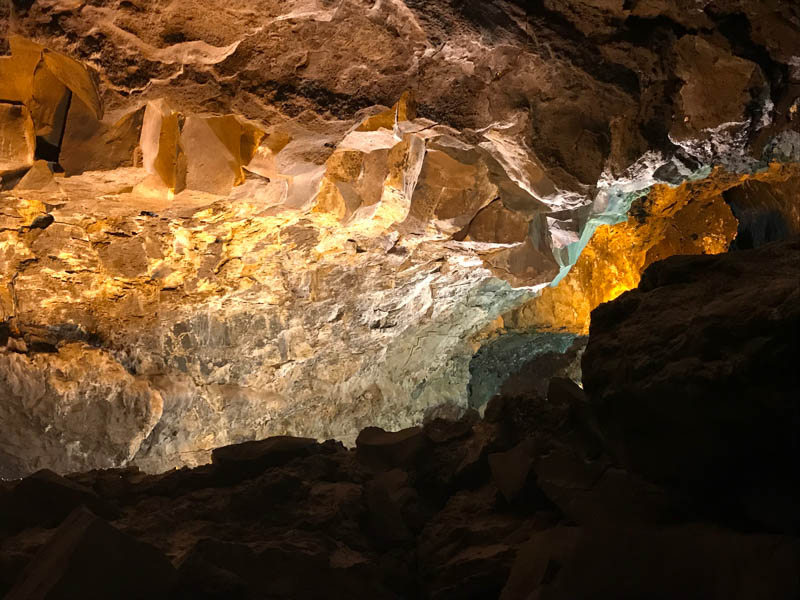 The caves really are a 'hidden wonder;' used as a hiding place in the 17th century to avoid capture and enslavement by pirates, they now house an underground concert stage you'd never imagine was there, and more than a few surprises – I won't say more than this as I don't want to spoil the biggest surprise of all, but trust me, it's worth a visit!
If you want your eyes opening even wider (and you should), a short jog down the road will take you to Los Jameo del Agua. César Manrique, the island's renowned artist, originally transformed this lava tube into a nightclub, full of his quirky, modern style. (Manrique has left his artistic stamp all over the island – check out this post about the fascinating Cactus Gardens, another place you must visit if you're holidaying in Lanzarote with children).
You will stand literally open-mouthed at the underground restaurant (we didn't eat there because they were hosting a wedding that day (SO romantic!), but please book it and let me know what you thought), the lake inhabited by tiny albino crabs, the jazz bar, swimming pool, and – wait for it – gigantic concert auditorium. I tell you, I wanted to live there, it's that beautiful. The pool is off limits for swimming (though rumour has it the King of Spain is allowed to use it), but that's a tad irrelevant – like an exquisite jewel, it serves its purpose of pure aesthetics. I can't imagine a better place for a glass of something sparkling as the sun goes down.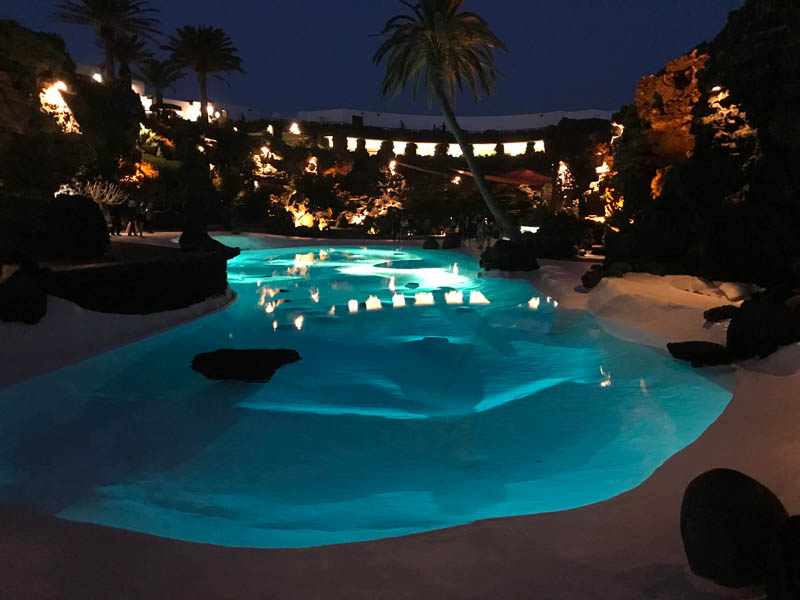 We were lucky enough to see a rehearsal taking place in the concert hall, and it sounded so magical, I wanted to come back during concert season to soak up the full atmosphere when there's a crowd in situ. I bet the sound is amazing.
If you're travelling with children, you should definitely plan to spread these visits out over the course of your holiday, but all of them are worth seeing, and will capture the imagination of most ages. Read this post by Flying With a Baby for specific recommendations on the best ages for each site (she also has a summary of the beaches in Lanzarote).
I'm certainly planning on taking my kids to Lanzarote. I'm sure they will declare it the best day ever!
Pin for later:

More ideas on visiting Lanzarote with kids:
I travelled as part of a BritMums press trip with Visit Spain and the Lanzarote Tourist Board. All opinions, editorial and imagery is my own.