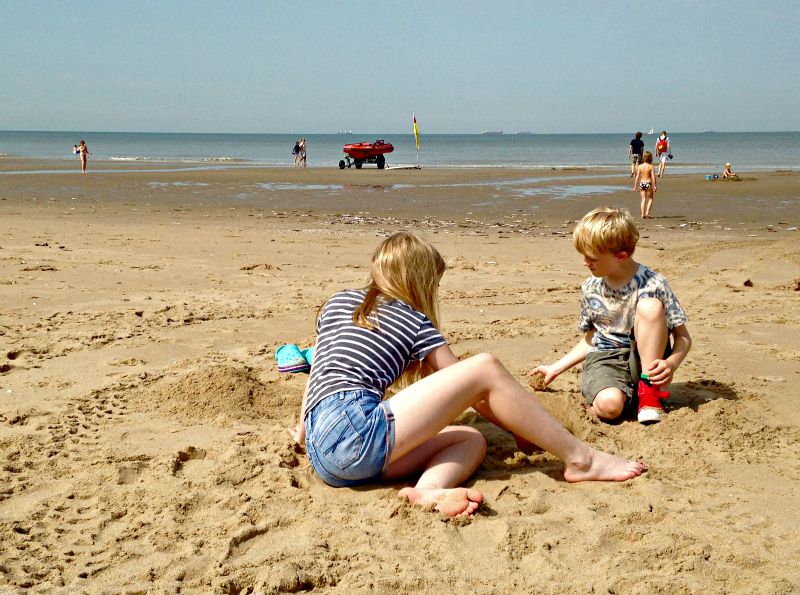 Seagulls. What big fat bullies they are! I knew they were cheeky, having frequently been in a near-miss swoop confrontation; I even knew that they were clever enough to flock to tourist traps for easy pickings, having once lost a chip at the beach in St Ives. Put down your doughnut at Felixstowe beach and someone else is sure to help themselves. But hats off to the Dutch gulls – they have it all figured out.
It was on a day trip to the beach, not far from Duinrell holiday park, in the Netherlands, that we first crossed paths with what can only be described as Supergull. Self-catering in a Canvas mobile home means that packing up a picnic is cheap and easy, and hopping on a short bike ride to the beach is the perfect way to spend a day enjoying fresh air with the kids. We'd hired bikes at the park, and coasted the twenty minutes it took us to navigate super-safe cycle lanes to the local beach at Wassenaar.
Wassenaarseslag (don't giggle, I know, you wait until I start telling you about the cream on our pancakes) is a gorgeous beach. A long, deep stretch of sand, dry enough to lay down your towel and stretch out in the sun, yet damp enough for perfect sandcastle construction; and safe, well-lifeguarded sea, you can totally spend the whole day here. Which was why we had purchased a second baguette on our usual breakfast shop at the campsite, and carefully assembled everyone's choices: cheese and ham for the adults, plain cheese for the straightforward eater that is GG, chilli gouda for the Bug (naturally…). Turns out seagulls like chilli too. Either that, or there was a big bird sqwawking about his belly-ache that night over the ocean.
For as we sat, munching happily and surveying the morning's sand creations, the biggest gull I have ever seen dive-bombed the Bug from behind. We had barely time to let out a shocked expletive before a crew of about 15 seagulls congregated briefly on the sand, and were gone again. The Bug had just lost his lunch: an entire baguette sandwich, not one bite out of it, stolen from his hands and shared out with the gang, like a drive-by mugging.
A seagull stole my lunch!
Of course, I immediately took to Facebook, whereupon I was inundated with responses, all describing similar churlish avian behaviour. Thieves! The lot of them! declared one person whose four-year-old had had chips stolen in Cornwall. Oh yes, they're well known for it, informed another friend. Apparently it's just easier to get your lunch at the beach these days rather than fish for it yourself. Who needs all that manual labour and 'cook-from-scratch' hassle when there's a ready-meal right there for the taking? An article was shared with me, and when I read it I was incredulous: far from being the stupid ugly creatures we might take them for, seagulls have cunningly figured out that women and children make for a softer target. Apparently they're more likely to drop their lunch when pecked at. Really? Do large burly men hang on to their pasties in grim battle when a feathered foe makes a grab for them?
Actually Daddy forfeited his sandwich, and they sat, huddled together, while the Bug ate, a protective bloke arm around him in case of a repeat visit. He was completely unharmed, such is the practised skill of a quick and targeted burglary, and we carried on enjoying a wonderful day at the beach. And when it came time for ice-cream we made a happy trip to the beachside bar for beer and coke floats. We sat inside, obviously…
We were guests of Canvas Holidays for a week in the summer. We stayed at Duinrell holiday park and campsite in a very comfortable mobile home, and had a great holiday. Including our trip to the beach, which we can heartily recommend for an easy family bike ride and a lovely day by the sea. There are beach cafés and stalls, and an endless swathe of perfect sand. If you need the loo, it's worth remembering that all the bars and cafés are happy to let you use theirs for a nominal fee, so don't feel obliged to buy drinks there in order to take a natural break. And remember to hang on to your sandwich!