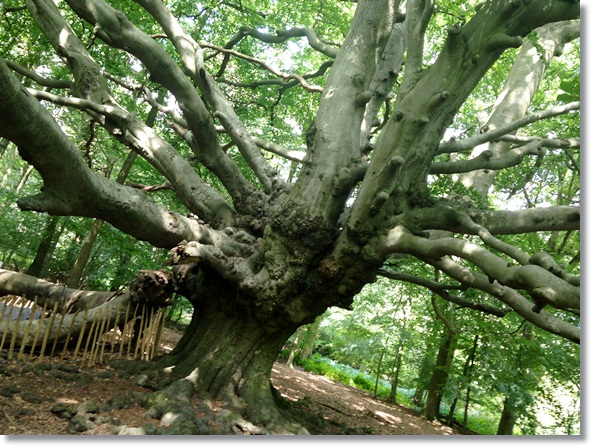 Daddy had an unexpected day off this week, and so we decided to go to the cinema as a family. But to make a whole day of it he planned an extra element, indulging our new-found love of geocaching. He didn't tell us what we were looking for, simply plugged in our coordinates, popped the top of the Mini, and drove us to Frithsden Beeches. Handing me the iPhone, pre-programmed with the coordinates, he fell into line behind me and the Bug. Knowing my way around the geocaching app I quickly figured out that we were en route to the actual Whomping Willow used in the Harry Potter films.
The real Whomping Willow!

Geocaching is a brilliant way of making kids go for a walk. I'm not sure what it is about adults that they enjoy just putting one foot in front of the other, but I've always found that a steady supply of Wine Gums is necessary to keep me moving forwards for no good reason. Either that, or a dog, and Mummy says that is NEVER happening! She actually shouted it, so I'm pretty sure I'm never getting a dog. However geocaching – especially when it leads to something really cool like the Whomping Willow – halves the requirement for Wine Gums, meaning that every walk is about 99p cheaper than it used to be.
You will find many trees claiming to be the Whomping Willow, but this is the one used in the Harry Potter films. It is in fact a Beech tree, not a Willow, and it has been used for several films and TV programmes, including The Legend of Sleepy Hollow, and UK TV series Jonathan Creek. The Geocaching website has this to say about how the tree has formed it's distinctive look:
This particular tree has evolved due to pollarding, a form of woodland management where the branches were regularly cut from the trees to use as firewood. Branches would be cut from the trunk to around a metre or so off the ground and this would then allow new branches to grow unchecked by browsing animals such as deer, before the process was repeated.
The really fabulous thing about this tree is that it is not fenced off like a museum exhibit. You can actually climb it. 'Someone' may even have taken an emergency wee on it's roots. Ahem.
If you'd like to visit the Whomping Willow the geocache reference is: GC3H4NY. It's a lovely stroll in the woods, easy to navigate – there is a boggy area at the start, which didn't do anything for my sequinned boots, but it's easy to find a way around that if you look hard enough. The woods are also home to deer, so watch your step 😉
To make a full day of it, we then visited the Alford Arms – Hertfordshire's dining Pub of the Year. You will need to book if you want to eat there, and it's easy to see why. Amazing food, and they're happy to do smaller portions of the main menu for children, which scores a big tick with us – if you've seen our posts about kids menus in restaurants you'll understand why. Although the accolade is well-deserved for the food, you might want to avoid it in the summer though – lazy flies settled on our meals throughout lunch, and the manager was very defensive about that when we mentioned how annoying it was. Apparently it's the location. Until they figure out a better way of controlling their fly population we'll be steering clear until the Autumn months – but we will be back.
THANK YOU FOR READING
If you've enjoyed this post and found it useful here are some ways you can say thanks and support Actually Mummy:
Click here to buy me a virtual coffee.
Join our Teenage Kicks Facebook group which includes lots of advice and support for parents of teenagers. You can post your own problems and advice here too.
Click here to leave a review of the Teenage Kicks podcast.
Click here to sign up to our newsletter packed with tips, ideas and support for parents of teens.
Share this post with your friends.