*Updated: Missguided have now taken the item off sale and it no longer features on their website. Let's hope it stays that way. Thanks to everyone who contacted them about this, and for all the support on Instagram.
Body Confidence and Self Image. It's a big theme right now, especially for mums – women whose bodies show the signs of what they have produced and nurtured. (Watch this video from my friend for a hilarious take on a serious message). And I'm wholeheartedly behind that. But what concerns me most at the moment is the message our teens are getting; are our young people confident in how they look, comfortable in their skins, and accepting of others' appearances?
Self Image is fragile when you're growing up
I honestly hope so, because this week I've seen something I think is truly awful; in fact, I'd go so far as to say it's completely irresponsible in this climate of #MeToo, and the mental health issues that stem from worries about self image in young girls. Yesterday a friend on Instagram – Mama Life London – shared this image of a slogan t-shirt currently on sale at Missguided:
I was actually a bit shell-shocked. I've only just started buying slogan tops myself, but I kind of thought that the idea was to promote positive slogans – straplines that big people up, give them confidence, empower them… Apparently not. Apparently, it's ok to encourage girls to wear clothes that actively promote the idea of taking a naked selfie, and sending it to a boy.
I know…
I put it on my Instagram stories, and I've never had so many messages (apart from when we got a new dog and I basically puppy-spammed all my followers for days). People were outraged, scared for their own girls, and dumbfounded that a big brand could even think that this was okay when influencers everywhere are working so hard to promote body confidence and respect for women. Who even signed off on that? Can you imagine the boardroom design meeting where that got listed? I can't.
My daughter came home from school and the first thing she said to me was "By the way Mum, about your instagram stories…" I thought perhaps she was going to say "can you not, it's embarrassing, just stop talking about things you don't understand, teenage, teenage, teenage… etc." But no. She was basically as shocked as I was. "They're a really big brand with teenagers." she told me. "I can't believe they would sell something like that!" She said all her friends had seen it too and felt the same way. Thank god.
How our teenagers develop self image
She then proceeded to tell me about the classes they have at school where they're taught about social responsibility, and being respectful in relationships. It's amazingly positive. I want to reassure parents with younger kids who might be freaking out about the teenage stage that it's really not going to be as bad as they imagine. Teenagers are awesome! They're incredible company, funny, smart, and have such a good view of the world and the right things to do. It's for another post, but my daughter is my harshest critic if I even begin to intimate something negative about say, an X Factor contestant's hair or accent (and yes, I have made that mistake, and I hold my hands up – it's wrong).
They've even had lessons on exactly the issue this tee represents. She told me some shocking statistics about what happens when you share a naked picture with your boyfriend or girlfriend. I forget the numbers, but the vast majority of people who've been sent a nude selfie will share it with someone else, and over half will share it with more than one person. That photo going round the boys changing rooms – that's the one. I feel sick just thinking about it.
Teenagers need a positive self image to stand up to the world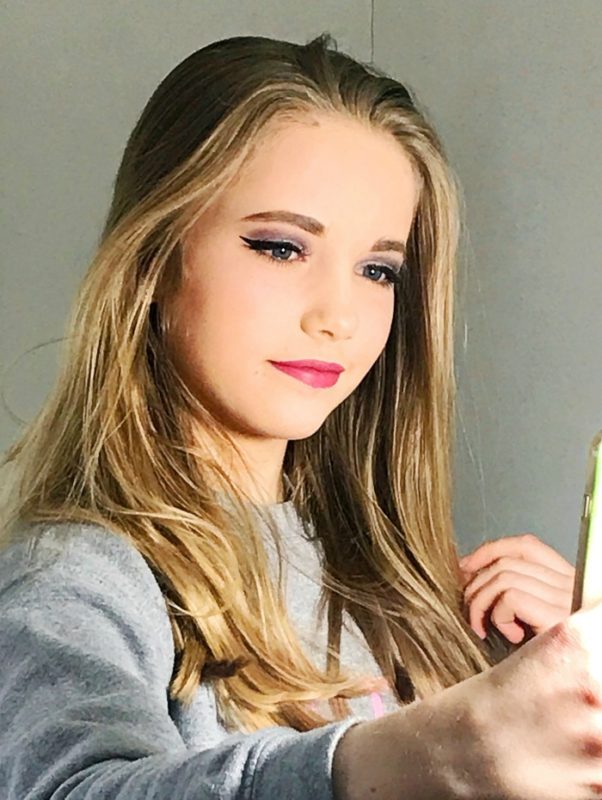 This is my daughter. Again, it's for a different post – one about how experimenting with make up is the teenage version of crafting. It's creative. She knows this look is for a time and a place, and her usual make up is totally age-appropriate. But my point here is that this girl is interested in how she looks, fascinated by fashion and make up like most girls her age are, and certainly not averse to being edgy in her clothing choices. But she was still horrified by Missguided's slogan top. So if teenagers hate the message they're giving, who are the 14 people Missguided's website is telling me bought this top in the last 48 hours?
My best guess is that they're the girls who feel under pressure to conform to a stereotype that's so outdated, and yet still perpetuated by the wrong elements in society. They're the girls who feel they have to be sexy at 13 in order to be liked. Or the women who think they have to be sexy in order to be liked, because that kind of notion digs itself in deep and perpetuates into adulthood. It's what prevents women from being strong, from saying no – with authority, from speaking out.
Or worse, it's the younger girls, who haven't yet been taught that this is all kinds of wrong. Whose schools don't give lessons on it, whose parents haven't yet picked up on it, or who've already felt the pressure. It doesn't bear thinking about.
Where to get a great slogan top
If you really want a slogan top, there are any number of amazing places you can buy them. Slogans that make you feel amazing, that encourage you to go out and rock this world, and everything in it, to make your mark, do what's right, and live – as the slogan goes – your best life. Here are a few of my favourites. Please do add more recommendations in the comments if I've missed a good one.
And if this post has hit a nerve, please let Missguided know.
Tee links from left: Well-behaved women from the Spark Company; A little less judgement from Mama Life London; A Woman's place from the Spark Company.