I am utterly spoiled for every single ski trip I take in future years. Seriously. Totally ruined. The phrase ski-in-ski-out has entered my consciousness, made itself at home, and will forevermore be the barometer by which I measure all future ski trips. This is the view from our apartment at Le Hameau du Kashmir, in Val Thorens over Easter. That slope you see, under the cable car, is not ten steps from the door of our locker room. Which, by the way, contains heated boot posts and glove hangers, so you always start the day with warm, dry fingers, and cosy feet. It's the ski equivalent of a cocktail waiter on the beach. And as for the kids, mutter the words shuttle bus any time after Christmas and they'll want to know why we didn't book Val Thorens again.
To be fair, pretty much all the accommodation in Val Thorens is slopeside, meaning that you'll never have to walk far in a pair of ski boots (unless you've been overdoing the après-ski, in which case it's always advisable to stay well away from snowsports). This is our apartment at Le Hameau du Kashmir, a 4.5 star 'hotel residence' combining 2, 3, and 4-bedroom self-catering apartments with all the facilities and service levels of a hotel.
Le Hameau du Kashmir apartments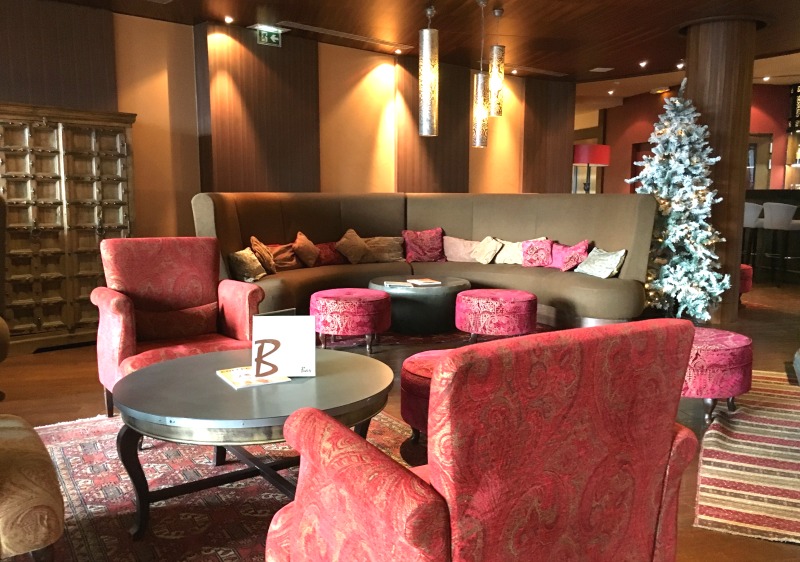 We stayed courtesy of Erna Low, who had handled the booking of our 4-person self-catering apartment and provided us with perfect instructions for our arrival. It was easy to park right outside the reception, where we were allocated an in-house parking space, and told that our rooms were ready – a lovely surprise at 1pm in the afternoon! Check in couldn't have gone more smoothly, with all our pre-booked vouchers (lift passes, toboggan vouchers, etc.) waiting for us on reception, and the smart hotel feel continued as we took the lift to our corridor, and found our apartment.
The lobby has a comfortable, relaxed feel; people hung out in robes prior to treatments in the spa, alongside guests snacking on charcuterie at the bar, and there was always a smile from the English-speaking staff on reception.

Bedrooms are stylish and very comfortable, there's a good sized living area, two bathrooms with showers in both and a bath in one, and a perfectly adequate kitchen area. This is our living area, complete with cable TV, and the main bedroom separated by sliding doors. A second, separate twin bedroom was on the other side, and we had our own small balcony. Perfect for a family needing space to hang out together, and separate when needed.The apartment has a safe, a large fridge, coffee machine, kettle, toaster, hob, oven, microwave, and dishwasher, and there were enough essentials provided for us to make it through the first couple of days without needing to visit a supermarket.
Check out the inside of our apartment in this video clip:
One touch we absolutely loved was the ability to order croissants and bread to be delivered directly to our apartment every morning. We simply ticked the options we wanted each evening, and they were with us by 8am in the morning. Perfect when you're doing the routine of layering up and getting sunscreen on the kids in time for ski lessons first thing.
Self-catering with hotel luxury
Once you step into your apartment you're completely self-contained, with very little evidence of other guests. Outside though, you have all the convenience and luxury of a hotel, from the lovely pool overlooking the slopes, to the classy restaurant, Le Karmin, and the spa treatments available in the relaxation rooms.
If you've ever skied with children, you'll know that whilst they love the thrill of mastering the slopes, there comes a moment in the day when they'll tire, and want to do something else. Having a comfortable sofa to hang out on is such a practical part of booking an apartment over a hotel room. But even then, the inertia won't last long before they're eager to do something different, and the pool at the Hameau du Kashmir is the perfect distraction. Swimming in this gorgeous pool, with stunning alpine views through the picture windows, you could totally forget real life for a while.

And if your family haven't managed to cram in enough fun, there's plenty more to keep them occupied, with a pool table and table football for guests to use.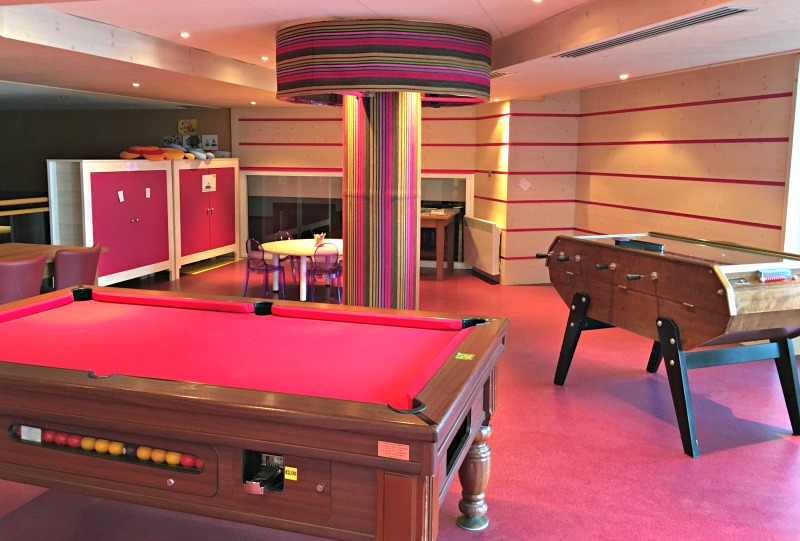 Where to hire skis and boots in Val Thorens
A short walk across the slope took us to Le Cheval Blanc where a very friendly team of ski tech experts in the Intersport shop kitted us out quickly, despite what seemed to be half of Val Thorens also getting ready for the snow – popular place, and rightly so. The Bug tried on 4 pairs of boots before he was completely satisfied, but the smiles never wavered. We carted them the short distance back to our lockers, and never had to carry them again for the rest of the week. Perfect.
There was only one more criteria to meet before we declared the Hameau du Kashmir the perfect family base in Val Thorens, and we found it: a slope-side bar – with cushions. Who doesn't need a chilled beer at the end of a long day skiing? And if you can take your boots off at the table and walk back in your socks? Well, that's just a bonus!
We stayed at Le Hameau du Kashmir with Erna Low, who provided our accommodation in return for review.
Intersport provided our ski hire from a huge range of skis to hire – from the award-winning Rossignol Savory and Soul 7s and Black Crows Freeride skis to the Firefly Rocket twin-tipped park skis, and the Head, Volkl and Salomon piste carvers. Customers are free to swap and change the skis as many times as they like during the hire period, which is great when snow conditions are changing as much as they do at Easter. Prices vary but average at around €8 per day; check out Intersport bi-weekly discount codes on Facebook.