Last week Mummy decided to write my birth story. And she asked you to write yours too. If you have one already, please link up using the Linky tool at the end of the post. I will tweet every new link-up. If you haven't written yours yet, but would like to, you can link up any time you like. We are open to new links for a year!
Please include in your post a link to this post, and the badge if you can, so that people can find their way here to read and comment on other people's birth stories. You can link as many times as you like; I know some people have written their birth story in stages, and others have written for more than one child. That is fine – link them all. If you have friends who you think would like to link their stories, or who would like to read a handful of these posts, please let them know. And finally, if you are not a blogger, but would like to join in, email me here and I will post it and link it for you.
GG's Birth Story (written by Mummy):
I didn't have an easy pregnancy, but then who does? Suffice to say that after much intervention, unpleasant drugs, IVF, two early miscarriages and many, many tears, we finally met a brusque but incredibly knowledgeable man at St Mary's hospital in Paddington. A specialist in recurrent miscarriage and Polycystic Ovaries, he quickly gave us a very simple plan, which worked straight away. His name was Dr Raj Rai. He made me cry, but he gave me my children.
By this time I was a paranoid wreck, and did not cope well with the little bleeds that came, on and off during the first 20 weeks. Convinced we had cheated fate and were not meant to have a child, I imagined the worst the whole way through. The state of my head probably did not help when it came to my birth experience.
Let me start this post with a controversial, but heartfelt declaration:
The NCT are careless, thoughtless, and naive.
I have some positive things to say about the NCT, and I know that my experience of them is not necessarily shared by others, but they did nothing whatsoever to prepare me for this birth. They did, however, introduce me to other expectant women, who have since become close friends, and for this, I am grateful.
NCT mistake number 1: Think of giving birth as a magical experience, which will bring you and your partner closer together. Pack your hospital bag with candles, music, romantic underwear (yes, they said that).
I was sharing a coffee with my NCT group the day before my due date. We were excited for K, who was due that day. Everything ached. Afterwards I did a supermarket shop, purchasing items we had been told we might need for our time in labour: chocolate, juice, water, sandwich ingredients,champagne (yes, I really thought we would need it) and pork pies (I had cravings). As I went home I had period pain.
NCT mistake number 2: You will know when you have a contraction. It is like no other pain you have experienced. It will bend you over double, then it will be over and you will feel fine.
I had that dull ache all day, and into the evening. At 7pm I had a show. I called the hospital. They said I sounded like I was having mild contractions and to come in when they really got going….
NCT mistake number 3: A nice warm bath will relax the contractions and ease the pain so you can stay longer at home.
At 10.30 I still wasn't sure I was in labour so I got in the bath. Bang! A contraction. A searing, raging pain of a contraction that did not stop. My husband called the hospital. They wanted to speak to me but I could hardly breathe, let alone speak. We drove down the motorway to the hospital with me kneeling in the back, arms wrapped around the headrest, head jammed against the rear window, wailing.
NCT mistake number 4: Your body knows what to do. Rock, moan, breathe your way through the pain. Pain relief is not ideal for you or the baby, and you do not need it if you get into the right frame of mind.
I don't need pain relief, I don't need pain relief, I don't need pain relief……get me an epidural now! I am given gas and air and examined. One centimetre. I am taken to the labour ward and hooked up to the machines. There is no anaesthetist at the moment, hang in there. More wailing. Why doesn't the pain stop, I was told I would have time to breathe and recover in between contractions.
NCT mistake number 5: Take great care over your birth plan. It is your passport to the kind of birth you want.
Here's my birth plan, here's how I want this labour to go, please help me have the experience I was told I could plan for. Ok we'll just put it over here whilst we examine you. Oh 7 centimetres! It's going very fast, that's why she's so stressed.
NCT mistake number 5: You need to be in an upright position to give birth. Do not lie on your back – the baby needs your pelvis free to open.
I need to stand, get me off the couch, I need to be on all fours, at least let me get onto my knees. No, you need to be on this couch, lying down so we can help you push. Where is my epidural? No time for that now.
After one contraction lasting 3 hours solid GG is born. I did it, with nothing but gas and air! I rock! I never got that epidural, but I am so glad now. How great am I? I had a baby with no real pain relief. I am a superstar!
'Erm, you have a lot of tears. We're going to need to give you an epidural so that we can stitch you up'….. 😕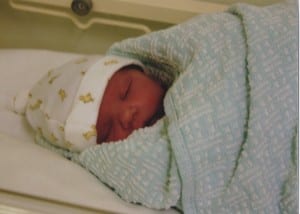 I had a very fast birth; the contractions began, and followed each other with no break, for 3 hours. Let me tell you, a fast labour is not necessarily a better labour. It was frightening, I was out of control, and it was nothing like I had been led to believe. My labour with my second child was completely different, but when I heard a woman wailing in the next room I panicked, crying, and requested an epidural. I feel I let my son and myself down with that action – I know I didn't need that epidural.
No-one could have predicted the shock and fear of that first labour, but I believe that if I had been given realistic expectations I may have handled things better. I do not blame my NCT teachers, but I do think that by painting a blanket picture of a birth that is natural and positive, by proclaiming that women's bodies and their babies 'know' what to do and can manage it for themselves, the NCT is acting naively.
By not getting the birth I was brainwashed to expect, I felt like I got something wrong. No woman deserves to feel inadequate after the birth of her first child, but I did – because of the expectations I took away from my NCT classes. Women died in childbirth. They still do on occasion. It is natural, yes, but not every woman will experience the labour and birth that the NCT promote. I will hazard a guess that not many of the posts linked here will showcase such a birth story. I hope I am proved wrong….
Link up, grab the badge from my sidebar, then go and have a read:

Powered by Linky Tools