A review of the Mio Mivue 688
There are a number of car dashcams on the market; a recent addition to the car tech available, a dashcam is basically a small camera that records footage of your journey, essentially to be used as proof in the event of an accident or insurance claim. Think of it as a kind of aeroplane 'black box' for your car. But it's not an inexpensive item, so the question is, do you really need one? We reviewed the Mio Mivue 688 dashcam to find out.
Why have a dashcam?
It will reduce your insurance premiums: insurers know that video evidence takes the ambiguity out of a claim, plus on the Mivue there is the option to record any bumps or knocks your car takes whilst parked, meaning good information even when you're away from your car. It helps prevent fraudulent claims, as well as offering proof when an accident is not your fault, and protecting your no claims bonus.
It has integrated GPS to track your route and your speed, and will alert you if you go over the speed limit, protecting you from inadvertent speeding.
Most dashcams will alert you to the location and presence of safety and speed cameras, and the Mio Mivue 688 does this via a monthly update, so that you'll always know where they are.
An additional safety feature is the option to set an alert that sounds if you drift away from the centre of your lane.
The Mio Mivue 688 in detail
If you're going to invest in a dashcam for your car, the Mio Mivue 688 is probably a good option. It has a Sony optic sensor for a crisp, clear view, even in low light conditions, meaning that should you ever need to use it as proof of the situation of an event, it has good image clarity. Take a look at our video clip to see some actual footage.
The camera is small, and lightweight, and attaches to the windscreen of your car with a standard suction cup, making it easy to install. The power cable is long, so it can be clipped around the windscreen, out of the way, however this part is a bit of a headache, so you need to be sure you really want a dashcam enough to be bothered with it. We haven't got round to it yet, and the cable is a bit of an eyesore.
You do need to buy an SD card in order to start using the dashcam, so make sure you get this at the same time as purchasing the camera.
There are some simple settings, which you select via a touch screen – it's intuitive and easy to do.
Once set up, the camera starts recording when you start your car, tracking your route and speed, and recording footage in a continuous loop of one, three, or five minutes, depending on your settings. Previous footage is deleted to make room for more recent filming, meaning you'll always have the latest information in the event of an accident.
The camera will also start recording if your car is bumped, so even if you're not in the car, you'll have some record of any damage that might occur while it's parked.
Monthly updates keep safety information up to date, so you'll always know where driving conditions require extra vigilance.
Set up is simple, and the camera starts working as soon as you switch it on, without complicated programming or settings.
We found downloading footage from the camera to a computer simple to do, so it's easy to save anything you need in case of future issues.
You can also take still shots. Perfect for a travel blogger, and I've been using it to capture much better images of our journeys for the blog!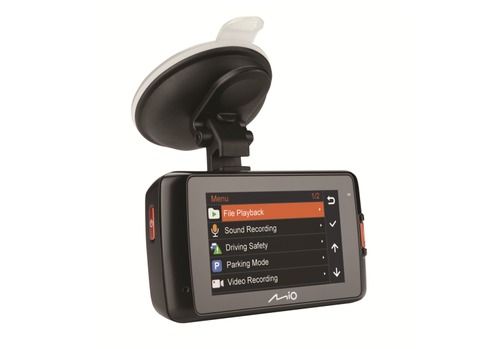 So the burning question, do you really need one? Well, it's like house insurance – we hope we'll never need to use it, but if the occasion arises, you might seriously regret not having it. At £159.99, it's not the cheapest addition to your car, but it is on a par with a basic satnav, an item that is becoming pretty much indispensible in most vehicles these days. And if you've ever been involved in a car accident, or a victim of a fraudulent claim, I suspect the price will feel like it's worth paying. Might be a good addition to the Christmas gift list if you know someone who takes their car seriously?
Our Mio Mivue 688 was provided to us for the purposes of review. All opinion is our own. The dashcam is priced at £159.99 and is available from auto retailers, as well as  online on the the link here.