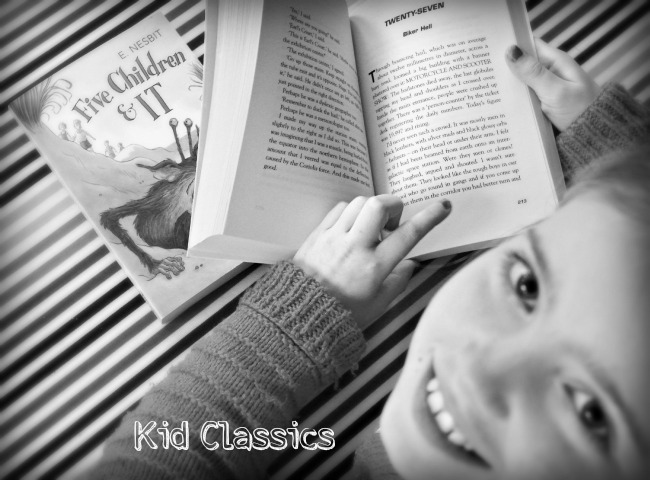 Last week we introduced a new feature, Ask GG, where readers get to ask anything they like, and I will give you the definitive answer – according to me. We were inundated with questions, so thank you. I will pick a few each week and post my answers on a Wednesday. This week I have chosen to answer the questions of Anna, from In the Playroom, and Kate, at Crafts on Sea, who both wanted recommendations for a reading list for 9 year olds who are good readers. Remember that I had been chastised for hiding a book under my maths coursework when I should have been working out sums! I should probably confess that I break this rule quite regularly, but then reading is just soooo tempting – why would I ask for the extension question when I have a good book?!
Anna said: Told off for reading seems crazy! My question for you is, as you read so much can you recommend me some of your favourite books, for my son to try as he improves his reading? Thanks!
Kate said: Hi GG, I am mortified you were told off for reading! What books would you recommend for other children your age?
Helen says: This was a perfect shop for us, as we often struggle to find books that are appropriate for my daughter's age. As a good reader, GG is capable of reading books for older children, but sometimes finds the subject matter a challenge. This week we put out a call to parents on Facebook for recommended reads, ahead of visiting Waterstones for some inspiration. We were blessed with a huge list of suggestions, and off we went for some girl time.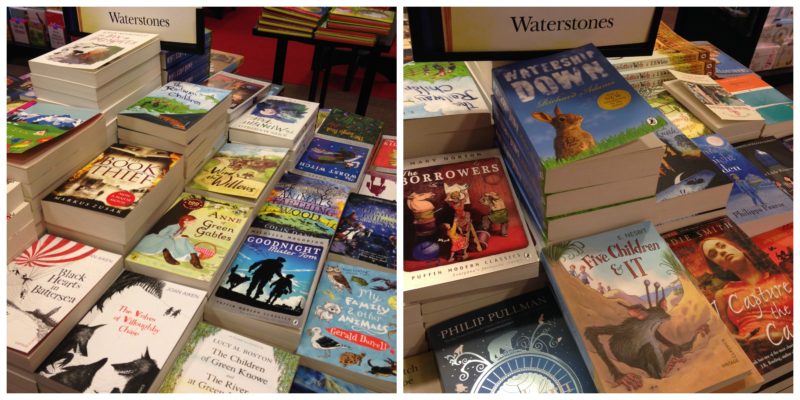 First stop was the table laid out with children's classic fiction. Some in here that I have longed to read with my children, when the time is right, recalling my own childhood memories. And others I knew of, but somehow never read. The Borrowers, Five Children and It, and Goodnight Mister Tom got several shout votes when I asked, so we spent a long time flicking through their pages. I shouldn't say it, but my daughter didn't so much flick, as read whole chapters!
We spent a good hour in Waterstones, both engrossed in potential new reads, and I found myself less inclined than usual to leave her in the children's section whilst I checked the best sellers list. As I read jacket blurbs and ventured in a few pages, I was drawn into the favourite books of children. Could it be that I am about to embark on a phase of discovering books through eyes other than my own?
Without further ado, I hand you over to my daughter…
***
GG's reading list for 9 year olds:
I have a top 10 of my favourite books to read when you are 9. I hope you enjoy!
Tom Gates, by Liz Pichon. Really good. Mostly for boys but I still read them. Don't tell! The pictures are hilarious but on your kindle you can't look up anything as it won't let you highlight anything. Get the paperback copy!
The Indie Kidd series by Karen McCombie and Lydia Monks. I didn't really like the one about pets but the rest of them were good. Indie Kidd is a girl who is more coordinated than her mum! ( In our house it's vice versa).
Mrs Pepperpot, by Alf Proysen. Brilliant if your kid is obsessed with small things. I am. Like the other day. I was given a tiny chicken sandwich and instead of demanding a bigger one I went " Aww! That's so cute!"
The London Eye Mystery, by Siobhan Dowd. I've just started reading it and I love it! Oops. I wrote this sentence a day ago. It's finished now.
Anything by Kate Saunders. I love her because she writes her books with a sprinkle of fairy dust!
Captain Underpants, by Dav Pilkey. A bit crazy. Need I say more?
The Roman Mysteries, by Caroline Lawrence. Good if you like an emotionally gripping read. Usually I don't but this series really grabbed it for me because it was also about adventure and history.
Jacqueline Wilson. My friend recommended this author as she reads it all the time. Even while eating!
The Twistrose Key,by Tone Almhjell. I'm reading it with my mum as I didn't find it interesting at first but now I'm into it I want to read it on my own and mum won't let me! 

Harry Potter. (Who doesn't love it!)
I am qualified to recommend books because I have a collection of 243 books at the last count and I have read most of them 475 times!
***
And what of our trip to Waterstones? She couldn't wait to begin, so out came a new book on the drive home. As we pulled into our drive, the rain began, so I got out my book and joined her. Then it poured, then hailed. In all we spent 20 minutes, mother and daughter, sat outside our house, each lost in our own separate stories, joined in a shared love of favourite books.
And what did we come home with from Waterstones?
Five Children and It, by E. Nesbit found favour with my girl. And the other one? That would be The London Eye Mystery, which – as she mentioned above – she devoured in less than 24 hours!
More suggestions for a reading list for 9 year olds:
Junk, by Mervyn Burgess. "Junk is drug orientated, but I felt it was a subject matter that (my son) needed to read about as he's in year 7." Aly from Plus 2.4.
Close Your Pretty Eyes, by Sally Nicholls. "… really gripping. Would depend on the 10 year old as the subject matter was a bit dark" Rebecca from Here Come the Girls. Rebecca also recommended the following:
Kensuke's Kingdom, and The Butterfly Lion, by Michael Morpurgo.
His Dark Materials Triology, by Phillip Pullman.
Charlotte's Web, by E.B.White.
The Wolves of Willoughby Chase, by Joan Aiken.
The Borrowers, by Mary Norton, which is on GG's list to buy the next time she has a kindle voucher.
Tom's Midnight Garden, by Philippa Pearce.
Holes, by Louis Sachar, which was lent to us by Kirsty from Damson Lane. I filched this and have hardly been able to put it down long enough to do the dishes! Kirsty also told us about these books, which as a teacher, she has on her year 5 reading list:
Stormbreaker, by Anthony Horowitz
Silverfin, by Charlie Higson.
I Coriander, by Sally Gardner.
The Machine Gunners, by Robert Westall.
When Hitler Stole Pink Rabbit, by Judith Kerr.
Haroun and the Sea of Stories, by Salman Rushdie – Kirsty says it's "magical!"
Prefer humour?
On a lighter note, and for those children who prefer comedy, Michelle, of Mummy From the Heart recommends the following for her 10 year old boy. I know GG would approve:
Beano annuals.
The Simpsons comic books.
The Adventures of Tin Tin.
All the David Walliams books, the man is a genius of children's writing, not just a slightly camp and pervy actor! Anya from Older Single Mum is also a fan of Walliams' Mr. Stink.
The Diary of a Wimpy Kid.
So there you have it – the definitive reading list for 9 year olds. That's going to keep her busy for, oooh at least a couple of weeks? Do you have any suggestions to add to our list?
If you have younger children, we found a post you might like on books you need to read before you're 4, on Not Another Mummy Blog. Don't tell anyone, but we still like to read some of those!