By The Bug (mostly)
We started joining in with Project 365 – taking and publishing a photo a day – at The Boy and Me in 2011. We tried, but failed to keep going, consistency not always a guarantee with us. Sensibly, we didn't even sign up in 2012, but as this blog has become more successful, we have increased our brand-related posts, at the expense of some of the anecdotal stories of our family life. That is a shame.
And so 2014 sees us joining in again. Just one photo each week. Sometimes with a story behind it, sometimes not. This weekend has seen GG and Daddy head off to Skegness for a 100 years of Brownie's celebration at Butlins. Heaven knows what state my Dad's head is in!
Love Bombing
I have stayed home with Mummy. We've been 'love-bobbing.' This involves just me and Mummy, no interruptions, and the word No is not allowed. Which means Mummy has retrieved random bits of LEGO from my drawer and re-created long-forgotten Star Wars models. She has consented to my wearing pyjamas all day, having ice-cream for tea, and time on the iPad. We rigged up the TV in her bedroom and ate Quality Street in bed together watching DVD's.
The theory behind Love Bombing is that I become more lovely and amenable as a result of having a parent all to myself, and being properly spoiled – always understanding that normal rules resume when our allotted time is over. There are parameters, and one of those was the ski lesson that was already in the diary. I had to do that, and I had to try my hardest (we are Mark Warner ski ambassadors this year). So I did. Here is me learning to ski backwards!
I'm not the most gung-ho of sportsmen, favouring self-preservation over adventure, so incentives to persevere are sometimes required. But today I went for it. There were nerves, there were falls, there was a request to go back to the trainer slope (that fell on my instructor's deaf ears), but I kept going. When my card was filled out at the end of my lesson, I had moved up 2 levels. 2 whole levels in one lesson! I declared myself awesome, and requested a treat from the vending machine. Of course, Mummy had to say yes 😀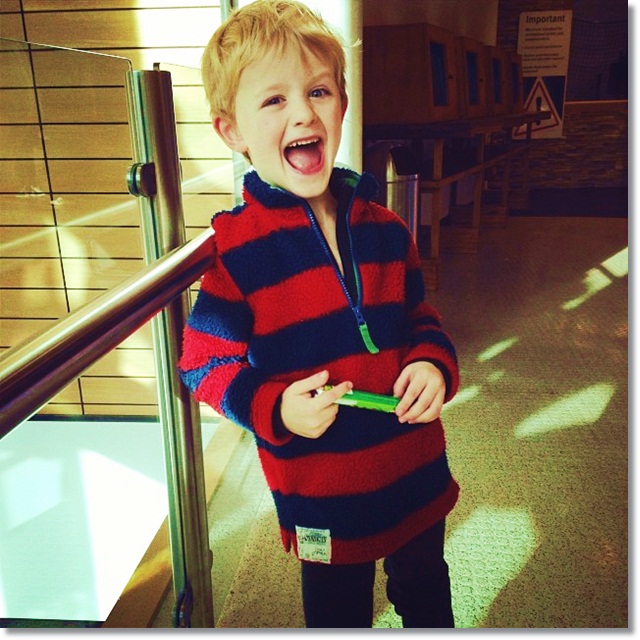 Pleased with myself!