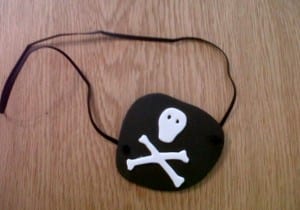 Those of you who know me well are aware of the fact that Mummy is rubbish at craft. So it's lucky for the Bug that we know Stacey, who has written us a guest craft tutorial today on how to make a pirate eye patch. It's so simple, I'm pretty sure even Mummy could do it!
Ahoy shipmates! Pirates are very popular at the moment. This cheap and easy-to-make eye patch will come in very useful for children's parties or fancy dress. It is simple enough to make with your children although some of the cutting out is a bit tricky. Thanks to Stacey who was kind enough to provide this great fun tutorial.
You will need:
Black foam sheet
White foam sheet
Black elastic
Wooden skewer
Scissors
Glue

Step 1
Cut out eye patch shape from black foam.
Step 2
Draw skull and crossbones on white foam. Check it fits on the eye patch.
Step 3
Cut out skull and crossbones.
Step 4
Glue on to black eye patch.
Step 5
Make two holes in the eye patch using the wooden skewer.
Step 6
Thread the ends of the elastic through the holes and tie a knot in each end.Make sure the length is right for your childs head.
Have fun playing pirates with your children. The skull and cross bones can also be used to decorate hats or flags. The eye patches could also make great gifts for party bags.
You might also like this post on how to make a dinosaur party hat.
THANK YOU FOR READING
If you've enjoyed this post and found it useful here are some ways you can say thanks and support Actually Mummy:
Click here to buy me a virtual coffee.
Join our Teenage Kicks Facebook group which includes lots of advice and support for parents of teenagers. You can post your own problems and advice here too.
Click here to leave a review of the Teenage Kicks podcast.
Click here to sign up to our newsletter packed with tips, ideas and support for parents of teens.
Share this post with your friends.