At nearly 15, Maddie wants privacy. She is no longer prepared to share a sofa bed with her little brother
Holidaying with Teenagers
Going on holiday with teenagers is a double-edged sword. Sure, you can once again fit more shoes in your luggage now that you don't have to reserve all the space for nappies and toys, but older kids have their own views on how they want their holiday to go, and if you've managed to get one of each, they're not always compatible. There's a picture in my family album that sums it up beautifully: me aged 7, sat in an inflatable dinghy, beaming with happiness on the beach at Tenby; and my 17-year-old brother next to me, looking absolutely capable of murder.
At nearly 15, Maddie wants privacy. She is no longer prepared to share a sofa bed with her little brother, and separate hotel rooms pretty much double the cost of your holiday, so luxury hotel resorts are definitely not an option. Her requirements are pretty simple, to be fair. Sun, a pool, headphones, wifi, and her own space to retire to when she's grumpy irritated by the rest of her family. But with a younger brother, and a restless Dad, she has to compromise, and that's a difficult word for an adolescent to get her head around. She wants to lie in, they wake up early. She'd happily spend all day on a sunlounger, they want to explore. Increasingly, finding a holiday that makes everyone happy is becoming more and more of a challenge. (I'm easy – I'm just happy not to be doing all the cooking, and to have left behind the laundry!)
ADVERTORIAL CONTENT
*We had  7 night stay at Camping Le Soleil, courtesy of Eurocamp. However, I did not receive payment for this post, and all opinion, words, and imagery are my own.
What's Camping Le Soleil like?
So it was that we booked Camping Le Soleil, with Eurocamp for our summer holiday this year. Travelling in May, we wanted a guarantee of sunshine, so we were fixed on going at least as far as the south of France. Argelès-sur-Mer is a pretty coastal town, and Le Soleil is just about within walking distance, so it ticked some boxes already, giving just enough distraction from a 'lounging' holiday to keep the boys happy. Plus, what teenage girl doesn't want to spend an afternoon downing endless ice-cream and browsing tourist apparel?
Where to stay at Le Soleil
We booked a three-bedroom mobile home, choosing the latest, top of the range Eurocamp offer, the Aspect. We've found in the past that the price difference between two and three-bed mobile homes isn't vast (not like booking an extra hotel room), and it gives us the space to spread out when we need to. Not that space was an issue in the Aspect. There's a good size living area, but the beauty of the Aspect is the double doors that open onto a huge covered deck, with comfortable garden furniture. Perfect for dining outside, or for chilling out while someone else cooks.
There are plenty of mobile home styles, so there's something for all group sizes and budgets. Eurocamp also have pre-pitched tents, with full access to all the facilities.
Le Soleil campsite facilities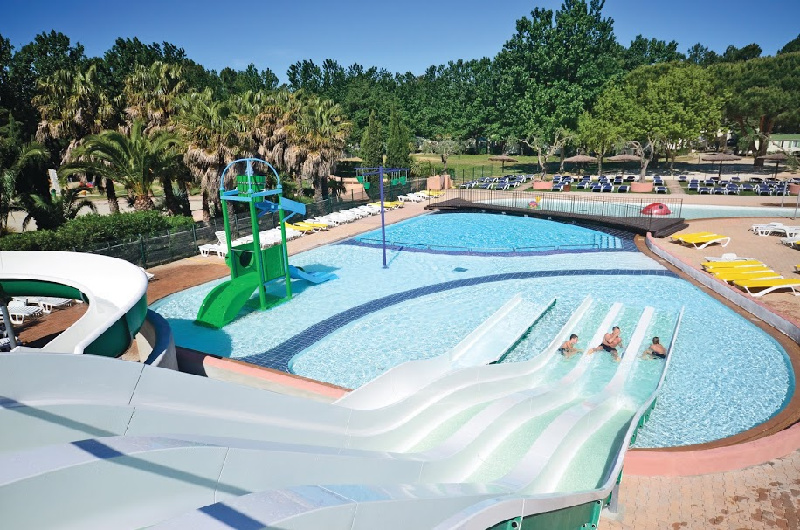 The campsite itself is of a medium size, so it's easy for older kids to learn to navigate, and it felt safe enough that we could let ours roam. Which gave us a couple of evenings to drink wine on the deck while they took themselves off to buy ice-creams and join in with the football that always seemed to be in play. Eurocamp do run kids clubs up to teen ages, but this year for the first time it felt like the kids were happiest to go untethered, and to make their own fun. And on the odd occasion when we wanted to go to the pool, and Maddie wanted to wash her hair/paint her toenails/sing along with the Jonas Brothers, we felt comfortable leaving her at the mobile home while we watched Evan charge down the waterslides.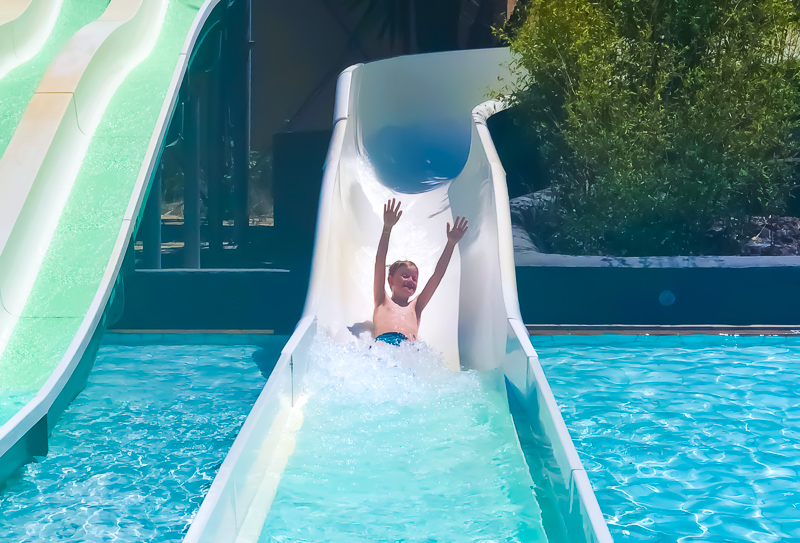 The pool is heated, with a separate area for toddlers, 4 water slides, and an adults only part that has amazing massage jets. There's also a really pretty 'beach' bar by the pool that looks lovely and opens in high season. Next to the pool there's a bar close to the beach with disco entertainment (again, it wasn't open when we were there, but I'm thinking it's perfect for teenagers in the summer months); there's also a climbing wall where you can book a session with an instructor.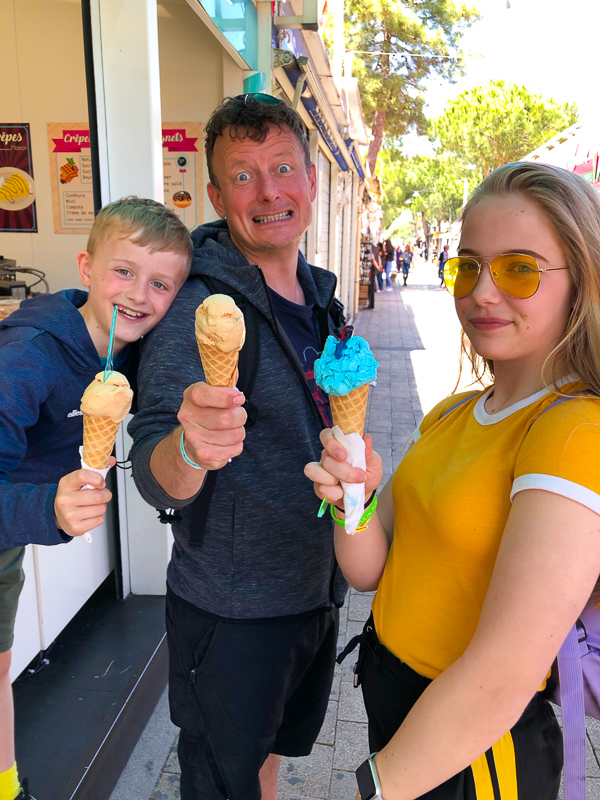 The site has a small shop for essentials (although the bakery is limited so it's worth finding a favourite place for breakfast while you're there); there's a really good variety of takeaway items, a proper restaurant that does fantastic pizzas, and a snack bar next to the pool and toddlers play area. Kids can also play football and basketball on the purpose made courts, and there's some static exercise equipment by the entertainments area. So all in all, plenty for kids to do while parents enjoy a glass of chilled rosé in the sun.
What is there to do near Camping Le Soleil?
Argelès-sur-Mer is in a beautiful location, so there's plenty to do for families aside from the usual beach and camping pursuits. There's a fantastic canyoning park that my friend Sally visited with two teenagers, as well as plenty of places to explore along the coast by hiring some of Eurocamp's bikes. You can also go horseback riding, and learn a variety of watersports. The staff at the Eurocamp office on site couldn't have been more helpful, and had lots of advice on the best places to visit.
Argelès Plage
Argelès itself is a pretty average French town, but head down to Argelès Plage and you'll find a lovely promenade of restaurants and little market-style shops to please any tourist, without being tacky. It's classy. We found some stunning fish restaurants right on the beach, but our favourite was the Catalan-style Carnaval Café, where we were able to sit in the sunshine and devour this incredible platter.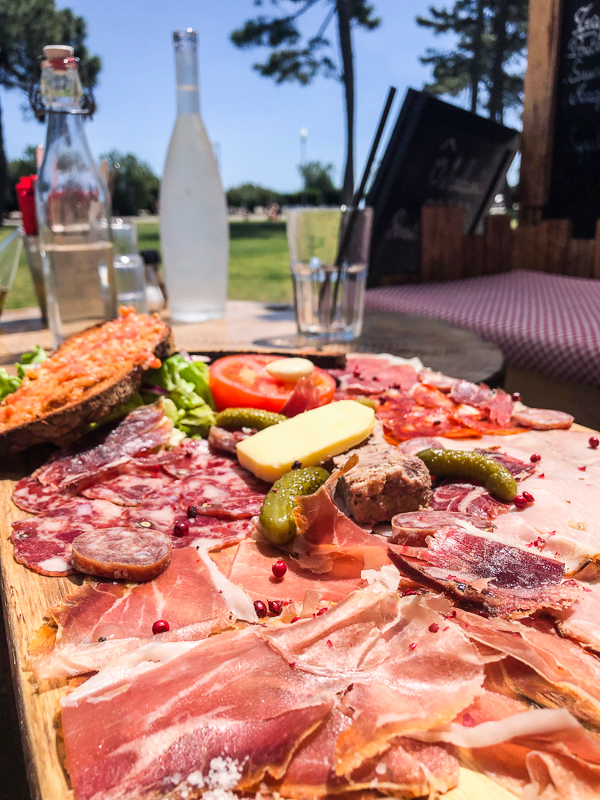 This part of France has a lot of Catalan heritage, and many of the residents identify as Catalonian, so there's a heavy presence in the restaurants, from Catalan beers, to incredible tapas. We'd only stopped here for a quick drink, but when we saw what people were ordering, we just couldn't help joining in!
A day in Collioure
A short drive from the campsite is Collioure, a total tourist trap, but so so pretty, it should be illegal not to visit when in France. I actually started looking at properties in estate agents' windows.
A traditional harbour town, Collioure is made up of narrow, hilly streets, lined with artisan shops and tiny bars full of little old French men drinking Pastis. It's perfect. And then you reach the seafront, teeming with gorgeous restaurants overlooking crystal clear, sparkling waters, and the castle gazing down on it all.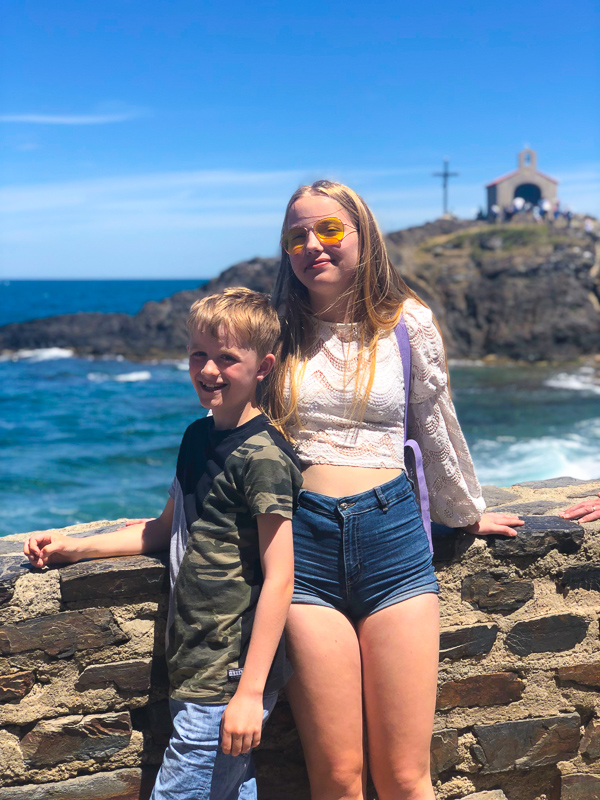 Drive up into the hills
It's a windy journey, but if you have a car, it's worth taking the 20 minute drive up into the mountains for the spectacular views.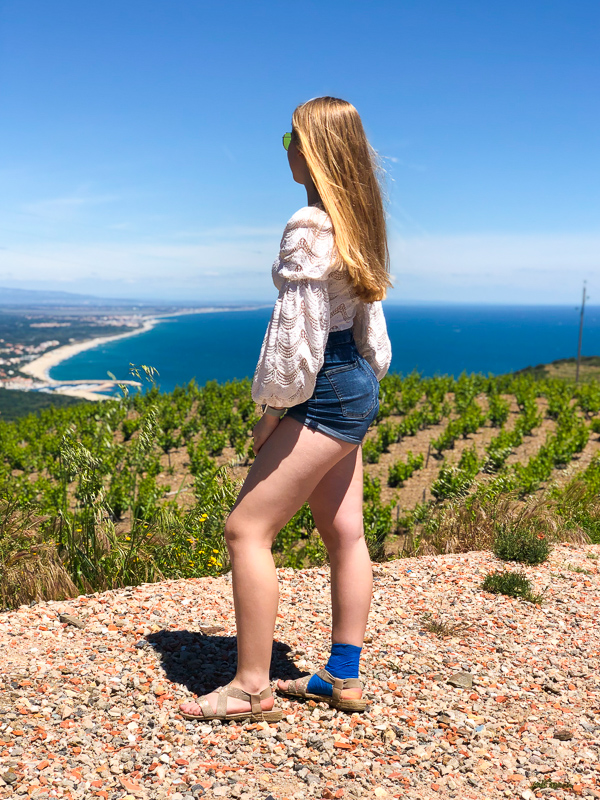 Tips for staying at Camping Le Soleil
Whilst Languedoc-Roussillon gives you the best chance of good holiday weather during the early part of the season, it is a long drive. We took the Eurotunnel to Calais and drove as far as Rouen before spending the night in a fairly average hotel, to break the journey. But next time we're definitely going to make a nicer break of it and stop at Puy du Fou in the Vendée for a couple of nights.
Book the Eurocamp welcome pack. We got two small bottles of wine, some water, jam, juice and olive oil, as well as the basics like tea, coffee and some cleaning products.
Even so, if you're driving, you might want to take some loo roll, washing up liquid, hand soap, and a spare tea towel, to keep you going for a while before you can hit a supermarket (there are several nearby, and I'd suggest making the trip, as the campsite shop is expensive. That said, the shop does stock all the basics, so you'll never be in a fix.
Boys and men need to take swimming trunks as shorts are not allowed in the pools.
The campsite has direct access to a lovely beach, but there are no amenities, so take beach mats.
The takeaway sells all the usual fast food items, but you can also buy rôtisserie chicken, and some well-made 'ready-meals' if you don't fancy cooking, but don't fancy a burger.
Eurocamp has gas barbeques on each mobile home pitch.
The campsite is mostly quiet, although the entertainment does continue till around midnight.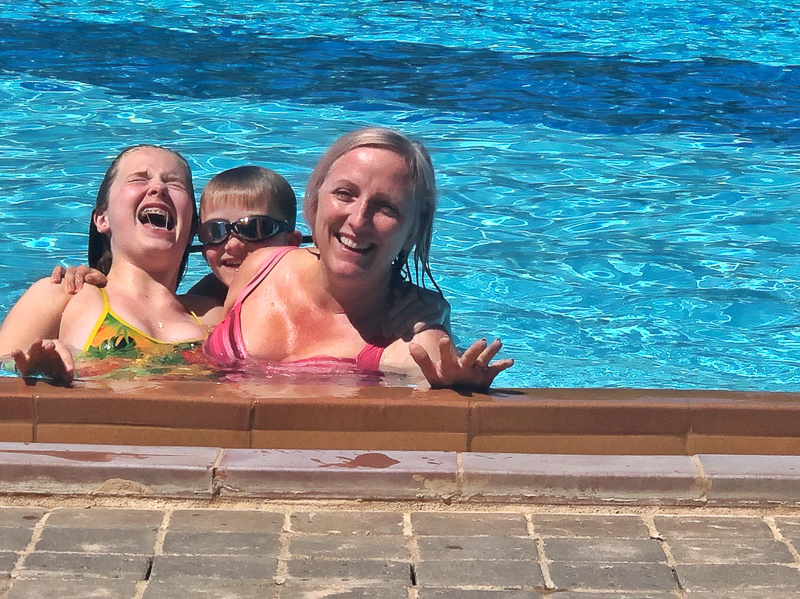 Eurocamp facts
Eurocamp was founded in 1973
Now the largest operator of premium outdoor holidays in Europe, with more than 180 parcs across 13 countries including France, Spain and Italy
Parcs are situated near the beach or lakes, in the countryside, by the mountains or in city locations
There is a multitude of accommodation options, from holiday homes, lodges and bungalows to Safari tents
Eurocamp's Kids' clubs cater to children of all ages
With Eurocamp you choose when you travel; you can arrive and depart any day of the week, and there is no minimum or maximum duration
You also choose how you travel; fly, ferry, train or Eurotunnel
One single price, rather than per person
For more information or to book, take a look at the Eurocamp website. If you'd like more inspiration, check out these European holiday options.
Pin for later