Easter Baking Ideas
We have a bit of time on our hands for once this Easter break. I've longed for a holiday where we're at home, just to spend time with the kids, doing simple things. And one thing they never tire of is baking. Schwartz got in touch to ask if I would get the kids involved in some cooking using some of their spices. Never one to turn down a challenge, and always a lover of a twist, I decided that we'd start our Easter baking preparations with traditional hot cross buns. Recipes for hot cross buns are usually traditional (unless you buy into the recent craze for chocolate and salted caramel (not my cup of tea at all!) But this Easter recipe has a bit of a twist.
Recipe for Hot Cross Buns with Moroccan Spice
A different way to think about spices
I wanted to use cardamon. We've had some cardamon pods for ages, but haven't really known what to do with them after the obvious tagine. So I did a bit of research, and found recipes suggesting that cardamon goes well with cloves and cinnamon (ignore the cloves here, I used ground, but thought these looked nice for the picture!). Still on the tagine theme, I decided that dried apricots would be a fabulous alternative to the usual mixed dried fruit of the traditional Easter treat, and then had the idea of adding chopped pistachio nuts – flavour, colour, and still in the Moroccan style. Sadly there seems to be a pistachio dearth at the moment in the UK as I couldn't find them anywhere, so I've substituted chopped roasted hazelnuts. They taste almost as good!
What I did next didn't make an awful lot of sense, but I thought it might work, and it totally did. I added some turmeric to my recipe. Usually a curry spice, turmeric in a small quantity gives a beautiful yellow colour to the buns, and adds a gentle warming flavour to your breakfast, without being overpowering. Try it, you'll be surprised!
I roped the kids in as usual. Here they are helping me to prepare a deliciously different Easter baking favourite.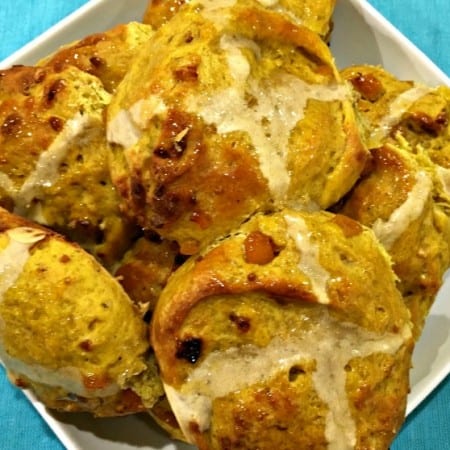 Traditional Hot Cross Buns with a Twist
A traditional recipe for Hot Cross Buns with some added warmth, sun and spice!
Ingredients
275

ml

lukewarm milk

1 1/2

tbsp

dried active yeast

80

g

caster sugar

625

g

strong white bread flour

sifted

1

tsp

salt

2

tsp

Schwartz ground cinnamon

1

tsp

Schwartz ground cloves

1/2

tsp

Schwartz ground turmeric

6

Schwartz cardamon pods

25

g

butter

chopped

zest of 1 orange

1

egg

beaten

100

g

dried apricots

finely chopped

40

g

chopped pistachio nuts

2

tbsp

plain flour

2

tbsp

golden syrup
Instructions
Whisk 1 tsp sugar with 150ml of the warmed milk. Add the yeast and whisk again. Leave to stand for around 10 minutes until a thick froth has developed on top of the milk.

Mix the remaining sugar with the flour, ground spices and salt.

Crack open the cardamon pods and grind the seeds with a pestle and mortar to a fine powder, then add this to the dry ingredients. Mix well, then place in a mixer bowl, add the butter, and rub in using the beater. Alternatively, rub the butter in by hand.

When the mixture resembles breadcrumbs, make a well in the centre.

Add the orange zest, egg and remaining warm milk into the well.

Whisk the milk and yeast mixture again then add this to the mixer bowl.

Using the dough hook, slowly mix to a soft dough, then continue mixing for around 10 minutes, until the dough is smooth and elastic. Alternatively you can remove the dough and knead on a floured board for 10 minutes.

Towards the end of the kneading time, add the chopped apricots and nuts, and work into the dough evenly.

Turn the dough into a greased bowl, cover with greased clingfilm, and leave to rise in a warm place for around an hour, or until doubled in size.

Turn the proved dough out onto a board and knead lightly again, before placing back into the bowl to rise again, for around 30 minutes.

Divide the dough into 12 even pieces, then place on an oiled baking sheet, cover with the clingfilm, and leave to rise one more times for 10-15 minutes.

Preheat the oven to 200C/180CFan/400F/Gas Mark 6

Mix the 2 tbsp flour with water to form a thick but runny paste. Spoon into a disposable icing bag and snip the end off.

Carefully pipe a cross on each bun.

Bake for 15-20 minutes or until browned on top and springy to touch. Remove from the oven and allow to cool.

Heat the syrup gently in a pan and glaze each bun with a pastry brush while they cool.
I have been compensated by Schwartz for my time in creating this recipe. I wasn't asked to use specific spices, and the recipe is my own work.