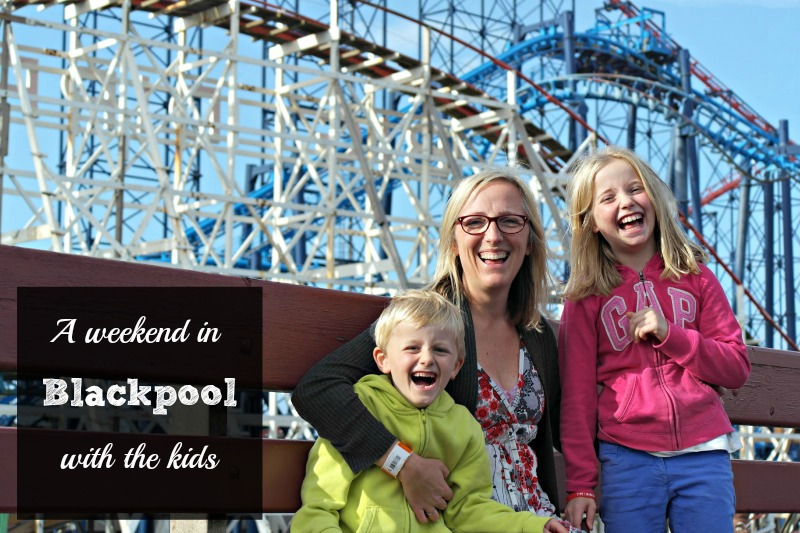 Blackpool is also for families!
It was the biggest thrill of my life. I honestly thought I'd left my stomach at the top of the ride, and I sat, shellshocked, waiting to be let out of my harness. I couldn't do it again. I was 14, scared senseless, and in love with rollercoasters. I rode them all, then consumed a hot-dog, an ice-cream, and a candy floss, and wondered why they made me feel sick. But I still had room for a stick of rock as I waited for my donkey-ride on the beach, and I begged for a clear red candy dummy every year before we set off on our coach drive through the Illuminations before heading home.
A day trip to Blackpool was our regular final fling before returning to school after the long summer break. I haven't been back for thirty years, but as my children have grown I've longed to take them, to see if they would love it as much as I did, to see if it was still the stuff of dreams. This year GG turned 10, and she is a huge thrill-seeker. A Dad who works for Thorpe Park is seen as a good thing, but she has yet to capitalise on 'The Big 5,' and is painfully awaiting the arrival of an extra two centimetres so she can access all areas. Not so at Blackpool Pleasure Beach – there, she can do it all. And she did:
Blackpool – accommodation for families
Our birthday weekend was courtesy of the Cliffs Hotel, who kindly offered us a family room that ticked all the boxes for a quick weekend away. The kids were delighted to have bunk beds, and everything was comfortable and clean.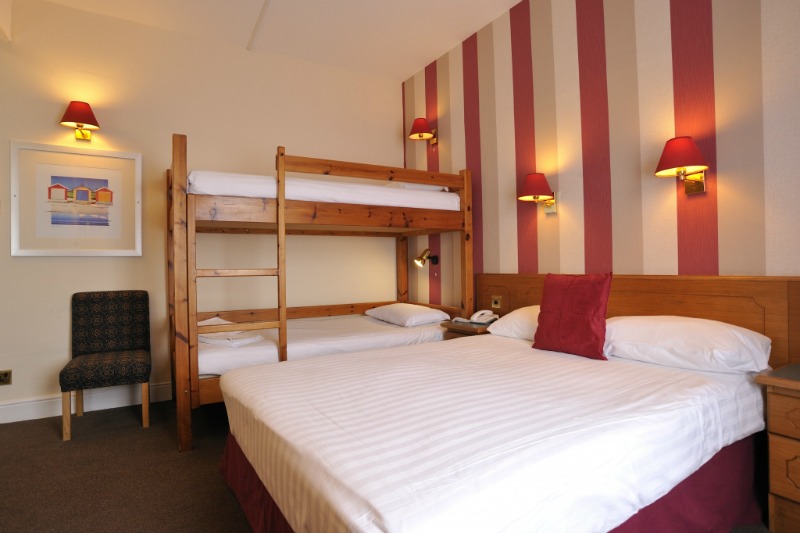 We'd arrived late, having had car trouble en-route, but nothing was a problem, and the reception staff couldn't have been more helpful about getting us settled in, even offering to hold back some dessert to top off our hasty car-consumed McDonald's when we got there. And what a choice of desserts there was. Someone in our group may have struggled to choose, and gone to bed a little bit full!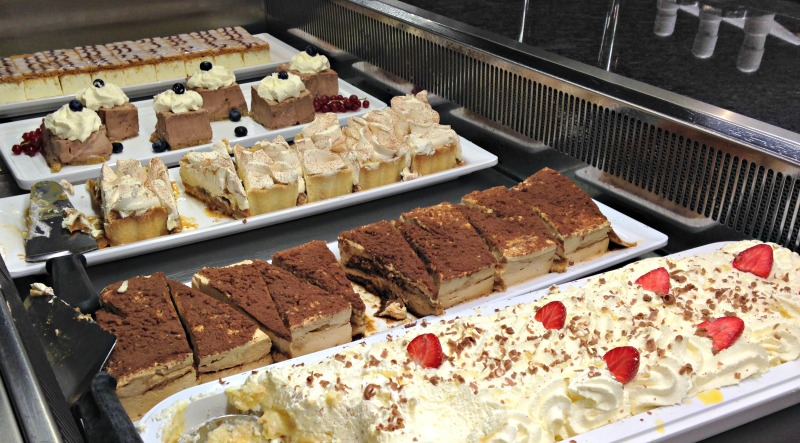 Breakfast was no less impressive, and bacon sandwiches with every type of egg set us up for a full day of coaster riding. We decided to leave the car behind, and hopped on a tram (when in Blackpool…). A family ticket cost just shy of £10 for the day and allowed us to get on and off wherever we wanted, which was perfect given that Blackpool's attractions are all spread along a 3 mile stretch of coastline.
The rides at Blackpool Pleasure Beach really are second to none, and there is enough there to please the full range of adrenalin requirements. GG took the challenge of all the biggest coasters, although she did wimp out of the Ghost Train! The Bug prefers a more sedate ride, and took me for a spin on the Grand Prix.
It being a rather special birthday, we chose to ride part of the way back in a horse and trap. I have never done that before, and the children felt like royalty perched up there above the traffic. For £20 I'd say it's a fabulous treat for a special occasion, and we were dropped off right outside our next stop, which was Tussaud's.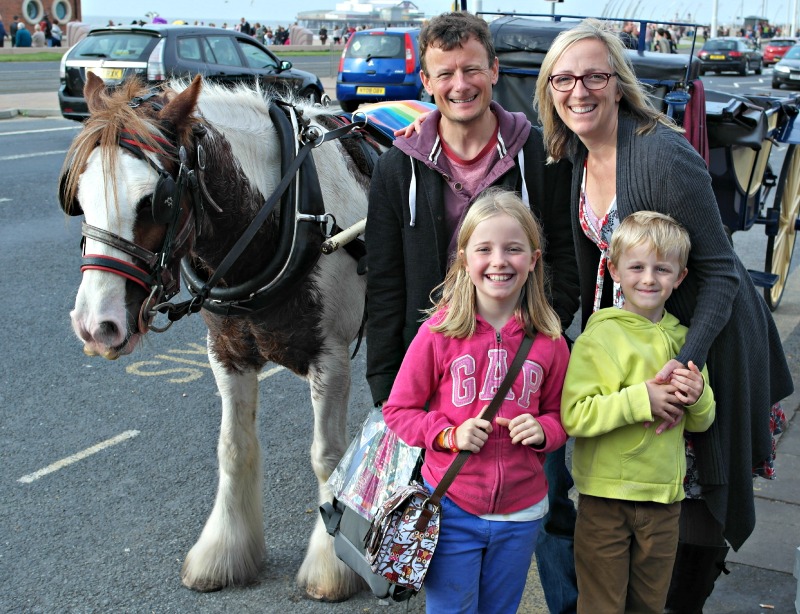 We loved Tussaud's – we've visited the London version, which we enjoyed, but I have to say, Blackpool felt much more relaxed, and we were able to spend more time wandering, without the crowds of tourists all desperate to get their picture with every single model! The children spent a very happy hour or so just hanging out with their favourites. And so did I. Ahem.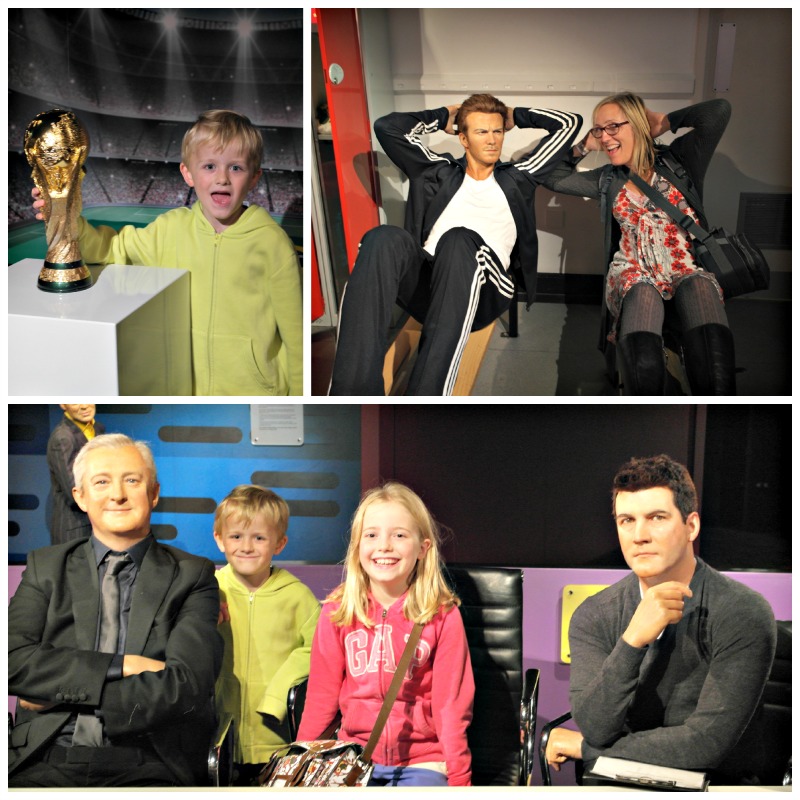 Our favourite celebs at Tussaud's Blackpool.
Back at the hotel, one of the things I loved was that we had our own table, and it was ours for the entire weekend. Our waiter could not have been nicer, and didn't bat an eyelid about children who didn't want to eat from the children's menu, preferring steak in mushroom sauce with a great big stack of dauphinoise potatoes. They're not daft, my kids! He also chatted to us about the best way to see the illuminations – drive the bulk of them, and then park up and walk around the bigger roadside fixtures – and told us that the hotel is pretty busy all year round, with families returning again and again. I wasn't surprised – great food and friendly service are always going to attract repeat visits.
Blackpool Illuminations
The famous Blackpool Illuminations run from the end of August to early November. I was worried that they might not live up to the memory I've nurtured since my childhood (in the way that returning to your old primary school feels like drinking Alice's shrinking potion), but I was just as wowed as I was all those years ago. I don't think the children had any idea what to expect, and I sat with a smug grin on my face as the whole family oohed and aahed at so much bright, twinkly colour. It really is a spectacle, and if you're planning a trip to Blackpool, I can't emphasise strongly enough how brilliant it is to go at this time of year.
The Cliffs nightlife
We returned exhausted but with huge smiles on our faces, ready for bed. But not before we'd sampled the fabulous entertainment put on nightly by the Cliffs. Whilst the children are able to use the great game facilities in The Base, adults are treated to cabaret acts and comedians that were really impressive. And all of it is family-friendly, so when the kids get bored (occasionally!) of hanging out with their new friends, they're happy sharing a table and a drink with the rest of the family. Seriously, no-one wanted to go to bed!
The Cliffs leisure
After such a full-on day, it was wonderful to spend the next morning in the leisure club at the hotel. We spent a happy hour dipping in the pool, and enjoying the hot-tub together before reluctantly packing our bags for the long trip home.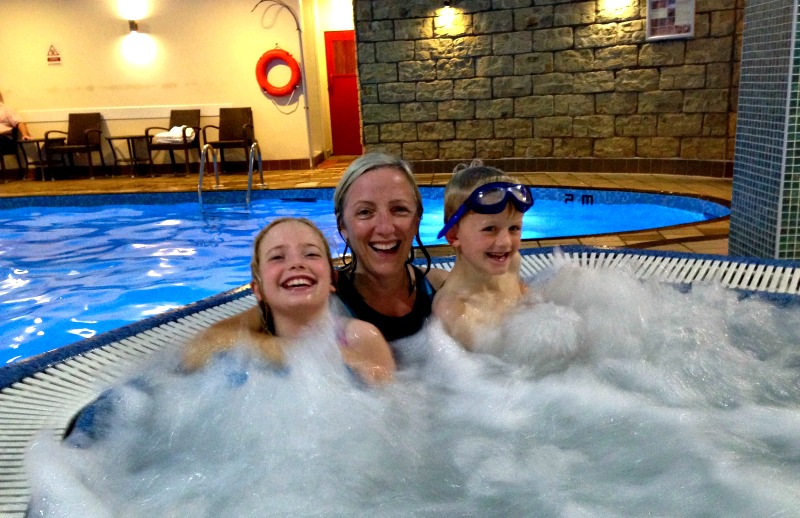 Speaking of which, I have to once again mention how lovely the staff were. I stupidly forgot to pack both my iPad, and some important documents, leaving them on our dressing table and wandering out to the car without a second thought! I must have been hugely relaxed. I realised with sinking feeling, 3 hours down the motorway. Now call me a cynic, but I have well and truly 'lost' things before now, by leaving them in hotel rooms. Not so with the Cliffs; they couldn't have been more helpful, or less judgemental, and a quick panicky phone call saw my valuables sent recorded delivery and back with me a day later. Brilliant service!
You know when you revisit something you remember from your childhood, and it's not as good as you remember? Well Blackpool was so NOT like that. I loved it, the kids loved  it, even Jason loved it, and he's a southerner! Get to Blackpool, as soon as you can, and stay at the Cliffs. You won't get a better UK family weekend break!
Disclosure: we were guests of the Cliffs Hotel for the purposes of this review. All opnion and editorial is our own. You can follow the conversation with @ChoiceHotelsUK on Twitter, and @choicehotelsinstagram. For more inspiration on Blackpool accommodation for families, check out the following links:
And for alternative thrills and spills here on some tips for Legoland Windsor.