As she turned the corner into Foubert's Place and laid eyes on the shop, she stopped. "Oh, that's the one," she breathed. "That was my cake."
Only it wasn't. The white chocolate wedding cake in the Choccywoccydoodah window had been the ultimate in cake fantasy as she had planned her wedding 13 years earlier. But despite the hours spent designing the colour and style of the chocolate flower decorations, that cake had never been hers. There was a budget; a budget that allowed for the wine (obviously), the cloak (not the dress, it was never about the dress), and the beautiful honeymoon. But the cake was a stretch too far, and a compromise was made. She had always regretted it.
She had never actually visited the shop, knowing that once through the doors she would cease to resist, and the cake of her dreams would become the reason why the party lacked a DJ, or an argument about wine allowance per head. But her visit today was for a different purpose. Together with the Secret Blogging Society, she was on a jaunt to discover The Secret Room, a chocolate experience which promised to deliver an experience that even Roald Dahl's sugar addict might be proud of.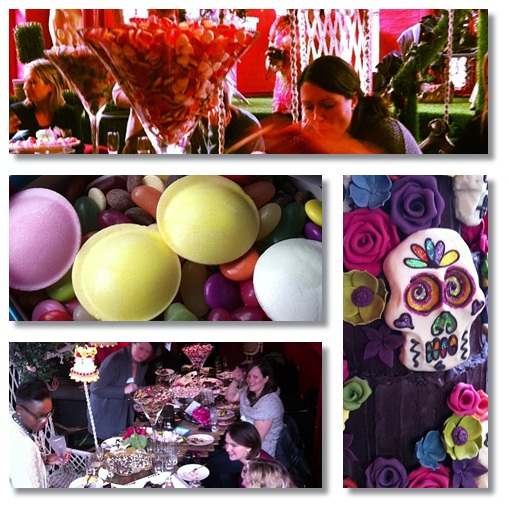 En-route to the winding staircase which led to their party venue, she stopped to sample a coconut and white chocolate cake, and groaned inwardly at the fabulousness she had foregone all those years ago. "It's gone, stop grumbling," she chastised herself, as she took another piece for the climb.
Three floors up, and via a quirky trip to the toilet, grass-covered doors opened into the secret room. Quashing a momentary disappointment that the grass blades were not, in fact, edible, she paused to take in the eclectic array of bric-a-brac. A serious character put this place together. Finding the hanging seat already occupied, she absent-mindedly petted a chocolate terrier before feasting her eyes on the table. Chocolate-dipped strawberries, fondue, brownies, platters of pick-n-mix, and Turkish Delight. Oh well, another skipped weigh-in next week, she decided.
The perfect venue for a girl's party – chocolate heaven, her daughter would be in her element surrounded by school-friends and marshmallows. Then someone popped a champagne cork, and she was back in wedding mode. "Of course! The ideal start to a hen-party…"
As the party broke up, and made their way back down through the shop and out onto the street, headed their separate ways – underground stations, buses, the pub – she glanced back at that wedding cake. "Oh well," she shrugged. The moment for indulgent elegance had passed, and in its place were more childish pleasures, of the kind an 8-year-old girl might crave…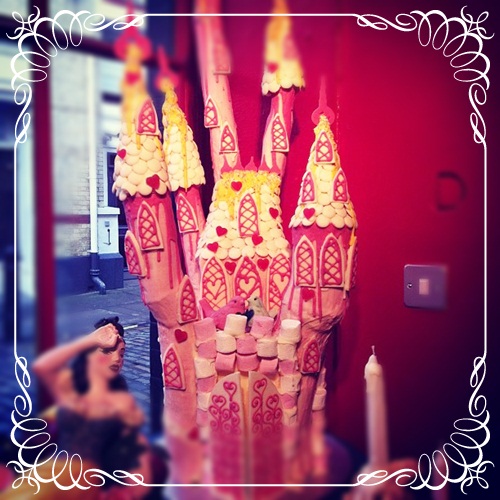 #truestory #notsponsored #greatdayout #chocolatecake and #poppingwine
* The secret room at Choccywoccydoodah is available for hire for all kinds of party.
Nominations are now open for the 2013 MAD Blog Awards. I was delighted to win the Best Schooldays category last year, all down to my lovely readers. I'd love to be in with a chance again this year, so if you'd like to give me a nomination click here to enter my blog address https://actuallymummy.co.uk You can nominate in any category but I think my best chance is in Best Family Fun, Best Schooldays, or Most Entertaining.