I'm not a huge baker. Occasionally I spend an afternoon with the kids throwing random things at a pan, loosely based around a recipe book, but more often than not substituting ingredients as we discover we don't have what we need. I need to get better at prep.
But give me a decorating challenge and I'm all over it. Take the time I spent 5 hours pimping this for my 4 year old's birthday:
So when Jenny laid down a challenge to create a sport themed cake for the Great Bloggers Bake Off for Team Honk, I didn't resist for long before going into icing overdrive.
Sporty Cakes!
The Chessboard.
For the actual cake recipe, I used a mix of a chessboard cake recipe I found online, and this egg white cake recipe. The egg white batter makes the white sections of the cake much whiter, giving a better contrast. Simply use the second recipe for the whole cake, adding the cocoa powder and hot water as described in the first post for the chocolate section of the cake. Then follow the chessboard recipe to create your chequerboard effect.
When it came to decorating I got a bit carried away on Amazon, I have to confess. Here are the things I used, and the assembly process I followed:
First I covered the top of the chessboard cake with a layer of white marzipan. I used black liquorice laces to create a lattice of even squares over the top.
Next I made a chocolate ganache to coat the sides of the cake, securing the ends of the liquorice laces in the mix.
Once the ganache had set, I used black Candy Melts to fill alternate squares on the top of the cake, creating the chessboard.
I used white and black Candy Melts to fill this brilliant chess piece mould I found on Amazon. They make half a peice in each cavity, but my making two I was able to stick them together to make a whole piece – all you do is heat a baking sheet, briefly press the flat sides of the pieces onto it to melt, then sandwich them together. The kids were very impressed with me!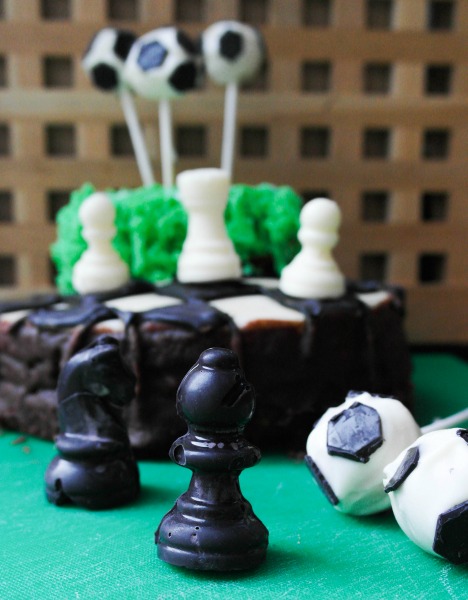 The football pitch.
I didn't want to leave it at that, having an uncharacteristic desire to create a 'show-stopper' and do a 3-tier creation. So next came a lemon polenta cake made in a loaf tin. I cut a section of 'turf' and iced it with a grass effect nozzle to create my football pitch. Some tips from my son, and a quick google image search later, and I had managed to ice an approximation of the white lines of a football pitch.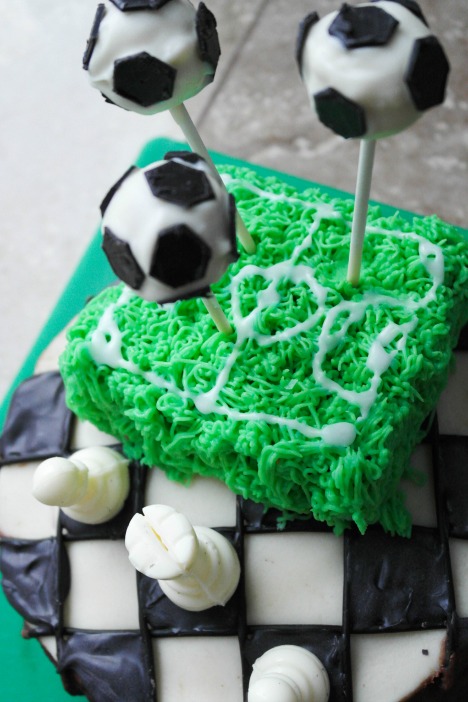 Football cake pops!
Finally, inspired by some leftover cake pops we had in the freezer, I topped my Sport Relief cake with little cake footballs. Dipped in white Candy Melt, I quickly stuck some black hexagons on before it cooled. You can get tiny hexagon cutters, but I improvised by pouring black Candy Melt onto the lid of a plastic box I have with a raised hexagon design, and cutting them out. Amazing what will do the job when you're pushed!
I'm not sure I could have replicated this cake in a #GBBO competition kitchen, but I spent a couple of happy afternoons with the kids assembling this, and I have made my first ever 3-tier cake! I deserved a cup of tea after that!