As I climbed out of the air-conditioned car the heat walloped me in the face and my eyes screwed tight against the sun's glare over the vines. I reluctantly handed over my games console and prepared for the boredom to kick in. Our holiday in Catalunya was underway, but as far as I was concerned it wouldn't begin until we got to our campsite on the Costa Brava, so for now I was planning to be a grumpy 6-going-on-13-year-old.
Catalunya vineyards
We had visited the Codorniu vineyards and wine cellars at Sant Sadurni d'Anoia the previous day. Whilst I will admit to being a tiny bit interested in the damp, eerie caves, and the hoard of ashen Cava bottles, silently gathering the dust of maturity, I was not eager to repeat the experience; I had collected the requisite facts and brochures for an informative 'show and tell' at school, and there was nothing more I needed to know.
So it was with a juvenile chip on my shoulder that I entered the Torres winery's cinema at Vilafranca del Penedes. Here, as Mummy and Daddy engrossed themselves in the history and tradition of Spanish wine-making I covertly harassed my brother to pass the time.
But as the film ended, we were led into a room full of smoke. Our guide spoke of the seasons of the vineyard, as an intoxicating aroma of sunshine, pollen, and fruit filled the air. The mesmerising symphony of insects and birds and the unexpected moist warmth of the room evolved into a cool chill as I listened to the mechanical sounds of the grape harvest.
Suddenly the sensory adventure ended, and a train rolled into the room. Moments later we were off on a snaking ride through cellars and vineyards; cool, then hot; ghostly caverns of delicious promise, then dazzling acres of luscious fruit.
More experienced, but still claiming apathy I accompanied my family on our final tour. 'Not the binyards!' declared the Bug, longing for the beach and pool fun to begin, and I synthesised with him. Vallformosa Winery at Vilobi del Penedes is smaller, and less sophisticated than the big boys of Catalan wine production, but it was my favourite by far. Our guide, the lovely Cristina, seemed thrilled by our visit, and proudly showed us the vast steel drums of grape must, as well as the old oak barrels still in use.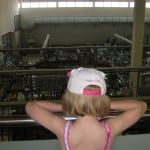 No snazzy trains here, but an awe-inspiring proximity to the production-line. The dusty Cava bottles, woken from their damp hibernation, jostled for position on the conveyor belt, pausing for robotic showers, labels and cork-insertion, to emerge sparkling and new, destined, no doubt, for Mummy's fridge.
I secretly conceded that it is possible to accompany adults on their kind of holiday. Only a small amount of digital entertainment (or coroulling books) is needed; the requisite amount is proportionate to the quantity of post-tour wine consumed by the grown-ups 😉
Dinner that evening was provided by our landlady Pepa at Cal Santi in Vilafranca. Overlooking yet more acres of vines the grown-ups sipped dewy glasses of Cava, before tucking in to a traditional Catalan feast: salt-cod, beans with potato, and chorizo on tomato bread. All dishes I would never dream of selecting from a menu, but like the vineyards I kind of enjoyed them. Just don't tell my parents…