I really did not know that this was the wedding I wanted. We had our dream day 13 years ago, and we were happy with it. But as the years went on, the desire to add to our family, the miscarriages, the fertility treatment, the news from experts that we would not have children – they all changed us.
We were leaving. We were part-way through the process of emigrating (we couldn't live in middle-class suburbia amongst all the nuclear familes when we didn't have one) when we realised that our daughter was on her way. She changed our lives, as children do, and her brother completed our unit.
We began to crave a celebration of us as a family, a unit where each one of us makes the rest better, despite the bickering and power struggles that accompany our daily lives. And so we did it again: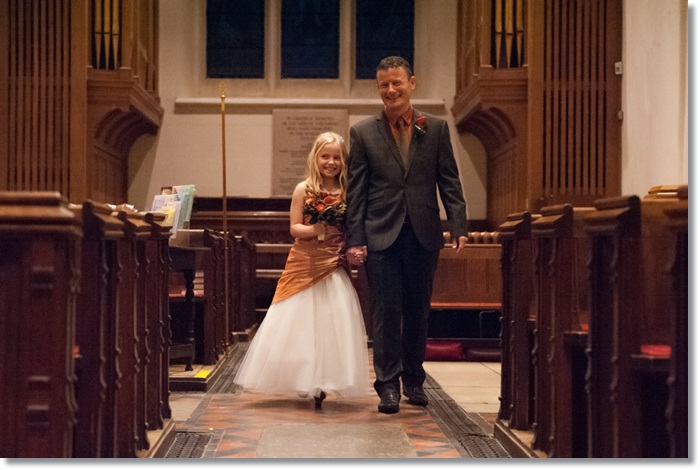 I think the most excited person was my girl. She had longed to have the tulle dress and the tiara. She is a lover of flowers (she asked for real flowers for her birthday). We had an informal ceremony in the lady chapel of St Michael's Church, but it was she who convinced us to surprise the guests with a walk down the aisle. I was excited on her behalf. So Jason walked his daughter, and my 6 year old son walked me.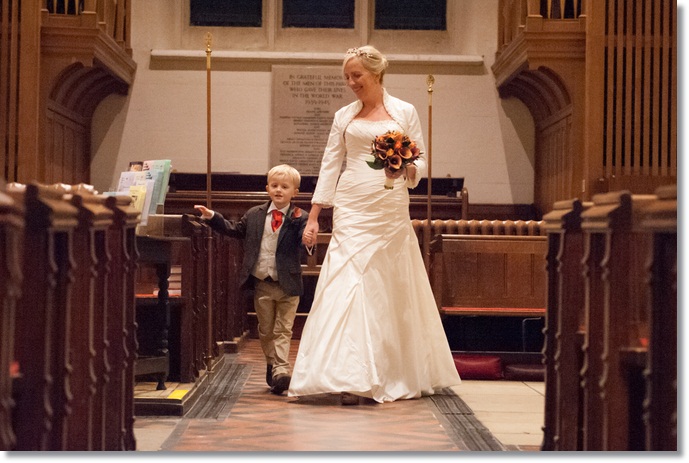 They both rose to the occasion, GG reading her words with such cool and calm aplomb, and great humour, the Bug surprising us all with his confidence. I had wondered right up to the last moment whether he would have the guts to say his lines, but he never hesitated. I have never been more proud in my life.
We partied together. Jason and I were overheard reminiscing about our original wedding celebrations as we relived firework night and an Abba band – I have no idea what we said, but we were happy.
We danced.
The girls danced.
Girls filled the dance floor, boys marauded around the venue in a gang, looking like dudes in their ties and jackets – yes, all men scrub up well in a suit, even 6 year olds!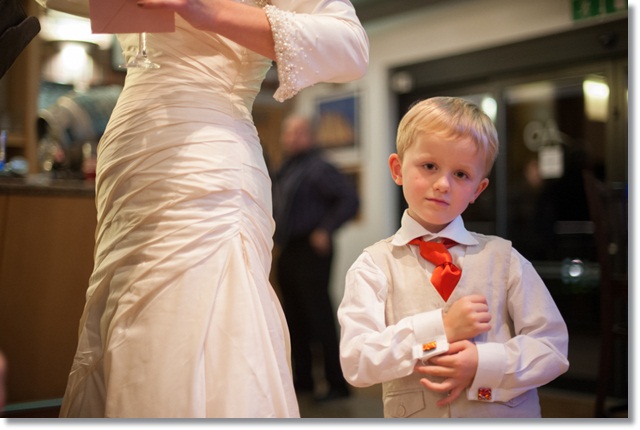 He chose his entire outfit based on these cufflinks, which we found at a local craft fair months earlier. He loved them, and wanted to be like his Dad. The cravat, the waistcoat, the smart jacket – he wanted them all. Including the proper cufflink-ready dress shirt – they don't sell those in Monsoon, I can tell you!
Two gorgeous buttonholes, one big, one little. The same in posies for GG and myself, by the wonderful Claire at Wedding and Venue Decorators.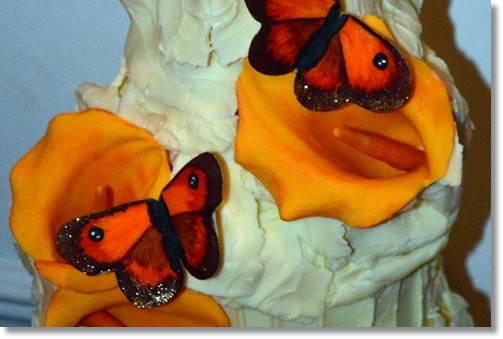 And the cake of our dreams from ChoccyWoccyDooDah.
My girl was a real-life princess with her crystal tiara, and with her very own prince by her side they made a wonderful pair.
The first 6 images in this post were taken by our very talented friend Stephanie Belton. Steph is a children and baby photographer in Hertfordshire, and takes some of the most beautiful pictures I've ever seen. Ever since I saw her pictures of her own daughter in her bridesmaid's dress, I've wanted her to photograph my children at a wedding. She takes stunning pictures of us every few years, and we are always blown away by the results. We are privileged to have such a wonderful friend. Check out her site if you're interested in her work.
We were thrilled too to have some blogger friends at our celebration  – virtual friends who have become real supporters of this family, and great fun to boot. They've also been kind enough to let us have their images. With thanks to Jenny from Cheetahs in my Shoes, and Bruce Barrow.
The epic shoes came off, a taxi full of helium balloons took us home, and our entire family fell into one bed, happy, exhausted, but content.
I'd marry you all again in a heartbeat!
Disclosure: all the things we mentioned in here we either paid for, or were gifted to us by amazing friends. We were under no obligation to write about our wedding photos, or flowers, or cake, but really, why wouldn't you want to?!