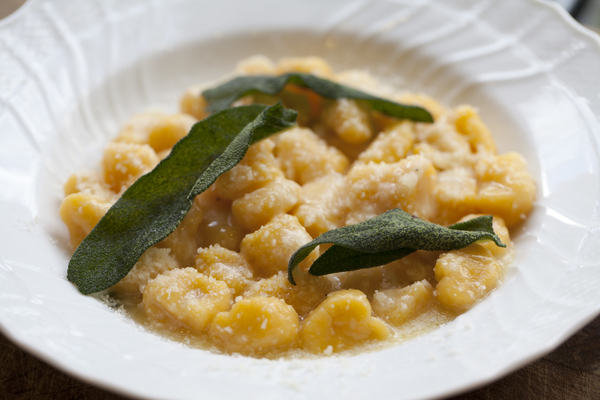 We learned this recipe from Francesco Mazzei as part of our experience with Slow Food Kids
Ingredients (serves 4):
100g                       mashed potatoes (use 2 large potatoes)
100g                       pumpkin mash (1 butternut squash)
100g                       Grana Padano 21 Months (or good quality parmesan)
100g                       00 flour
Pinch of                Nutmeg
1                              egg yolk
50g                        butter
1                              teaspoon shallots
20g                         Sage (4 leaves)
Method:
1)      Cook the potatoes and pumpkin in boiling water for 20-25 minutes, or until soft, then drain.
2)      Mash well and place in a large bowl.
3)      Make a well in the centre and add the egg, salt and freshly ground nutmeg, ¾ of the grated Grana Padano and flour.
4)      Mix by hand to form dough, and then knead for a few minutes.
5)      Cut the dough into smaller pieces.
6)      Roll each piece into a cylinder and cut into 2.5cm/1in pieces.
7)      Cook the gnocchi into boiling salted water.
8)      When they rise to the top, remove from the saucepan with a slotted spoon and refresh in iced water. Drain, drizzle with olive oil and keep warm.
9)      In the meantime deep fry the sage leaves in a deep fryer or in a pan with very hot oil.
10)   Separately sweat the shallots and butter in a pan and then sauté the gnocchi.
11)   Serve with extra Grana Padano and crispy fried sage leaf.