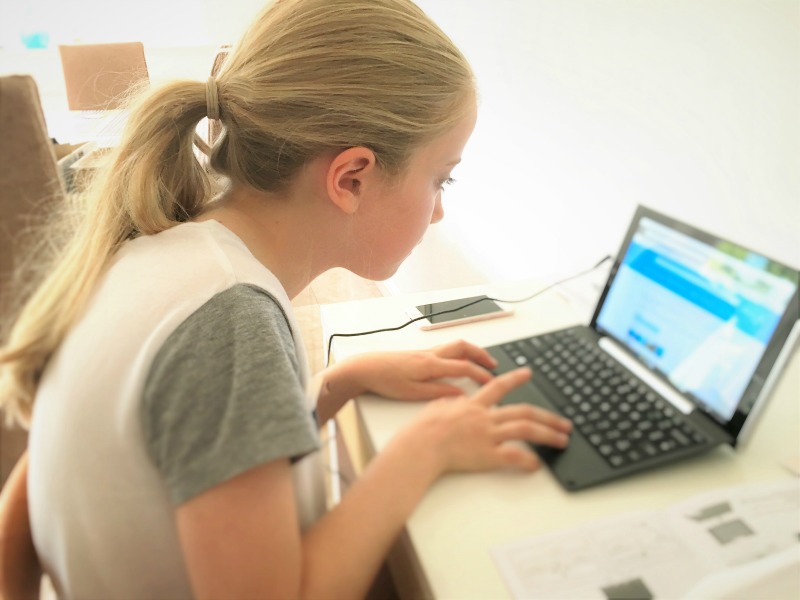 GG is off to secondary school. It feels like yesterday that I photographed my 4 year old in her first school dress, book bag clutched to her tummy, precious despite its emptiness. And now she is leaving. Now she wears mirror sunglasses and lip gloss, listens to Meghan Trainor and likes to tie dye – because it's a bit different.
I have a nearly teen, and she knows more about some things than I do. She knows how to code, and how to spot a phishing attack, what to say to strangers, and where the best sales are. So she needs her own computer.
Even at primary school, a lot of her homework is done on my Mac. I compete with both my kids for time online when they're home, and they prefer my laptop to theirs – cranky 6 year old model that it is. Her secondary school is a bit pioneering where the internet is concerned. She has to have a tablet to take to school every day, for work in her classes. And this is where the Venturer BravoWin comes in.
We were sent a Venturer 2-in-1 tablet/laptop to review, and she has quickly decided that this will be her tablet for school. She has an iPad mini from a few years ago – it would be smaller and lighter to carry in the enormous school bag it appears she will need for her books next year. But she prefers the Venturer. The reason is this: once she's done with her work at school, she can come home and simply click the tablet onto a removable keyboard, and she has all the day's studies there on a laptop, to complete her homework.
She's posted her own review of the laptop here, but this is what I've learned from her experiments this week.
The tablet, whilst bigger than average, and clunkier to look at, is light enough that she's happy to carry it in her school bag
The connecting keyboard is easy to attach and simple to use, and though I find it too compact for my fingers, being used to a Mac, she has quickly got used to it
For the basic functions needed by someone her age, it does the job: connects to the internet for browsing, runs Office functions so she can create Word, Powerpoint, and Excel documents, and some basic media editing functions
The battery claims 8 hours usage, and although we've not pushed it to that limit, its on-the-go capabilities look good, with the battery holding up well so far
Whilst we haven't tested its durability, the Venturer feels sturdy rather than sleek, and I'm pretty sure it will stand up to some tough treatment over the next few years
It has one USB port, located in the tablet itself, so I can imagine it will be great for school use – I've not seen a tablet with USB function before
The software has its own image editing capability. Whilst this is fine for basic edits, as a blogger, I was disappointed not to be able to adjust the size of images for upload easily. Probably a minor complaint for most purposes, but an image heavy user would quickly run out of space I think.
The touchpad is a little unresponsive and you do have to be very precise with it to position the cursor where you need it. We haven't yet used a mouse with the keyboard, but that's our next step to make the laptop function of the tablet come to life a bit better for her.
At £149.99, the Venturer is definitely more affordable than most laptops and tablets, and as it combines the function of both, it's a really sensible buy for a young person's first laptop for school use. It won't withstand the demands of highly visual gaming apps and downloads, but for internet research and basic Office schoolwork it's probably a very sensible start.
*We were given a Venturer 2-in-1 tablet for the purposes of review. All opinion and editorial is our own. The Venturer BravoWin 10kT is available at Amazon for RRP £149.99. This post contains affiliate links.