When we were sent the Smart Scoop ice-cream maker from Sage, we had all sorts of ice-cream recipes in mind to try. There's Rhubarb Crumble ice-cream, low-carb Death by Chocolate ice-cream, and our new favourite, Passion Fruit and White Chocolate ice-cream. But, it being new to us, we decided to start off with the recipes that accompanied our Smart Scoop. And oh, are we glad we did!
The Bug is a fan of salted caramel. And luckily there's a recipe in the Sage leaflet. But, us being who we are (well, us having GG in the family – always a fan of shaking things up), we had to give it a twist. And so we unveil…
Salted Caramel Twix Mix ice-cream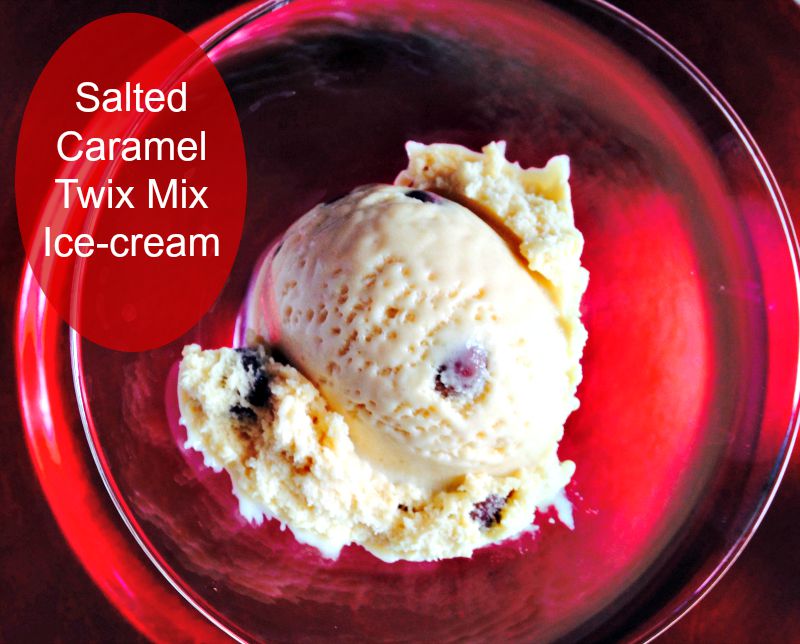 Food: Salted Caramel Ice-Cream recipe with Twix Mix
This salted caramel ice-cream is delicious, with the added twist of a bag of Twix Mix for extra fun.
Author:
Actually Mummy...
Ingredients
375ml whole milk
7 egg yolks
220g white sugar
4 tbsps water
310ml whipping cream
1 tsp fine sea salt
1 126g pack Twix Mix (or you could use Maltesers)
Instructions
Pour the milk into a heavy-based saucepan and heat until just beginning to simmer.
Beat egg yolks until pale and fluffy, and thickened.
Slowly pour hot milk onto beaten eggs, still whisking. Set aside.
Combine sugar and water in a saucepan, and stir over a low heat until sugar has dissolved
Increase heat to medium-high, brush down any sugar crystals on the sides of the pan, and cook without stirring until the mix darkens and becomes a caramel syrup.
Remove from heat and pour in cream. Mix well.
Return mixture to a low heat and stir to dissolve any lumps of sugar. Add the egg mixture, then the salt, and stir constantly until it thickens, and coats the back of a wooden spoon.
Pour the mixture into a heatproof bowl, cool, then cover and chill until cold.
Once chilled, pour into the ice-cream maker, set to ice-cream setting, and churn.
As the mixture thickens, towards the end of the cycle, add the Twix Mix.
Now, all of my recipe videos have little helpers, and not just to lick the spoon. Check out how I got on trying to teach GG and the Bug the custard method! You'll want to watch the last bit too – how cool is the Smart Scoop? Just like an old-fashioned ice-cream van!
Our Smart Scoop was given to us by Sage for the purposes of review. All opinion is our own. The Smart Scoop retails at £349.99.