Ringshall, 2008.
It's been years since I updated our photo albums. Since the Bug was born, in fact, and I somehow lost a whole section of time in my day. It was something I always pushed to the bottom of my list, from where it nagged me weekly. For seven years. Last week I finally began the process of sifting through old images on old laptops and even older hard drives; and I found this picture of my daughter, aged 4, in the woods at Ringshall, on the Ashridge estate. It's not the perfect photo – I don't do Photoshop, so it never will be – but I love it. I remember dressing her in this outfit, feeling smug that I'd got the colours right. I remember thinking she might be cold, but she didn't feel it; I remember asking her to lean against this tree for the perfect shot. I'd forgotten all about these photos.
Where to see Bluebells in Hertfordshire
Ringshall and Ashridge
Ringshall has always been my favourite place to photograph the bluebells. I'm not telling you where this is specifically, you'll have to seek it out for yourself, but it's a small copse just at the edge of the road, not far from Ivinghoe and the bigger Ashridge forest where the hordes go. There's an ice-cream van in residence, a field of lambs beyond, and it's perfect.
We returned to Ringshall a couple of years later, when my son was old enough to take part in the photos, and I won a competition with this one.
Batchwood
Going through all these images made me hungry for an update, so out came the camera last weekend as I daydreamed over the pictures I would get of my family seven years down the line. I would recreate that shot of a wistful girl, leaning on a tree, by way of illustrating how much has changed since then. As you can see, it didn't quite go according to plan. Older children have their own ideas on how they want to look!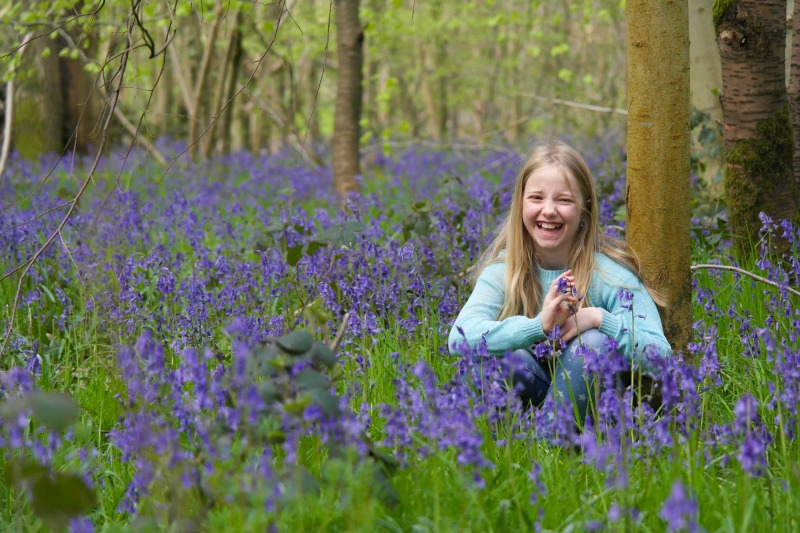 Trying to keep a straight face.
This time we chose Batchwood Woods, in St Albans, a council owned area complete with golf course, tennis club, gym and night club! Stick to the woods though, they're beautiful, and have wide paths weaving through the bluebells that are perfect for walking or cycling without disturbing the plants.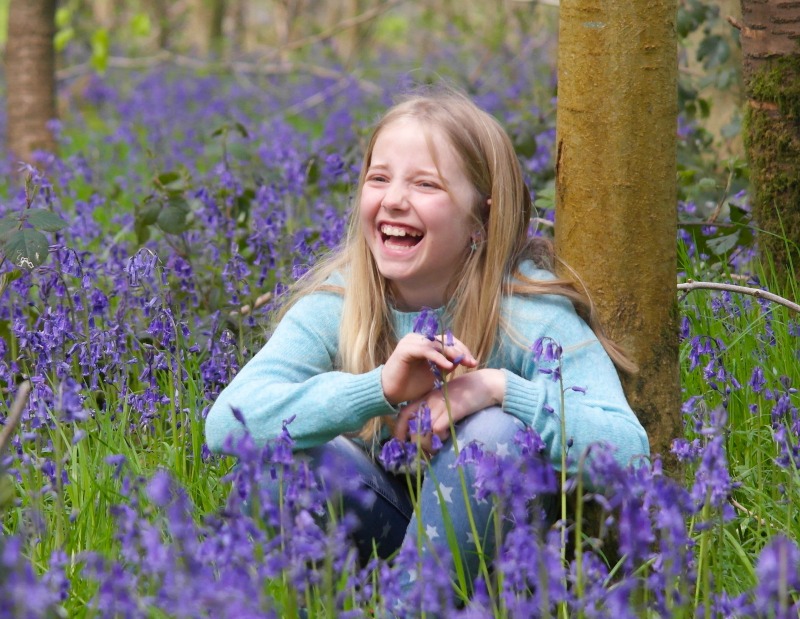 More bluebells in Hertfordshire
Heartwood
Langley Wood, in Heartwood forest, near Sandridge, is full of bluebells from late April to mid-May. Heartwood is a Woodland Trust area created as a new native forest beginning in 2009, with the local community volunteering to plant trees. 500,000 trees have been planted to 2016, and this makes for a superb natural habitat for bluebells. It's also a vast area for dog-walking and picnicking, so plan to spend a few hours there climbing trees and feeling miles from anywhere!
Whippendell Woods
Whippendell Woods are best accessed from Cassiobury Park in Watford, which makes for a lovely family day out, with playgrounds and kiosks to keep children occupied. It's also the best place we've found for playing Pooh Sticks. The bluebells are thickest in the big dells, close to the south part of the woods. Kids might be interested to know that scenes from Star Wars Episode 1 were filmed here!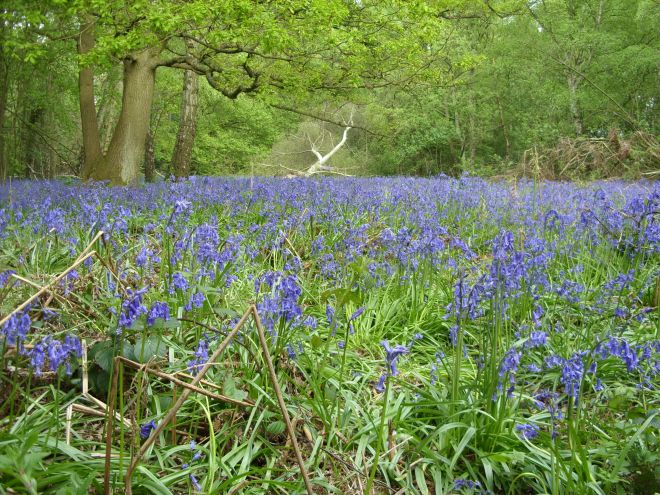 Harrocks Wood
Harrocks Wood is near Rickmansworth, and is linked by pathways to Whippendell. It's also very close to The Grove Hotel, which boasts bluebell-filled woodland of its own, and is lovely for a smart afternoon tea or lunch, should your day swerve that way.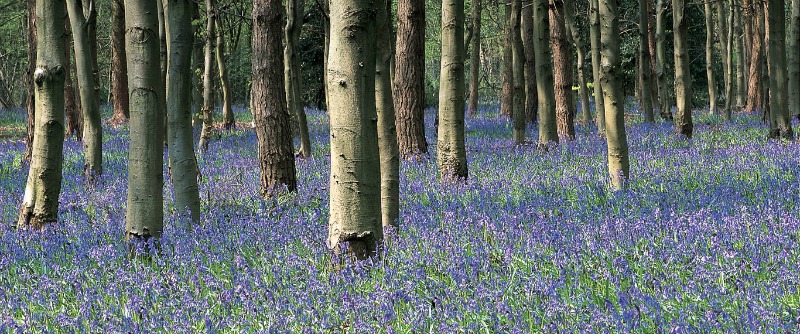 Bluebells at The Grove Hotel.
Taking care of the bluebells
If you're planning to seek out some bluebells this spring, please do so responsibly. Batchwood this year looked fine to me, but in previous years we've seen large patches of bluebells completely flattened in Ringshall, and it's such a shame. Of course, you want the best photos of your kids in the sea of blue that you can get, but if you try a little harder, there's always a path and a clever angle that can help  you make the most of them without trashing the plant life for others. Be kind.
Where have we missed? If you have a favourite place to visit for bluebells in the Spring let us know.