By Actually Daddy.
Given the importance of skiing for Actually Daddy I've decided to hand over the blog to him for the day. Here's what he thinks of Easter skiing in Val d'Isère.
I've used my bible, Where to Ski and Snowboard as the basis for my report; there is a short précis online, and much more detail in the book. It gives a great summary of the pros and cons of a ski trip to Val D'Isère, so rather than repeat what is a very accurate guide I will attempt to add some value around it.
Why go to Val D'Isère with Mark Warner? 
I wouldn't have thought to choose Val D'Isère as the resort to take my kids for their first time skiing, as it has a reputation for some top-notch challenging pistes more matched to my own hunger for difficult terrain and off-piste skiing. But I was wrong – it was great for the kids! In fact, I was given to wondering if its reputation for advanced skiing was the reason for the space and quiet the children experienced on the beginner areas.
Snow Quality in Val d'Is
ère
Having never done Spring skiing I was nervous about the snow quality, but I shouldn't have worried; there was great cover from bottom to top, and the higher pistes were particularly good. Snow was well groomed, and I've totally reassessed my view on the best time of year to go. I may not go as far as my wife in becoming a fair weather skier, but the benefits of a later holiday have certainly grown on me. That said, the off-piste (no-longer skiable at this point in the season) looked amazing and I would love to go back in the thick of the snowfall.
Village charm in Val d'Isère
Val D'Isère is a pretty village, rather than a purpose-built resort, so it has an authentic feel. Drivers are courteous to skiers, making it easy to walk the 5 minutes to the slopes. The children were awestruck by the scenery – so much so that as we walked them out after dinner on our first evening, an immediate snow angel was required.
Val d'Isère: range of pistes
There was more for the kids than I would have imagined. As the beginner slopes were high up, the snow was great quality, and the fast cable car up and down was an added treat for them. There was plenty of more challenging terrain for the adults, though I'd say the black pistes are relatively easy.  La Sache was amazing for a lone ski on a rare afternoon of the kids wanting to chill at the hotel. A black run into Tignes Les Boisses was (I kid you not) empty but for me – though it did bizarrely run out of snow at the bottom for a small section, before starting again! Conditions for the kids were great on the Ski Tranquille areas at the top of Bellevarde and Solaise lifts, and our favourite run of the week, the aptly named Madeleine, was always quiet.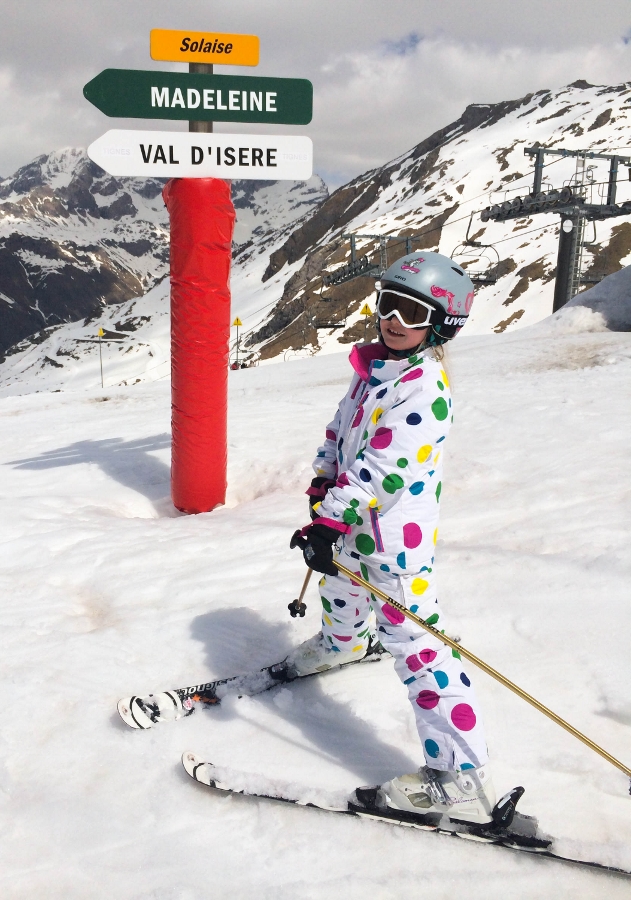 Fast lifts and no queues
The ability to drop the kids off for a 3 hour lesson and still be able to maximise the full range of slopes from Foret at Le Fornet, and Sache in Tignes Les Boisses was a massive plus for me. Queueing was minimal – we were astonished, having expected crowds during the Easter school holiday.
You might want to hire a car to get you to your resort from the airport and avoid airport transfers. We recommend Discover Cars for sensible car hire at realistic prices. (Affiliate link)
Why Mark Warner?
The Mark Warner staff at Chalethotel le Val D'Isère took all the angst and hassle out of the trip – letting us focus on the children and on ensuring they had the best possible time. Mark Warner provide a superb package holiday – here's what we loved about it:
Food: with pretty much all our meals prepared for us (we just snacked on the piste, knowing a banquet of cake and snacks awaited us at tea time) we really appreciated that there was no need to shop or cook. Cake was amazing every day, and the kids (and me) ate more cake in one sitting than their mother would normally allow in a week! Something about the mountain air convinced us all it was a necessity, I think!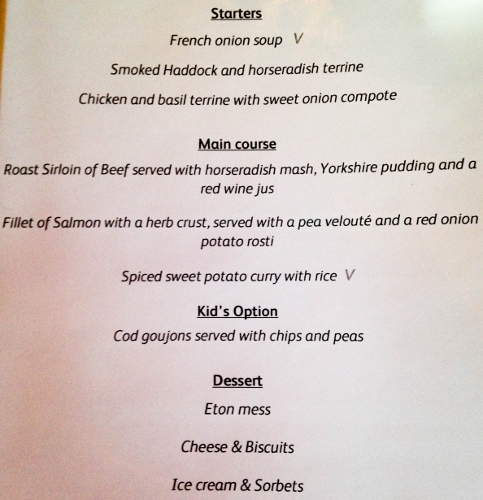 Kids meal options: they could have had high tea at 5 and gone to bed early while the adults enjoyed time alone. Or they could have had kids dinner at 7 then sloped off to watch a film in the kids club. But most evenings they wanted to eat with us, and that worked fine too, with a child-friendly option on the menu every evening. That said, GG chose this holiday to ditch her usual diet in favour of the adult menu, and The Bug expanded his culinary repertoire with Salmon Tartare in a Caper Mayonnaise!
Interconnecting rooms: this was a blessing, meaning the children had their own space, but we were able to keep an ear open for them should they have needed us.
Ski School: Oxygène are Mark Warner's preferred ski school, and they had us booked in seamlessly, greeting us at the boot room and getting the kids organised for their lessons every morning. We could have had a leisurely breakfast à deux but we were too excited to get out there ourselves!
Ski passes: gone are the days when you pitch up in resort only to spend 2 hours organising your lift pass. No photos necessary, and Mark Warner had our scannable cards waiting for us on arrival. They sit in your pocket all week and get blipped by the machines automatically – remember those retractable elastic cords you used to faff around with?! I loved the fact that we had the whole Espace Killy pass so that we were able to get over to Tignes in the morning as well as skiing Val D'Isère.
Ski and boot hire: again, this was easy and efficient to manage. Once upon a time we would have spent an age queuing on our first evening to arrange equipment, but Mark Warner had organised everything in Killy Sports next door. We gave our names, and left within 10 minutes, fully kitted out with great quality skis and boots. We were unpacked ready for skiing, and relaxing with a welcome drink within an hour of arrival, and that's a record in our experience!
Was it different skiing with the kids? Yes of course. But was it harder? Absolutely not. Am I a different kind of skier now I'm the father of 2 small ski fanatics? As the long-suffering partner of a dawn-till-dusk, all-weather, die-hard powder hound, my wife was shocked at how I've mellowed. I'd say Mark Warner have a lot to do with that!
For more on family skiing check out the rest of our ski holiday reviews. Or for something completely different, you might want to read Lapland holiday reviews.
Mark Warner operate a variety of family-friendly trips, including ski and summer holidays. Explore the huge variety on their website. Here are a selection of review posts on both summer and winter resorts with Mark Warner:
Disclosure: this post contains affiliate links. All opinion, editorial and imagery is our own, and may not be copied without permission.