Tips for keeping children safe on a ski holiday
The girl sharing my lesson must have been around eight years old. "So, we're in this together then?" I tried to make conversation. "Absolute beginners, you'll probably do way better than me!" 
"Oh no," our instructor shook his head. "She's a really good skier. But she broke her arm last season when some idiot lost control and careered into her. She just needs to get her confidence back." I was 21, having my first ever ski lesson, and the eight year old girl with a broken arm was already a much better skier than I was.
Fast forward a few years (well, several actually, but who's counting?), and I can handle most runs, but I was reminded of that first wobble onto the slopes when I contemplated taking my children with me. Kids may look like they bounce, but put them on skis and their fearlessness increases in direct correlation to the speed of a parent's palpitations. Add in a couple of 'last-run-of-the-day hurtlers' (official term referring to gung-ho blokes after a lunchtime litre of Leffe), and you've got a recipe for maternal hypertension.
So, how do you keep your kids safe on the slopes? We're just back from possibly the most well planned and executed family ski holiday ever (with just a hint of paranoia). Here are our best tips for keeping children safe on a ski holiday.
Before you go
Get a good insurance policy:
We try not to think about it too hard, but skiing can be a risky sport, and accidents do happen. Every year we see a plaster cast and several sets of crutches hanging out in our lunchtime choice of alpine restaurant, and send up silent thanks or pleas, depending of the stage of the week we're at. But better than a superstitious wink to the god of the black runs is an insurance policy you know will step up if it's needed. Medical attention in ski resorts is good, but it costs. And if you've ever wondered how exciting it would be to travel down in the 'blood wagon,' I can tell you, it's not all that. Whilst you're lying back wondering quite how shredded your knee is, you'll get regular facial snow sprays from your rescuer's skis, just to add insult to injury. Literally.
Bloodwagon image courtesy of Shutterstock
We got our Columbus Direct insurance policy online before we went, and it really gave us peace of mind so we could relax and enjoy our holiday. We usually buy an annual policy, to cover all our travels, but skiing is a bit special, and we always add some extras to make sure we're covered. Having a child with type 1 diabetes brings added complications, so we always choose a provider who can cover medical assistance for that too, in case of unexpected emergencies abroad. Here's the cover you're looking for in an insurance policy for a family ski holiday:
rescue from the slopes in the event of an injury
medical fees for any first aid treatment in resort
in-patient treatment should it be necessary in resort
repatriation to your home country in case of incapacity, or more serious injury
any support needed during your travel home
search and rescue – for extreme skiers like my husband (who likes to throw himself off-piste and jump out of helicopters rather than sticking to those lovely green slopes that are so enticing after a carafe of wine), you'll need to know you're covered in the event of an avalanche (yes really), for some brave soul to come and dig you out.
adventure pack – there's so much more to do on a ski resort than ski. We want to try husky dog-sledding, and I know my daughter will be first onto an alpine zip-wire when she's old enough. That's all covered in the adventure pack, which will also allow your offspring to abseil, mountain bike, and indulge in extreme water sports on your summer holiday. Oh joy. At least you'll know they're covered.
With Columbus Direct you're able to choose a basic policy that covers what your family needs, and bolt on extras as you need them. So if you do happen to find yourself face down in a mogul with one ski at an awkward angle, at least you can concentrate on the promise of a medicinal gluwein without worrying about who's going to take care of you.
Get ski fit
This is as important for children as it is for adults. Skiing uses muscles you might not ordinarily exercise off a football pitch (it's also great for bingo wings if you happen to underestimate the downward slant of a schuss, as I found out to the benefit of my triceps). We try to get the kids accustomed to skiing again before we go on holiday, with a few sessions at a local ski centre, so it's less of a shock on the first day.
Plan your journey in advance
For the first time this year we chose to drive to our resort. Think about safety in the car, and about what the driving conditions might be like en route, and when you arrive. If there's likely to be snow at resort level, you'll need snow chains, and it's worth practising putting these onto your wheels well before you're stuck in a snow flurry by the side of the road. Actually Daddy did all of the driving, and when I asked him for comments for this post, he surprised me by how tough he found it:
"To be honest the last stage was a bit scary, not having done it before… winding, steep roads. It pays to be prepared. Yes I had the snow chains, but hadn't really read up on the other driving considerations. Definitely worth being more prepared, practice fitting your chains, read the drivers manual, understand how an automatic gear box might work. I would definitely drive again though – throwing everything in the boot and just going felt easier than the whole airport faff and transfer at the other end, but it pays to be prepared.
Pack thoughtfully
We have a lot of medical supplies to take with us, so I've learned to be super organised, but for anyone, a good packing list can make sure you don't forget anything your family needs to make a holiday go smoothly. Be it baby formula, children's ibuprofen, inhalers, or heat packs, anything that will keep your children relaxed, well, and happy needs to be on your list. This was our first ski trip with diabetes, so I had no idea how many refuelling stops would be needed. I also wanted to make sure that whenever my daughter needed a sugar fix, there would be enough for the other five children in our group. It's safe to say I overestimated!
Ski holiday trip shopping done!
In resort
Wear the right gear
Yes, you do need to wear a helmet – even you, Dads. Gone are the days when goofing around in a silly hat was cool. (Actually, was it ever cool)? Most people wear helmets now, and you won't feel out of place. Plus, if the kids see you in a helmet, they're more likely to accept having to wear one themselves, and it's protection you don't want to cut corners on. They're likely to fall a lot, and most of the time that's just fuel for good après-ski hilarity over a fondue, but sometimes pistes can be icy and hard, and knowing your children's heads are protected is important. Plus you'll never look like this:
Temperatures vary on a ski holiday too, so make sure you have good quality ski gear. At the very least, children will need windproof ski jackets and salopettes – padded, waterproof ski trousers, usually with braces that fit under the jacket to keep them on, and which keep kids warm and dry. Layers are a good shout, and fleece works especially well, being lightweight but warm. Proper ski gloves and goggles are also important, and a fleece neckwarmer keeps the wind out. There's nothing worse than feeling cold and wet when you're skiing, so it pays to invest in good kit. We got our jackets and salopettes from Muddy Puddles, who make their ski wear in a way that means it's waterproof but breathable, allowing perspiration out, but keeping warmth in and snow off. Unless, of course, your sister rubs a snowball in your face!
Be visible
As well as snow, and cold, the mountains sometimes produce fog, courtesy of you being up in the clouds. When clouds descend, visibility can be so poor that two turns will take you out of view of your group. That doesn't mean you need to stop skiing though, and this is when the ski-school style snake comes into play. Designate a leader (preferably someone who's good at skiing in control!) and make sure everyone follows in his turns, with another decent adult skier at the back to pick up any fallers or digressors from the trail. Ski schools often use brightly coloured bibs to identify children in their groups, and it's a great idea to make your your child is wearing something distinctive so you can easily spot them when they beat you the bottom of the piste. Ahem. I was able to quickly spot my daughter in her ski jacket, though I might put my son in something a little brighter next time. Not a silly hat though.
Book kids into ski school
A safe skier is an in control skier, and though it's boring in the early days, learning a good snowplough, or how to side slip will ensure that kids can make it down pretty much any slope safely, if not stylishly. And ski instructors know how to teach skills as well as making sure that lessons are fun, so your child is much more likely to listen to them than they are to you! We went with ESF in the French Alps, but there are various ski school organisations in every resort.
Make use of the dedicated 'quiet areas'
Most resorts have pistes set aside especially for children, or less confident skiers. As well as having some fun features like mini slaloms, or small jumps, they're easier slopes, marked off so that faster skiers tend not to use them. They're great for learning, and practising skills, and for young children to ski safely.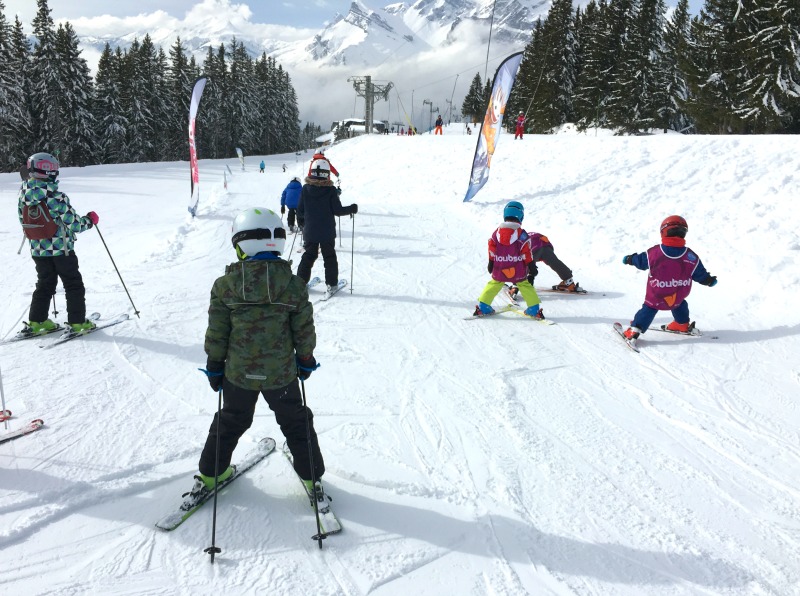 Plan pit stops and be flexible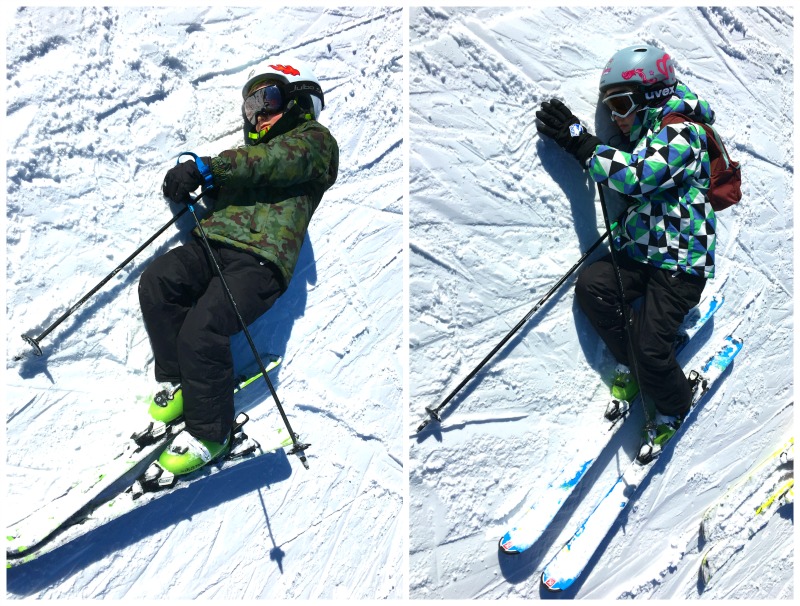 Skiing can be tiring, especially for young children. They may start the day with lots of energy, but after a couple of hours on the slopes they may feel exhausted. Take a backpack with drinks, and plenty of fast and slow-acting snacks. Sports drinks are great for hydration and a quick energy boost, whilst fun-size chocolate and cereal bars provide longer lasting energy to help them keep going. Even so, bear in mind that children might not be able to ski for as long as adults, and accidents are most likely when tiredness sets in. Be flexible, and if your child needs to head back to your accommodation for a break, go with it. As we say on most days of a ski holiday: "You don't want to overdo it on the xxxth day."
Enjoy your family skiing!
You can find more tips for keeping children safe on a ski holiday at Ski Domain, who have inspired me to consider buying walkie-talkie devices for our next trip. Mobile phone coverage often skips out in the mountains, and should you lose sight of your child in a whiteout it would be reassuring to know you can make contact with them to locate them. And I've also just read on this review of Winter Park in Colorado, that the ski schools tag children with a GPS tracking device, which would be great for peace of mind.
Have you been skiing with your family? I'd love to know your tips for keeping the kids safe on the slopes.
*Our snow chains were courtesy of Rud chains, and our annual insurance policy was courtesy of Columbus Direct, for the purposes of review. All opinion and editorial is our own, and may not be copied without permission.