I have wanted to write this post for a long time. I have tumbled thoughts around in my head for months, not sure how to articulate them without risking a nasty backlash. I have privately raged about the 'voices' that other writers have appropriated on the subject, but not had the confidence to add my own. It's only now that I know the right words.
Feminism.
God what a frightening word that is.
On Friday I had the pleasure of speaking on the opening panel of BritMumsLive. Alongside journalism icons Eleanor Mills and Bryony Gordon, as well as Stella Creasy, MP, I talked with the very lovely Sarah Ebner, about women's voices in the media. I can call Sarah lovely, because she is. It's just a fact. She's also a smart, determined lady who handled a tough job up there on that stage very well. There was discomfort over the fact that reports on Angelina Jolie's campaign against sexual violence in conflict included reference to how she looked in her press photos. She looked gorgeous. Because she is gorgeous.
We had all been wearing tiaras on our arrival on the stage – a tribute to keynote speaker Emma Freud, who loves a glam headpiece. Everyone removed their tiara before taking their seat on our panel, except me. I like my tiara, and I rarely get the excuse to wear it. As the mic travelled along the sofa, I felt increasingly silly for being the only voice up there still in a tiara. Then this was tweeted: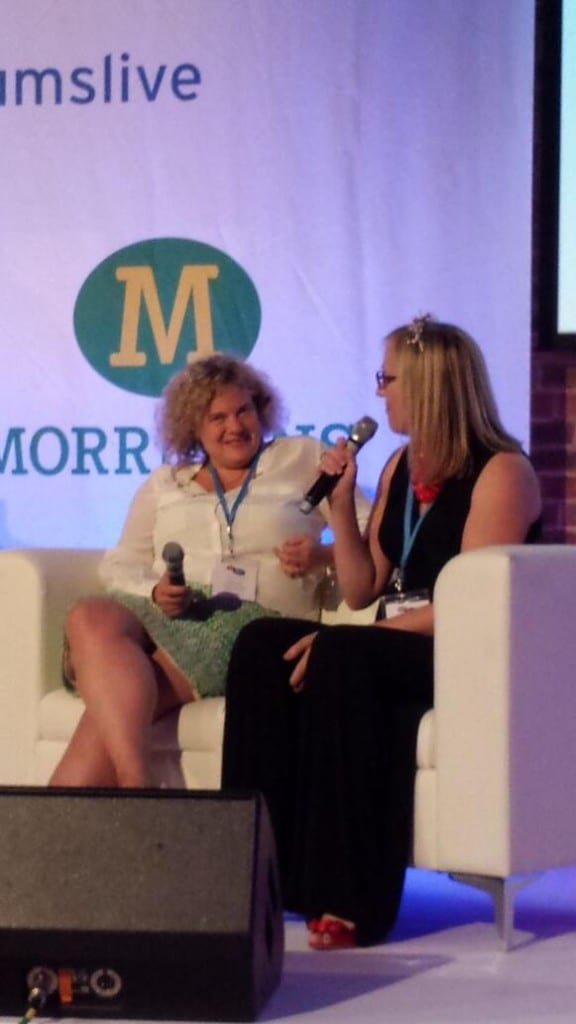 Women can be intelligent even when wearing tiaras. #fact#britmumslive@ActuallyMummypic.twitter.com/3CG6Nfs3AX

— Claire Evans (@claireyfairey) June 20, 2014
It was the shake of common sense that I needed. As the panel stared at me in disbelief, I described my vision for feminism. How looking good doesn't negate intelligence; a love of fashion – or indeed, frippery – is not an indicator of weakness; how my wearing a pink mini-skirt to work didn't stop me working my way to the top of an incredibly male-dominated industry – on my own merit. And how completely happy I am to have my shoes publicly admired alongside my ability to speak articulately and with credence.
During my planning for BritMumsLive I had done some research. I checked out what the famous 'feminists' were saying last week in blog posts, and on twitter:
And I mean every single woman in public. The ones you like and the ones you don't like: all of us get that shit for speaking while female.

— Sarah Ditum (@sarahditum) June 18, 2014
Maybe I've been lucky. I've never had shit from a man for speaking while female. Or if I have, I haven't noticed, because I've been too busy getting on with being the best person I can be. Not the best woman. The best person. I have, on the other hand, experienced aggression from some feminists, for disagreeing with them.
I don't mind this kind of statement, to be honest. What I don't like are the abrasive, agressive statements made by women widely regarded as feminists, that, in my opinion, only succeed in undermining women as a whole. Denigrating men as a swathe of society doesn't improve the lot of women. In fact, it fuels the motivation of the idiots who like to put women down. It gives them something worth criticising. I don't like the view of some feminists, that women will never be equal until there are more of them than men in politics, in business, in science, in media. I don't like the suggestion that employers have a responsibility to positively discriminate in favour of women. Of course they don't! Their responsibility is to their business – they should take the best person for the job, be they male or female, black or white, able-bodied or in a wheelchair, blonde or red-haired.
It turns out I am a feminist. Because I want my children to live in a society where being a man or a woman doesn't matter. Where employers support the needs of both sexes to work productively, have a career, and enjoy their families. Where men respect women. And where feminist women respect men, and other women.
I'm sorry…
I didn't say enough on Friday. Because what I wanted to say was this: that every single one of you bloggers at BritMumsLive over the weekend has a voice. Blogging has done that. The women I admire are not the women who shout the loudest about how unfair it all is. They are the women who quietly and professionally prove that women are every bit as instrumental in change for the better as anyone else. Women like Chris Mosler, and Jennie, who, with gentle passion and intelligence raise the profile of their chosen causes. Women such as Cass, who share their knowledge to help families cope with a minimum income. And yes, women like Helen Wallen, who talks about gin and says fuck a lot. They all have a voice, and someone is listening.
A couple of people looked at me differently on Friday when I mentioned that prior to being a mum, a mummy blogger, I had been a senior director of a blue-chip plc. They shouldn't have. You don't have to be a high profile journalist, a regular contributor to the Huffington Post, or an MP, to have a voice in media. Whether you are read by 25,000 a week, or by your husband and your mum, you have a voice. If you write about politics, campaigning, depression, or simply the impossibility of going to the loo without a young audience, your voice is relevant to someone. Don't let anyone, especially a feminist, tell you that it isn't.
That's having a voice. It's being a feminist. That's what I meant to say on Friday.