We often celebrate Father's Day early in our house. For various reasons, Sunday isn't usually the best day of the week for dishing out lavish treatment to our Dad. So we held our Father's Day festivities today. In reality, what this really means is that Daddy gets his one and only lie-in of the year (he's a morning person – Mummy is a lazy bulldozer-type person), after which Mummy spends the day clearing up mess without complaining. Much.
This is how it goes:
Daddy gets his orders to stay in bed in the morning and await his treats.

We get instructions to wake Mummy "at 8 o clock, not before!"
At 7.45 I hear Daddy sneak downstairs to make coffee. He can't handle a lie-in.
I wait until 7.58 before risking it with Mummy, hoping there is a slight difference in our clock settings.
Mummy hands over the iPhone.
8.02 sees the arrival of the Bug, and the iPad is dished out. We play, Mummy snoozes, and Daddy sips his coffee, waiting for the action to begin.
Gifts for Dad
Eventually Mummy surfaces sufficiently to send us off to our secret hiding places, where gifts lurk under socks, ready to surprise our Dad. This year we made him very happy: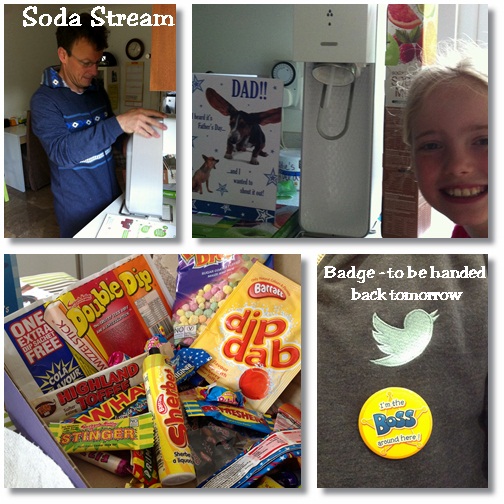 Daddy still remembers having a Soda Stream machine when he was growing up. Legend has it that he was rather adventurous with his parent's fizzy drinks maker, and tried to make Champagne with a bottle of wine. It didn't end well.
We've had a little more joy today, although I went to bed with a headache from too much sugary fizz. Must remember to keep it to less than 3 litres next time 😉
Swish, isn't it? We've sampled cherry and orange today, Mummy is getting nostalgic over cream soda, and Daddy is itching to sample the energy drink. Certainly we're looking at much more interesting dinner drinks going forward!
In addition we gave Daddy a hamper of retro sweets from Chocolate Buttons. I say we gave it to him, what I actually mean is that we let him tear off the plastic wrapper, before declaring our favourites. We chose the Chewy Bars box, with Refreshers, Drumsticks, Wham Bars (apparently they were acceptable in the Eighties) and Bubble Gums the like of which Mummy has never seen since she stole one from the local Post Office, aged 6. As always Mummy used this story as a lesson to us never to steal…
So we shan't steal "Daddy's" stash. We will just sneak it, gradually, from the box of deliciousness that really should be ours 😉
Disclosure: our Soda Stream and Retro Sweets Hamper were given to us free of charge for the purposes of review. All editorial is our own opinion.