Are you the parent who gets up early on the morning of Valentine's Day to post an 'anonymous' card through the door addressed to your child?  It's a harmless activity and makes them feel good about themselves.
But this year the Bug and I have made our own Valentines, and so can you. From full-blown candy-crush to simple Valentine's card, kids can make it themselves, or with minimal adult support. Obviously you can't spoil the dream by asking them to write a card to themselves (you can't opt out completely parents!), but you can help out if they want to create and write a card addressed to their classroom crush.
3 Valentines Day crafts for kids:
Here are 3 quick and easy Valentine's crafts kids can make with minimal adult intervention:
1. Sparkly heart-shaped fudge: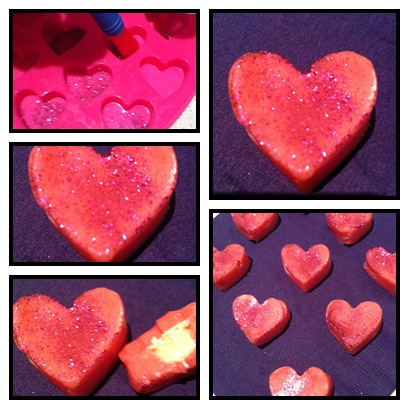 Last year we picked up a cheap silicone mold from Sainsbury's and made these pink and white chocolate hearts. Recently we discovered Make Fudge Not War (yes, it's a fudge blog – can you believe it?); we were overcome with cravings for their Red Velvet fudge recipe that we made a special trip to the shop for the necessary cream. However, discovering that our food colouring was pink, not red, we decided to get a head start on Valentine's creations. Here's what you do:
White chocolate heart-shaped fudge
Author: Actually Mummy…
Recipe type: Sweets
Ingredients
Ingredients are listed in the recipe link above
Instructions
Make one quantity of red velvet and white chocolate fudge, substituting red for pink food colouring (link above)
Using a clean paintbrush, dust each heart-shaped mold with edible glitter
Pour in enough fudge to just cover the base of each mold
Chop your white chocolate into smallish chunks and pop one chunk into each mold
Top up with fudge, and chill in the freezer immediately until firm (overnight is best)
2. Valentine's Pick and Mix:
The shops are full of heart-shaped treats at the moment, all at a ridiculous price, but if you hunt in the confectionary or baking aisles you will find sweets and edible cake decorations that will go very well into a candy-based gift. We found marshmallow hearts, foil-covered chocolate hearts, mini packs of Love Hearts, Squashies (a chewy love-heart) and heart shaped cake decorations. We simply scooped a few onto a square of clear cellophane and tied with a bow! An 8 year old boy will be thrilled to find this on his doormat later this week 😉
3. Chocolate Lolly:
I was given this Chocolate lolly maker for my birthday, and we've had loads of fun with it. Unlike a lot of the "promises a lot in the advert, but delivers rather less in reality" toy kits, this actually produces a beautifully-wrapped chocolate lolly with a stamp on the back every time. You can use regular chocolate buttons, but we've experimented with the coloured chocolate and Candy Melts you find in the bakery section of most supermarkets. The Bug made this all on his own!
4. Handmade cards: 
If you haven't got the time or ingredients for these delightful gifts, then a handmade card is really easy and does the job just as well. Making a handmade card not only gives you the opportunity to have fun and get creative, but it means it can also be personalised to its recipient. Much more thoughtful!
To get started, you simply need some good quality card and paper from any stationers, scrap fabrics like cotton or felt that can be cut up and child-safe glue. You need a good mixture of textures and colours. You can also experiment with paints, felt tips, pencils or crayons to draw pictures and create designs to go on the front of the card. Most children can manage a simple heart or a flower. You could even print pictures from the internet or cut them from magazines and make a collage.
It goes without saying that you should use kids' scissors and children should always be monitored when using any arts and crafts materials. Check that anything used is non-toxic and if you're using paint, you also need to protect clothing, furniture and the floor!
When the card is ready, it's time to write the message inside. If you're worried about your handwriting being recognised by a classmate, try writing with your opposite hand, or type it onto a word document and cut it out to stick inside. Personally, I would write a little poem – my sense of humour dictates that it will be more of the toilet-humour variety than the romantic – but if that's a stretch just sign with a question mark!
The card can be placed in a pre-bought envelope and either given to said crush in person (if  you're brave!) on Valentine's Day or sneakily slipped into their bag in a school lesson!