I'm not always the healthiest eater. As a busy mum, who works, and whose nights are frequently interrupted, I'm prone to reaching for coffee and muffins in the mornings, followed up by a lunch of crumpets and cheese. And who doesn't like that stuff? It's a quick fix, it acts as comfort after an exhausting night, and an even longer day. And we all know what calls at five o'clock. But there comes a point when the body craves more than just comfort; it needs vitamins, fibre, good protein, and a little bit less of the quick fixes.
I may not be able to function without my strong latte; I often can't resist a glass of wine at dinner; and chocolate is never making an escape from my menu. But I've decided that all those bad boys can stay, as long as I get more fruit and veg into my diet. And one way to get a good two portions in each day – especially in the bleak winter months – is soup. I'm becoming slightly obsessed with soup-related Pinterest boards in my hunt for variety in the vegetable soup market (let's face it, there's only so much Covent Garden carrot and coriander you can stomach in a week). I discovered this fennel soup recipe in my Save With Jamie recipe book, and I've adapted it to my own tastes.
Fennel and bean soup recipe with a twist
The cheesy croutons make the perfect addition to a vegetable soup to make it feel a little bit indulgent even whilst you are treating your body to two of your five-a-day! And the addition of a poached egg would make this a complete meal!
A stick blender makes soup easy
The blender is constantly in the dishwasher these days due to my mid-morning smoothie habit, so I'm finding my new Savisto stick blender perfect for whizzing up my soup recipes. It has a 800ml capacity flask for blending, so I need to do this recipe in a couple of batches, but if you really did just want a quick carrot and coriander, you could just cook enough for one and blend it in no time. The motor doesn't smell burny like old one did, so I reckon it can handle a thicker soup easily, and the speed settings are variable so you can adjust it for the recipe you're making. It's quick and easy, and even better, the blade stick pops off the motorised section to wash in the dishwasher.
Fennel and bean soup with parmesan recipe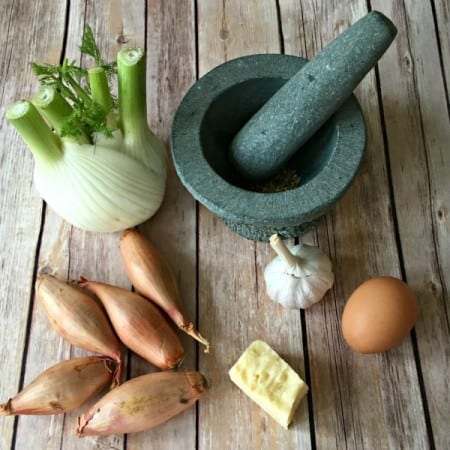 Fennel and Bean Soup with Parmesan
Hearty, warming, and a bit different to the usual carrot and coriander, this soup will liven up lunchtime midweek menus, and fill you with vitamins and fibre.
Ingredients
3

cloves

of garlic

peeled and thinly sliced

5

banana shallots

sliced

2

bulbs of fennel

sliced

1

tsp

coriander seeds

olive oil

1

vegetable stock cube

1 400

g

tin beans - cannellini

butter, borlotti, or even chickpeas will work

1

tsp

fennel seeds

50

g

grated parmesan

100

g

ciabatta or sourdough bread

small tub greek yoghurt to serve

1

egg

optional
Instructions
Gently fry the vegetables in some olive oil over a low heat for five minutes, then braise, covered, for 30 minutes until soft, stirring occasionally, and adding a splash of water if needed.

Gently dry fry the coriander seeds until they brown and release their spicy aroma, then crush with a pestle and mortar.

Add the stock cube, crushed coriander seeds, the tin of pulses (including liquid), and 750ml of boiling water. Bring to the boil, then simmer for 20 minutes, covered.

Liquidise in a blender, or with a Savisto stick blender, and season.

Crush the fennel seeds with a pestle and mortar.

Cut the bread into 1cm cubes, and mix in a bowl with the parmesan, crushed fennel seeds, and a tablespoon of olive oil.

Spread the cubes in a roasting pan and cook in the oven at 150 deg C for 10 minutes, until just crisp, but still chewy in the middle.

Serve the soup with a dollop of greek yoghurt and a handful of croutons.

Variation: to really make a meal of this, Jamie sometimes adds a poached egg to his soups. He doesn't detail it for this one, but I think it makes a really nice addition. Instead of the croutons, you could make a single crouton with a slice of the bread, in the same way, and float it on the soup, with the egg sitting on top!
What else can I make with a stick blender?
There are a lot of stick blenders on the market, but what especially love about the Savisto, is that it comes with a chopping tool and bowl that's perfect to use with the motorised stick for fast chopping of onions, garlic, nuts, meat and even carrots and coriander, if you're that way inclined. And you know when you fancy a really gorgeous latte after your lunch, with proper cream, not just the synthetic squirty stuff that comes out of a can? The Savisto can whip you up some real cream much faster than getting your electric whisk out, and way quicker than you'd do it with a fork. Then all you need is some marshmallows and an episode of Grey's Anatomy, and you have the perfect lunch.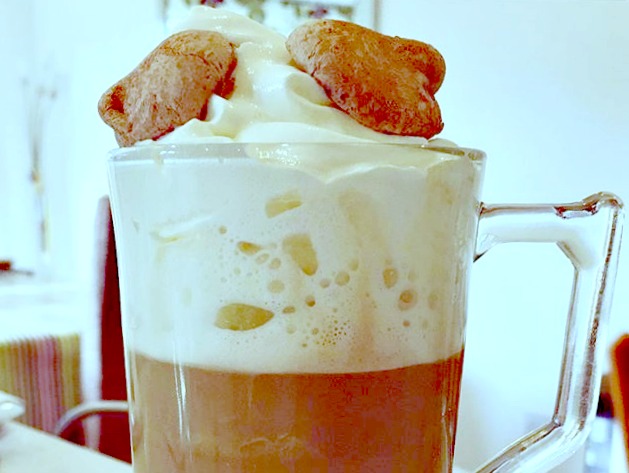 Yes, I am a lazy lover of gourmet coffee, who can't stand carrot and coriander soup!
I'm making an effort to be appreciative of what I've got at home, because really, I'm lucky, and have a wonderful family, a good home, and can cook! Penny is also taking time to celebrate the little things at home. Check out her new feature Happy and Home:
*My Savisto blender was given to me for the purposes of review.