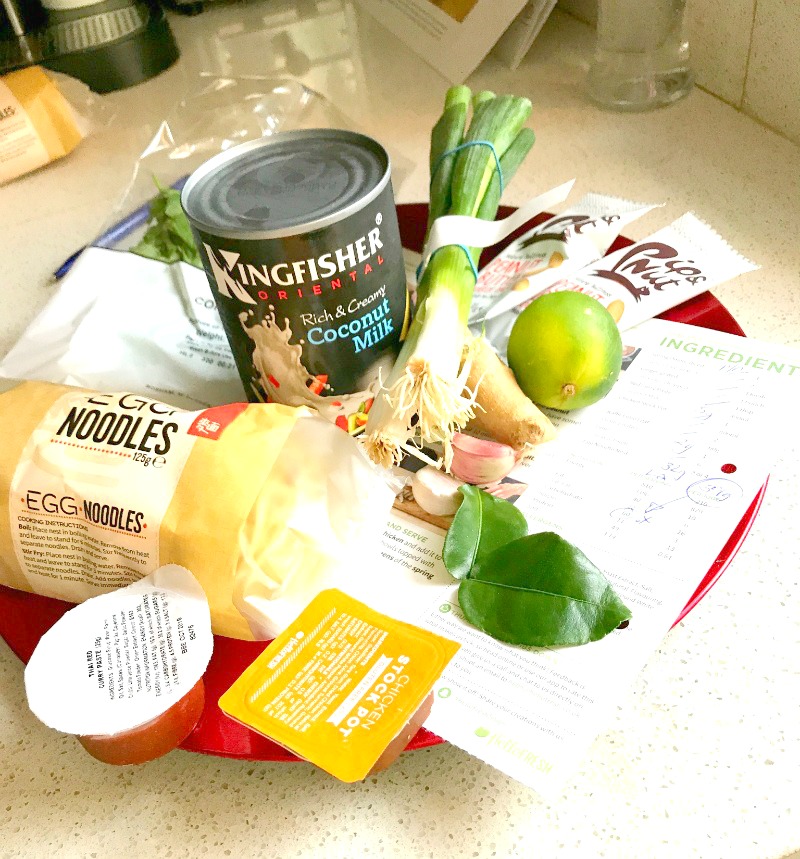 Do you sometimes stand in front of the fridge and want to scream? If the worst part of your parenting day comes at dinner time, I have the answer. The new Hello Fresh family box.
If you're anything like me – and let's be honest: every family needs a bit of help sometimes when it comes to meal times – what was once a pleasurable and relaxing activity has become a daily drudge since you've had kids. I've been cooking family food for 13 years now, and although in many ways it does get easier (remember cubes of frozen organic purée?), unless you're Jamie Oliver it's still a struggle to produce food that's healthy, interesting, and loved by everyone seven days a week. (If ever Jools ditches Jamie I'm first in the queue, and not because of his dress sense)!
But can a recipe box suit the whole family?
In my family, food is a huge part of our lives, and we try to eat together as often as possible. But, even now my kids are older, and have more varied tastes, it's still difficult to find a new recipe that everyone loves. One will eat eggs in a quiche, but not in an omelette. One likes mushrooms, to another they're so disgusting they may as well be slugs. One loves spice, the other downs gallons of water with every mouthful. So we stick to tried and trusted favourites. Which gets boring. Especially for the grown ups.
The Hello Fresh family box is a bit different
We've tried pretty much every recipe box subscription there is. What I love about a recipe box is not having to think too hard, either about menu planning, or about what to do when it comes to actually cooking. With a recipe box, I can almost switch to auto-pilot when I'm cooking dinner, which is useful when I have 3 people asking me for things, and telling me their anecdotes all at the same time. Recipe boxes come with everything you need for each meal – no more, and no less. Lots of it is prepared for you, and the rest is simple, minimal chopping, mixing and heating.
So how is the new Hello Fresh family box different? Each recipe comes with everything you need, step by step instructions, and beautiful photography showing you how it should be assembled. No measuring of spices, no weighing of rice – I love it! But the genius part about the family box recipes comes in the little additions. So you might cook a Chicken Laksa using the meat, the veg, some spice and noodles, but then – and this is the best bit – you serve the kids, pop back for your own plates, and throw in an extra dash of chilli, wine, or coriander at the last minute. So the kids don't have to eat the challenging stuff, and the adults don't have to settle for nursery bland. I told you. Genius.
What I particularly like – and it's especially good if you have older children – is the little 'educational' snippets on each recipe card about one of the ingredients. My children were interested to read them, and it's teaching them a bit more about the food they eat. There's always hope that they may become foodies themselves one day – even if they do refuse to eat the broccoli!
Good to know:
We were given two boxes of 4 recipes each by Hello Fresh, to review. The family boxes cost £4 per meal, but if you're a new customer there's currently 50% off your first box. Head over to Hello Fresh to find out more about their family boxes.
THANK YOU FOR READING
If you've enjoyed this post and found it useful here are some ways you can say thanks and support Actually Mummy:
Click here to buy me a virtual coffee.
Join our Teenage Kicks Facebook group which includes lots of advice and support for parents of teenagers. You can post your own problems and advice here too.
Click here to leave a review of the Teenage Kicks podcast.
Click here to sign up to our newsletter packed with tips, ideas and support for parents of teens.
Share this post with your friends.