Yesterday I recounted our excitement at travelling to Orlando. We were off on the trip of a lifetime, and despite a few hiccups we made it! So, 11 theme parks later, I'm back to tell you what I've learned on my epic rollercoaster tour.
What makes a good theme park?
a. You have to get the queue experience right
This (ficticious) Jabba's Palace attraction has the queue system completely wrong. First, it opens well after the park opening time, so immediately falling short of customer expectations. You will find this at Sea World: we turned up early to beat the queues, only to find that there was nothing to do but wander for an hour until the main attractions opened.
Queue fail number 2: new visitors arriving are going to look at that queue and decide not to bother.
Finally, standing in that queue is going to be really boring; the savvy ride operators have started investing in queue distractions that keep guests entertained. It doesn't feel like you're queuing for an hour if you get to play video games or fiddle with magic book-cases en-route.
Top 3 queue experiences in Florida:
Space Mountain, Disney's Magic Kingdom, Tomorrowland: play video games and admire constellations as you wait.
Big Thunder Mountain, Disney's Magic Kingdom, Frontierland: cranks and pumps that let off steam shoots on the ride, the staff had to chivvy us to keep up as the queue moved round!
Kali River Rapids, Disney's Animal Kingdom: not so much a queue advantage, but a well-earned chance to shoot water at other riders once you've had enough of wet pants and soggy shoes 😉
b. Food – refuelling needs to be quick and delicious
On the subject of queues, staff up at your busiest times. Whilst 40 minutes may be a just about acceptable wait for the ride of your life, it is too long for a panini. It's a simple equation of anticipated pleasure versus tolerable pain; they must be in relation to each other. As I announced to my Dad:
"If that café was a ride, it would need a separate line for complaints, and that line would stretch all round the park 4 times!"
Yes, we did have one very bad experience, but here are our recommendations from the places we loved!
Top 4 Florida refreshment stops:
1. Flame Tree Barbeque, Disney's Animal Kingdom. I got my ribs fast, there were staff waiting around the area to direct us to the nearest shady seating area, and the food was delicious.
2. Three Broomsticks, Universal's Harry Potter attraction. The queue here looked immense, but we were hot and tired, and I HAD to have a Butterbeer. Who knew? In a real English pub you jostle 3 deep at the bar and take your chances. But in America, where they really know how to queue, a line forms, and customers are served in order! It was a short wait, and Butterbeer is delicious!
3. Any Longhorn Steakhouse – yes, it's a chain, but they have amazing steaks, and the staff can't do enough for you. We went to the Lake Buena Vista Longhorn and it was awesome!
4. 1900 Park Fare, Disney's Grand Floridian resort. For character dining you won't get better, with the most incredible breakfast buffet, plus Mary Poppins, Tigger and the Mad Hatter.  The most surreal, but fun dining experience you will ever have.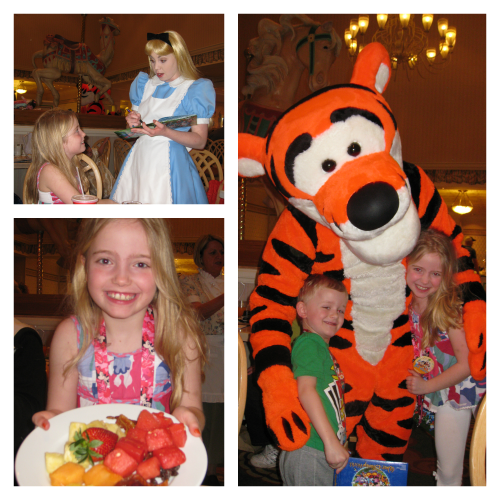 For more recommendations on where to eat in Orlando visit this post.
c. Character meet and greets
I will never forget catching a glimpse of Snow White as she left her meet and greet spot in Disneyland Paris. I was 3. I yelled as she ran, and she waved and blew me a kiss. It was ok, but I was disappointed. Of course, there will always be more children queuing than there are minutes of allotted time for autographs. So it pays to set things up well and minimise upset: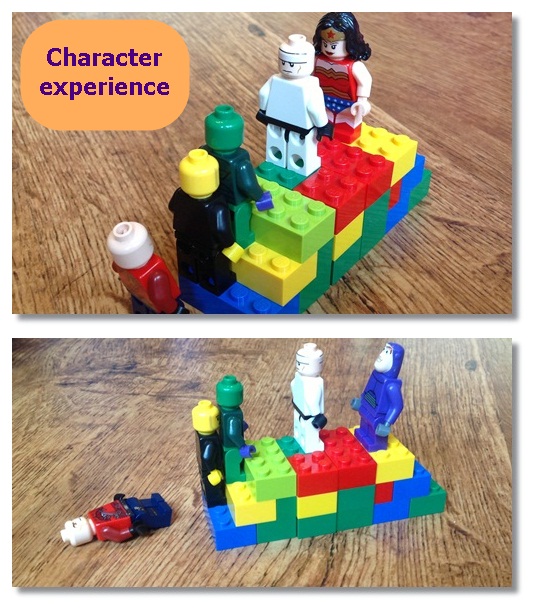 Above you will see Wonder Woman on a meet and greet. Naturally, a queue has formed – mostly men. In the second picture you can note that the lady in question has gone on a break, and Buzz Lightyear has nobly stepped up to continue the handshaking. There is some consternation at this, resulting in what can only be described as an "episode" further down the queue. Tip: if a character needs to go on a break, substitute with like for like! Poison Ivy maybe, or the Black Widow. Not a bloke wearing plastic wings! Know your audience people!
Which brings me to d. Employees need their breaks.
Did you know that Disney theme parks only have a 17% profit margin? That's because they need a lot of staff, with a lot of training. Seriously, it takes a lot of joint effort to produce those smiles and helpful attendants every single day. Those employees need breaks, a place to be normal, to wipe the grin off their faces and be one of the guys for half an hour.
e. Safety and Security
I couldn't leave without one final point of note. In an attraction this large you really do have to consider the safety and security of your visitors. So, should a giant hamster suddenly turn up in his roly-ball exerciser thing, you will need to have an emergency plan in place to respond. Likewise, some officials available to monitor pushing and shoving, or crowd security during live shows:
So there you go. Part 2 of our dream holiday in Orlando. Pop back tomorrow to find out our verdict on the best theme park to visit in Orlando. Shhh, it's not Disney!
We used Visit Orlando to plan our holiday. They didn't give us any free stuff, and we're recommending them here because we really do rate them as a useful holiday planning tool! You'll find great advice on attractions and itineraries, as well as various discounts on attractions.