A christening is such a lovely occasion. As a parent I remember rifling through racks of gorgeous frothy dresses, and cute pinstriped linens. I organised a perfect cake and drove 6 miles to pick it up. I still have the little icing letter blocks that made up my daughter's name. When it was my son's turn, I made his cake myself – three pastel balloons that my daughter sneakily consumed during the festivities, and proceeded to throw up in her bed that night. I remember that it poured with rain that day, and we huddled in a steamy room at the back of the park café, drinking warm champagne. I remember that my Dad wasn't on his best form, struggling in the last few months of his life.
I don't remember most of the christening gifts.
I know we got bibles – more than we could ever read – that have since been donated. There was silverware, traditional and appropriate, that sits in boxes for my children to examine in years to come, but never use. And jewellery too precious to put on a young child. I've struggled myself to find christening gift ideas that will really be treasured, by parents and children alike, but over the years I've come up with a few favourites that I think are quirky, or really memorable.
Christening Gift Ideas
Charm bracelet:
This is in the bracket of too expensive for a child and yet, I can't resist it. Probably best given if you're a very close godparent, I actually wanted it so badly for my daughter that I decided we'd give it to her ourselves. We chose a Links bracelet in her size, and added her initial to it for the day. Every year on her birthday we gifted her a charm for her bracelet. It meant nothing to her, but as parents we loved selecting something that resonated for that year. The bunny with the pink ears tells me that 'Bunny' was her favourite person as a baby – she never left home without him. The ballet shoes came the year she first stepped out in pink satin; and the lipstick, well, you can guess…
She still hasn't worn it, but she will now she is old enough to take good care with it, and I love the fact that it has meaning and value, and is still cool.
Cute crockery:
Isn't this Flopsy egg cup and spoon adorable? I'm firmly of the belief that christening gifts should get used, even if that means it might one day get broken. Who's going to care, when they're 36, that there's a pristine mug sitting in the loft? If you're a trinkets kind of person, this would of course look lovely on a nursery shelf, but it's also perfect for a boiled egg and soldiers when your baby is a bit older (though I'd recommend substituting for a plastic spoon!). And there's nothing more traditional for a christening than a little bit of Beatrix Potter.
A money box:
There's no-one more motivated to save money for the future than a new parent. Give a classic money box as a christening gift and it will be used and treasured. You could even start it off with a limited edition coin, or a down payment for a savings account. I love this Winnie the Pooh resin money box – another children's classic perfect for a christening.
A lovely book:
Whilst a bible is traditional, it will inevitably sit on a shelf for most of a child's lifetime. A lovely bible is an asset to keep, and dip into when needed, but it has little value to a child. On the other hand, this book of children's bible stories has been well leafed through by both of my children. They have read the stories hundreds of times to themselves, long since they grew out of being read to, and it's one of those books they point blank refuse to send to the charity shop. It has done the intended job of a bible, but given both parent and child immense joy.
A classic figurine
If traditional isn't really your thing, but you still want something iconic, that will make children happy, you could opt for a figurine of a favourite children's character. My daughter badly wanted to keep this Cinderella figure when she saw it – "to go on her trinket shelf" – so it's guaranteed to bring pleasure for many years, once a child is old enough to understand and love it.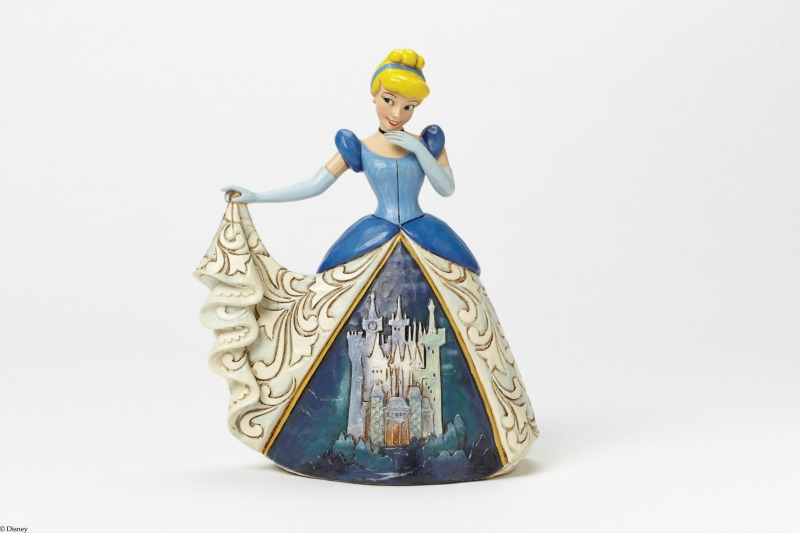 The Flopsy egg cup (£15.00), Winnie the Pooh money box (£29.95), and Cinderella figurine (£29.95) are all from Enesco. Get more ideas on Enesco's Facebook page, on Pinterest, Twitter, or Instagram. I have been compensated for my time in creating this article.