Escape to the South
Hot on the heels of my review of our stay in Norfolk comes yet another post singing the praises of the Great British Staycation. This time we're exploring the southern coastline of the UK – a fabulous place to get away with the family. Huge stretches of beach to keep kids of all ages busy, interesting places to visit and even beautiful countryside that you can somehow trick them into seeing without them realising. You've got the beautiful Cotswolds with its picture-postcard villages, Kent and Sussex with its dreamy castles and fascinating history, the New Forest with its wildlife (who wouldn't love walking down the street alongside a wild pony?), and Dorset's Jurassic Coast, excellent for surf babies or those who just want to laze around on the beach and take selfies. Whatever your tribe want from their holiday, the south has it in spades. Read on for some inspiration on where to go.
If you need a car to get to your preferred location we recommend Discover Cars for great car hire at sensible prices.
*This post contains affiliate links.
Kent and Sussex
Fairy-tale castles with romantic moats and turrets (and slightly less romantic dungeons and murder holes), secret wartime tunnels used as a military base during the Second World War, and the exact spot where William the Conqueror defeated King Harold in the Battle of Hastings back in 1066. These are just three of the brilliant sights on offer throughout Kent and Sussex which are bound to get some kudos in post-holiday history class. You've also got the cathedral city of Canterbury, the seaside town of Hastings (not where the battle took place FYI) and of course, vibrant and bohemian Brighton, where you can take to the skies in the British Airways i360 to see the city and ocean from a space-age glass viewing pod, 450ft high.
Animal-loving teens will be catered for at Port Lympne Safari Park, where they'll be taken on a journey across South America, Asia and Africa, discovering wild animals native to these countries. The Big Cat Sanctuary in Smarden sometimes has special open days, though you might want to keep a lookout for the famous 'black cat' that has been sighted across Kent in recent years – just stay in the car if you spot it!
Beach babies should spend a day at one of the fabulous beaches in the area, especially the cool resort of Camber Sands with its miles of sandy beach, a haven for surfers and sunbathers alike. In fact, all the beaches along this stretch of coast are worth a visit, just check out which are pebbly, and which are sandy, so you don't get moaned at on your walk down to the shore.
If you've got kids who like a touch of the macabre, the Sussex Bonfire Society celebrations held all across Sussex, are pretty grisly, especially the most famous one in Lewes. It can get a bit intense, so the littlest ones of the family are best left at home if you want to take part in this amazing Sussex tradition. Everybody can enjoy a bit of smuggling folklore, however, and the Smugglers Adventure Museum which re-lives the tales of Hairy Jack and chums through a series of underground caves and tunnels, is a must-visit. Afterwards, stroll down to the Shipwreck Museum on the seafront and browse the exhibits as you learn about the town's maritime disasters to a chorus of sea shanties. Before you head home, pose for some photos next to the tall fishermen's net huts in The Stade and finish with a fish and chip supper down on the pebbles.
The New Forest
If your idea of fun is semi-wild ponies joining you as you pop down the High Street to collect your morning paper, then the New Forest is the perfect holiday destination for you. These furry natives are everywhere you look in the forest: as you drive along roads and lanes (S-L-O-W), as you walk through ancient woods or even as you head out for a curry – they are shameless! A great sensory adventure for animal lovers, the Forest is also home to the delightful Bolderwood Deer Sanctuary and if you can face it, the New Forest Reptile Centre. Or why not hire a trusty steed from one of the local riding stables and explore the heathland and forest aboard a new furry friend.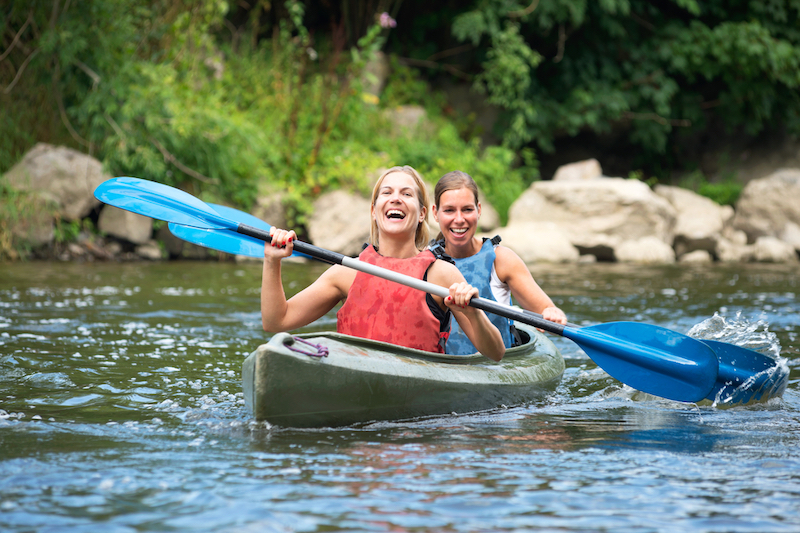 It's not only forest in the New Forest (bear with us) – there's also miles of beach, rivers and lakes. Book yourselves some paddle boarding lessons in Milford-on-Sea or hire a kayak and mess about on the Beaulieu River, whatever the time of year. You'll also no doubt be dragged to the water park in Fordingbridge where you can embarrass yourself on the inflatable aqua park (top tip: confiscate the kids' mobiles) or do as most visitors do in the New Forest and hire a bike to whizz through the miles of muddy trails all over the national park.
If you've got petrolheads with you, and most families have at least one, zoom along to the Sammy Miller Motorcycle Museum in New Milton or the National Motor Museum at Beaulieu for a look at some amazing vintage vehicles. Top Gear fans can ensconce themselves in the World of Top Gear where they can revisit all the battered and bruised cars from the TV series, though if your kids are really looking for a way to impress their mates back home, get yourselves over to Thruxton Circuit where they can watch you racing a Ferrari 458 Spider around the racetrack, laughing at the fear on your face as you try to brave it out. There's also a junior driving experience for kids over 12 if they fancy a go at the wheel.
Dorset
This one's a great family favourite – not only for its miles of shimmering sands and sparkling azure seas, but also for the fact that it forms part of the famous Jurassic Coast, a UNESCO World Heritage Site. You'll recognise the iconic ancient limestone arch of Durdle Door, one of the south coast's most photographed landmarks and over 140 million years old. Spend a day there, buy the obligatory postcard and send it to friends back home from the oldest working post box in England – a shiny red monument still standing proudly in Holwell, near Sherborne, having survived two world wars and five British monarchs.
This stretch of coastline is also great for budding palaeontologists as it's a fossil hunter's dream – there's even a fossil shop to buy rocky souvenirs if you're having an off day on the beach. The layered cliffs and stunning white pebble beach of Lulworth Cove is a popular family-friendly destination for a day out – here you may be lucky enough to see the amazing 'Fossil Forest' at low tide, the ancient remains of a submerged cypress forest dating back from Jurassic times. You should also visit Tout Quarry in Portland, an amazing sculpture park with spectacular views across Chesil Beach and Lyme Bay.
If the smart resort of Sandbanks is more to your taste, take the kids for a spot of paddle boarding or sailing at the Water Sports Academy. Or hop aboard the Sandbanks Chain Ferry to Studland on the Isle of Purbeck and have a fabulous beach day with swimming, games and a picnic on the sands. Traditional resort lovers should head to the pretty bustling towns of Bridport and West Bay, or Lyme Regis where you'll find such seaside wonders as crazy golf, an amusement arcade and some good old Mr Whippy ice cream. Other activities that will get your teens out of bed on a holiday to Dorset include a water park, skate park, dry ski slope and adventure park (think mud, lots of it). If you can persuade them to take in even one day of history while you're there, then the intriguing hilltop Corfe Castle, great survivor of the English Civil War, will be the one that'll do the trick.
Come to the Cotswolds
You may be saving the beautiful Cotswolds for a romantic weekend away – given half the chance – so you'll be surprised to hear that it's actually not a bad place to take all the family. While yes, it's quintessentially English with its delightful honey-hued stone villages and rolling green hills, there's also the amazing Cotswolds Water Park (worth the trip alone for parent points), various activity centres as well as a whole host of shopping outlets for the less active offspring.
Animals tend to be a family holiday favourite, and at Cotswold Wildlife Park and Gardens in Burford, even the most bored of teens won't fail to be impressed with the giraffes, rhinos, lemurs and more. Also check out the Cotswold Farm Park in Cheltenham, the home of rare breed conservation, which is also a great choice if you have little ones with you who will love getting up close to all the farm animals.
If you do want to ram some history into your kids before they go back to school, take them to the spectacular Blenheim Palace and marvel at the splendid Baroque architecture and collections of art and antiques. Book tickets to visit the Roman Baths in wait for it, Bath, to see how people bathed nearly 2,000 years ago and the ruins of the temple of Minerva. There's also an escape room, Roman Rescue, which will go down well with over 12's (must be accompanied by an adult).
When it's time for a treat for you, and why not indeed, make them join you with an afternoon out at what must be the prettiest village in England, Bourton-on-the -Water. Its low bridges and traditional stone cottages could be straight out of a picture book. Finish with a yummy cream tea in one of the tearooms – an activity that no one will say no to!
More staycation inspiration
Pin for later