Daddy is a fan of baking on a Sunday morning, and he has been perfecting  his muffins for a few weeks now. For Mother's Day he proposed a mesh of all his previous efforts, with the addition of some ginger, and came up with this, his best attempt yet at apple and gingerbread muffins. If you are more of a cupcake fan all you need do is whizz up some butter icing, flavour with lemon, and pop some diced crystallised ginger in there – YUM!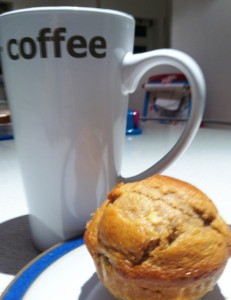 You will need:
75g butter, melted
100g dark muscovado sugar
25g caster sugar
2 eggs
300ml milk
350g plain flour
4 tsps baking powder
2 dessert apples, cored and chopped
2 tsps ground ginger
1 tsp cinnamon
2 lumps stem ginger in syrup, drained and finely chopped
Sift the flour, ginger, cinnamon and baking powder together, then mix in both sugars
Mix the milk with the beaten egg and mix into to flour mixture, along with the butter, ginger and apple.
Plop into 12 muffin cases and bake at 200 deg C for about 20 minutes.
Serve to Mummy in bed with a nice strong latte and cuddles
Stick a leg of lamb in the oven and you're done! Perfect Mother's Day.
Click here for more apple recipes.