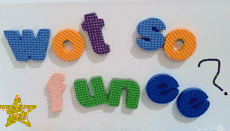 Listography is back over at Kate Takes 5, and this week she is featuring the top 5 truths – according to women. You see women (and this is an important distinction to make) tell the best truths, the ones that don't stop at simple fact, but include all possible intimations and hidden meanings. Women are even good at reading into a situation and finding all the meanings that aren't there! So women have it covered. Now, add an 8-year-old into the equation and you will discover the most sublime truths ever known to mankind (and women).
Top 5 Truths – according to women (of the small variety):
Men are here to do our bidding. Particularly those men who have been silly enough to assist in the conception of female offspring. Fathers have no chance of asserting themselves with their daughters, given that they wrap themselves around little fingers just so delightfully. It is sheer glee just to watch them try. Ask any Dad who has ever tried to tackle the hair wash…
Girls are always right. Even when we're wrong. FACT
There can never be too much toilet paper. It's a long drive from London to Barcelona. French service "aires" leave a lot to be desired. Consequently I carry a 9-roll pack of Andrex on my person at all times. As for urgency and a lack of facilities, I'd rather risk a bladder infection than squat in a bush. You get where I'm going with this..?
Glitter is a fact of life. No girl I know can exist without it.
Little brothers are produced with the sole purpose of furthering their older sisters' eventual career. Controlling, arguing, twisting the truth, and breaking down the will to live are all excellent characteristics of a top lawyer…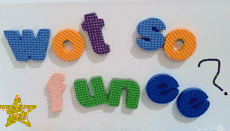 Now, if you have your own post to link this week, grab the badge code from the sidebar, and click the link below to enter your post – I can't wait to see what you have! If you're new here you can check out the Wot So Funee? main page for more info.