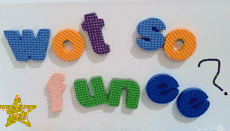 Many's the time I despair of my brother. Boys just don't get real life. Too wrapped up in dinosaurs and space. I prefer to dedicate my spare time to the pursuit of real life possibilities, such as becoming a princess and marrying a prince, flying high on a rose-covered swing, and drifting across the bridge of a glittering pond. In a secret garden.
The Bug copies pretty much everything I do. I should be flattered really, but the thing is, he just doesn't do it right. It's because he's a boy. Here's his secret garden:
It has a space ship, an alien, Jupiter, that one with the rings around it, a lightening bolt, and that tiny dot on the right? Pluto. So he's at least got the size differentials sorted in his 4 year old head. And his writing's getting better, don't you think? Still, as gardens go, it's hardly aspirational, is it?
Now, back to me. For reasons which are entirely beyond me Mummy laughed when she overheard me commenting on the Bug's new Darth Vader pants:
"When I get new pants I'm so going to get One Direction on them"
Equally, I'm sure I saw her cover a smirk as I commented on how much I wish I had the ability to write like the Tooth Fairy. What? I do. It's all joined up, and perfect!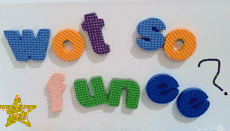 This is a linky: If you have written about something funny your children have done, said, or written, please link your post below. Every week, on a Tuesday, you can link up here. You can copy and paste the badge code from the box at the foot of the page into your own post, but you don't have to 🙂
Click here to enter your link and view this Linky Tools list…
If you are new to Wot So Funee, you can check out the main page for an explanation.
I'm also linking this post to Art Attack Tuesday over at A Mummy's view.
We are thrilled to be a finalist in the National MAD Blog awards this year. Please vote for us in the Schooldays Category by clicking on the badge below.