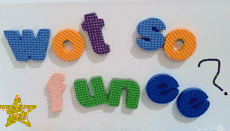 I have not had a good belly laugh in a while. Anecdotes worthy of a #funee are usually cute or elicit a wry smile, and as you know, that kind of humour has been thin on the ground recently. But I just totally busted GG, and instead of getting all sanctimonious about a sneaked sweet, I gave her a grin; and instead of her getting all squealy about being in trouble, she looked suitably shamefaced, and then burst out laughing. She had moments before been reading over my shoulder, but she'd totally forgotten I was in the room as she noisily peeled off the wrapper of a Chewit. We both completely cried laughing.
In the meantime, The Bug has been astounding us all with his imagination. He still struggles with his handwriting, and the school have allowed him to type his stories, to give him a break from the tedium of scribing. I was tempted to ask what his touch-typing speed was, but I refrained, glad that his teachers are finally giving him the focus he needs to improve, and the opportunity to create stories without the big scary pencil of his homework nightmares. They did tell us that his vocabulary is extensive, and his ability to create descriptions better than average, so we're happy for now. We hear him frequently in another room, creating dialogue on behalf of his toys. I have no idea where it comes from, but it's fascinating to listen to:
I'm the maker of Jack's Magic Marbles. You can even see me on TV. Come back and see me on Monday, when I will have even more magic to delight you.
He also got one over on Actually Daddy this week. AD is in marketing, and likes to talk what we call marketing b****ocks (I say we, I mean me, after the kids are asleep, obviously). He tells them about it in the bath.
You know when LEGO took over all the TV ads the other night? That was a great example of an integrated marketing campaign. Daddy, I don't know what integrated means, but I do know what disintegrated is!
And he totally did! When that boy gets his pen under control there will be no stopping him!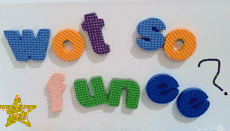 Now, if you have your own post to link, grab the badge code from the sidebar, and click the link below to enter your post. It's not obligatory, but if you include a link back here in your own post, I'll return the favour with a tweet-out, and pin to our Funny Kids Pinterest board. If you're new here you can check out the Wot So Funee? main page for more info. If you'd like to guest for us on Wot so Funee? please get in touch.