By the Bug
I've discovered a new passion at school, and so I have decided what I'm going to be when I grow up. We've been learning about science, watching cheese, and bread and acorns fester and go mouldy in our classroom. I've seen films about scientists, and I like the look of what they do in their labs. So when I grow up I'm going to be a scientist. I announced this fact to my family just the other day:
"I'm learning to be a good scientist, so I might be a bit busy sometimes when I come home from school."
I elaborated further on what kind of scientist I am going to be. I want to work with animals, and help them when they're poorly.
"I'll be a vet. On my day off I could work with GG and help her with the dolphins" (she's going to be a dolphin trainer at Sea World). "But I'll have to take my white coat off before I go in the water."

"Oh that's ok," piped up my sister. "I'll lend you a wetsuit. I'll have to wear one every day, and my skin will get all wrinkly, but it's worth it."
Mummy says she can't wait to visit us at work 🙂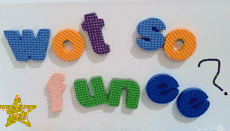 Now, if you have your own post to link this week, grab the badge code from the sidebar, and click the link below to enter your post – I can't wait to see what you have! It's not obligatory, but if you include a link back here in your own post, I'll return the favour with a tweet-out. If you're new here you can check out the Wot So Funee? main page for more info.