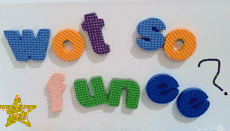 STOP!!
If your name is Actually Daddy, stop reading this post right now.
I said stop…………
Do not. Scroll down. Any further.
Unless you want to ruin your Christmas surprise. It is lovely. It's a lovely selection of pants, to be honest, and the Christmas jumper is to die for, but really, you wouldn't want to spoil the paper-ripping  effect, now would you?
Has he gone…?
Right, let's get on with this. Because I have a cracking Christmas present for Daddy this year. He is going to love it. Is it just my Dad, or is it Dads everywhere that are just big kids? When there's a kick-off at bath-time, it's not just me and the Bug who need a stern talking-to from Mummy, and Daddy's got the sheepish look off to a tee. Now, before I reveal our top Christmas present for big kids, I'm going to show you what we got him last year: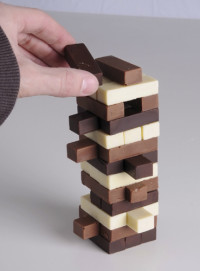 We thought we'd have a nice kitchen table family game, maybe on Boxing day, as a substitute for the pudding. In reality, what happened was this: Daddy sneaked his presents away to his rubbish tip study, and we forgot about it for a while; when we remembered, some time around January 2nd, after all the Quality Street was gone, we found that only the empty box remained…
This year, we want Daddy to share his Christmas present with us! So we got him something less easy to hide:
Disclosure: we were given our Giant Jenga by Big Game Hunters for the purposes of review. All video and editorial content remains ours, and all opinions are our own.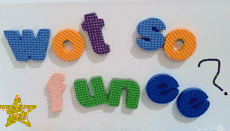 If you're new here you can check out the Wot So Funee? main page for more info.