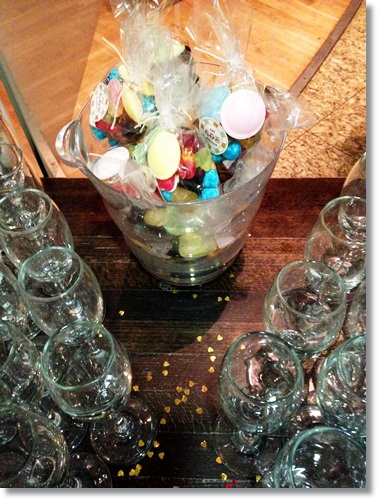 You cannot fail to have noticed that we had a wedding-style celebration in our family recently. The party was truly epic, complete with Abba band, fireworks and fizz on arrival. Being only 9, the Prosecco was completely disinteresting for me, so I insisted on another kind of wedding favour treat to be handed out to the children:
Wedding Sweets from The Gobstopper
A few weeks before the big event the Bug and I went through The Gobstopper's website searching for appropriate treats. The conversation went something like this:
Bug: Where are the bonbons?
Me: Ohh yes bonbons, but they have to be blue! Do they have blue bonbons?
Mum: Not sure blue is the best colour – we'll be wearing white remember?
Me: Oooh look, liquorice comfits, my favourite, we're so getting those!
Mum: Actually, I think they might be a choking hazard – I've seen how 6 year olds skid around on the dance floor.
Bug: Chocolate raisins! They're healthy right?
Mum: No chocolate, remember the white dresses.
Chorus: Muuuuuuum!!!
In the end, we mostly went for the retro sweets selection – Black Jacks, Cola Bottles, Flying Saucers and Fruit Salads. We threw in some Heart Throbs and Friendship Rings for the sake of romance, and a sneaked in my blue bonbons while Mummy wasn't looking 😉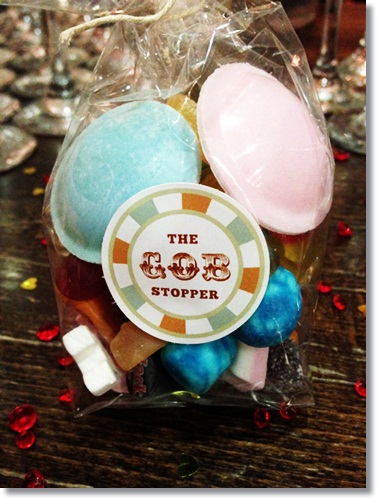 They arrived in plenty of time, boxed up and hand tied in cellophane – perfect to hand out to children on arrival. Every single sweet got eaten, including the half bag I left on a table when I went dancing *looks around suspiciously.* The great thing for parent-sugar-policing was that they were impossible to untie with little fingers. One six year old was heard asking for help with his bag 15 times (we did have 15 spare bags)!
That said, it wasn't just the children guzzling the wedding sweets. Here's what Mummy's friends did – *sigh,* I said they should have had a hen night! 🙄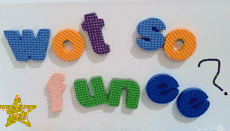 Now, if you have your own post to link this week, grab the badge code from the sidebar, and click the link below to enter your post – I can't wait to see what you have! It's not obligatory, but if you include a link back here in your own post, I'll return the favour with a tweet-out. If you're new here you can check out the Wot So Funee? main page for more info.



Disclosure: we were given 35 bags of sweets from the Gobstopper for the purposes of review. All opinions and editorial are our own.